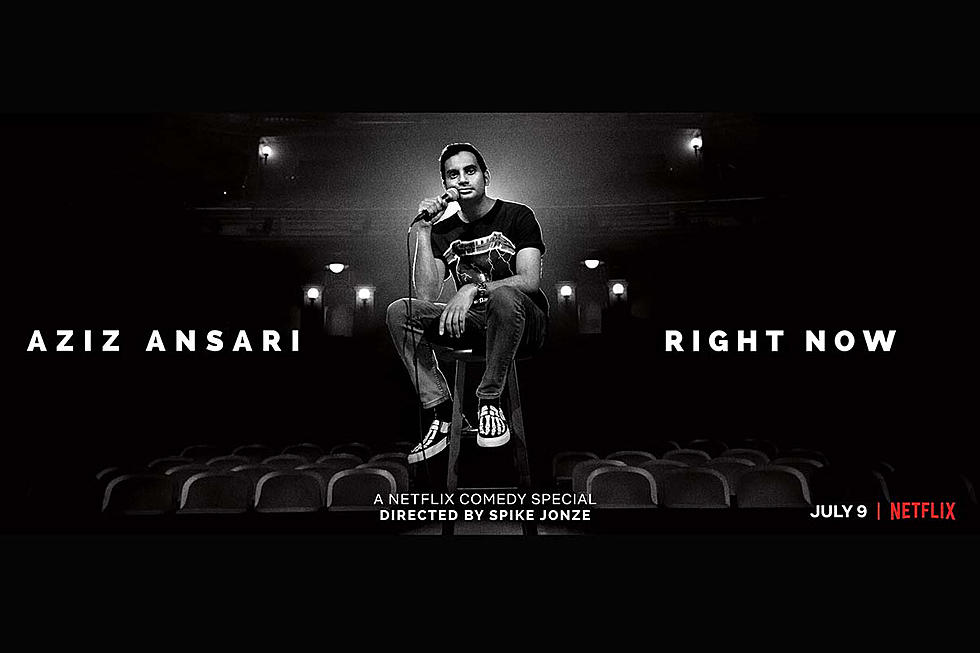 Aziz Ansari talks sexual misconduct, Apu, Crazy Rich Asians in new Netflix special
Aziz Ansari's new Spike-Jonze-directed Netflix special, Aziz Ansari Right Now, became available on the streaming service Tuesday (7/9) morning. It was taped at Aziz's Brooklyn Academy of Music shows earlier this year, and as mentioned (and as those of you who had tickets to those shows know), he began them by addressing the allegation of sexual misconduct made against him in January of 2018. Admitting that it was "not the most hilarious way to begin a comedy show, but it's important to me that you know how I felt about that whole thing before we share this night together," Aziz said, "there's times I felt scared, there's times I felt humiliated, there's times I felt embarrassed, and ultimately I just felt terrible that this person felt this way. After a year or so, I just hope it was a step forward. It moved things forward for me, made me think about a lot. I hope I've become a better person."
Aziz moves on to address other topics during the hour-long special, including the controversy over Apu, the stereotypically Indian owner of Kwik-E-Mart on The Simpsons (voiced by a white man, Hank Azaria). Joking about whether he'd heard about the ongoing debate over the character, he said, "yeah, Candice. I am aware of it. I saw it 30 years ago. It's a white guy doing an Indian voice. I appreciate the support, but things don't just become racist when white people figure it out." He continued, "don't get me wrong, I don't like those Simpsons' people, either," then doing an impression of Matt Groening to say, "why didn't anyone say anything 30 years ago? We're winning awards and stuff and no one said anything." Returning to his normal voice, Aziz continued, "because Indian people could only say something like four years ago, OK? We've had a slow rise in the culture."
In a clip from the special, which you can watch below, Aziz also talks about the popularity of the film Crazy Rich Asians, and white people's reactions to it. "Interesting times for white people," he said. "You're trying really hard to be nice to minorities, in a way I've never seen before. Putting in the time, putting in the effort, getting out there... watching Crazy Rich Asians. White people went in droves!" He continued, "look how far we've come in just two generations. "Like, your grandma doesn't even call it Crazy Rich Asians. She calls it, 'that movie that has too many Orientals.'"