Bad Religion played 2 shows @ Irving Plaza (pics, setlists), 1 more to go (tonight)
photos by Keith Marlowe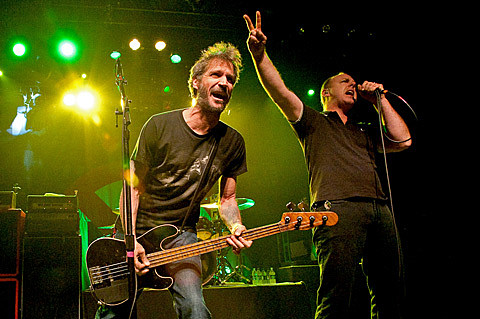 In his book Anarchy Evolution: Faith, Science, and Bad Religion in a World Without God, Greg Graffin says, "For me, the existence or nonexistence of God is a non-issue."
He's a naturalist, the lead singer of the punk rock band Bad Religion.
The notorious punk riot at the El Portal Theater in Los Angles on December 29, 1990 made his band infamous... but Graffin wasn't involved in it.
He still tours internationally with his band, whose new album The Dissent of Man celebrates 30 years of Bad Religion.
Graffin also has a PhD in zoology from Cornell. When he is not on stage, he teaches evolution at UCLA. -[CNN]
Author Greg Graffin and his band Bad Religion are in the midst of celebrating 30 years with 3 special shows at Irving Plaza in NYC. The third and final date is tonight (10/27). Off With Their Heads and Aggrolites are the openers at all three. More dates, including the now Devo-less Fun Fun Fun Fest, HERE.
The first NYC show was on 10/20, during CMJ. At that show they explored early material. The second show was last night (10/26). Pictures from the first show adorn this post. They continue, with both setlists, below...

--
Aggrolites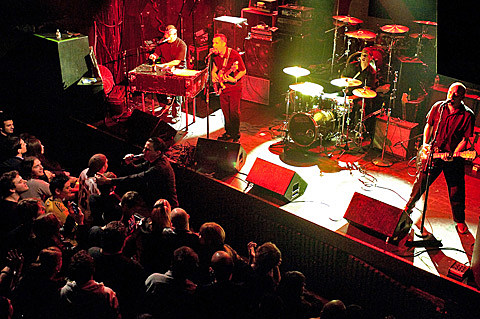 Bad Religion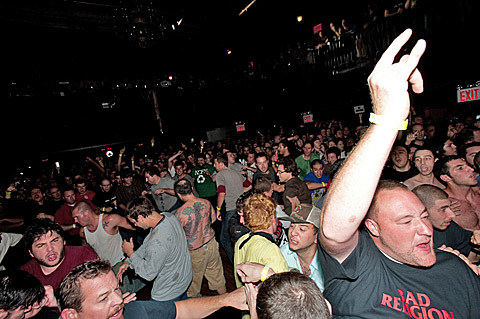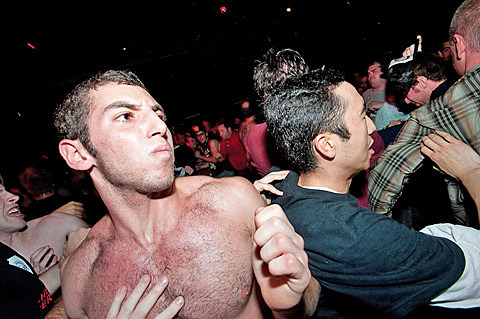 Bad Religion Concert at Irving Plaza, New York, NY, USA Setlist on October 20, 2010
Do What You Want
How Much Is Enough?
We're Only Gonna Die
Slaves
The Resist Stance
Delirium of Disorder
You Are (The Government)
Latch Key Kids
The Devil in Stitches
Frogger
I Want to Conquer the World
Billy Gnosis
Suffer
Sanity
Part III
Avalon
Big Bang
Yesterday
New Dark Ages
Along the Way
21st Century Digital Boy
Wrong Way Kids
No Control
Fuck Armageddon...This is Hell
You
American Jesus
Encore:
Infected
Los Angeles is Burning
Sorrow
Bad Religion Concert at Irving Plaza, New York, NY, USA Setlist on October 26, 2010
Gray Race
Hear It
Modern Man
Stranger Than Fiction
Recipe For Hate
Flat Earth Society
The Resist Stance
Man With A Mission
Marked
Struck a Nerve
A Walk
Anesthesia
Avalon
Sowing The Seeds Of Utopia
Turn On The Light
Come Join Us
No Direction
What It Is
Atomic Garden
Wrong Way Kids
Generator
Infected
Encore:
American Jesus
Fuck Armageddon...This is Hell
Sorrow