Basement played their 2nd NYC show ever with Superheaven, Pity Sex and Ovlov (pics & setlist)
Basement / Superheaven / Pity Sex @ Webster Hall - 8/19/14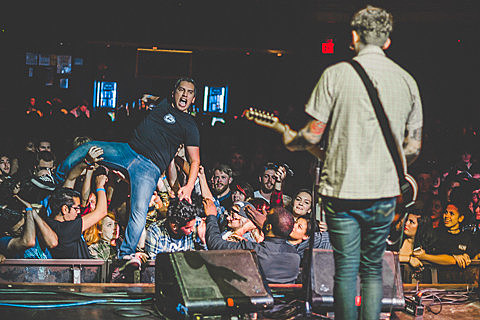 I walked into Webster Hall on Tuesday (8/19) around 7:20, about three quarters of the way through Ovlov's set, the first set of a four-band bill, and it was packed. I've been to a handful of Webster Hall shows, but unless the headliner was someone like Paul Simon, I've never seen the 1,500-capacity venue that full so early on. But this was a special show. Basement, the UK post-hardcore band who put out two much-loved albums in 2011 and 2012 before going on a 2-year hiatus which just ended, were headlining the sold-out gig. And it was their second New York City show ever.
This wasn't just Basement fans waiting around for their favorite band to go on though. The crowd was appreciative of every band that played, and for good reason. Ovlov, who I've never seen outside of a DIY venue let alone a place as big as Webster Hall, had no trouble on the big stage. And their usually-scrappy indie rock sounded cleaner than ever. Pity Sex were up next, one of the few shoegaze bands around who can incite mosh pits, and it didn't take long for that to happen on Tuesday. It wasn't as crazy as their last NYC show at Music Hall of Williamsburg (though that show was crazy for bad reasons too), but they sounded great. And most excitingly, they did an excellent cover of the Pixies' "Gigantic" which will appear on their upcoming split with Adventures. Pity Sex's Britty Drake does a great Kim Deal and the band really did justice to this one. Keep an eye out for that split.
They were followed by Superheaven (formerly Daylight). I had yet to really become a fan of Superheaven's recent debut album, Jar, but they won me over as a live band. With Jar, they come closer to post-grunge and alt-metal than any other band on the bill, and whether or not that sound is your style (it's not really mine), it's hard to deny that they do it right. Their tones were heavy as fuck, they were effortlessly tight, and they were no statues on stage either.
Then Basement came on, and if there was ever any doubt of how beloved this band is and how missed they were in NYC, that was erased within the first minute. I was upstairs when they started, and the crowd screaming to set opener "Whole" instantly echoed through the entire venue, louder than anything had been all night. That didn't change for the entire set, save for the two songs they played off their brand new EP. The band expressed more than once on stage how grateful and shocked they were to be playing to such a large crowd and getting the kind of feedback they were. Their last and only other NYC show was at the MUCH tinier Acheron in 2011 (also with Daylight, but that time Basement were the openers), and they said on stage that there couldn't have been more than 50 people there. To say Tuesday's show was a triumphant return to NYC would be an understatement.
Pictures from Webster Hall are in this post. More, with Basement's setlist, below...

---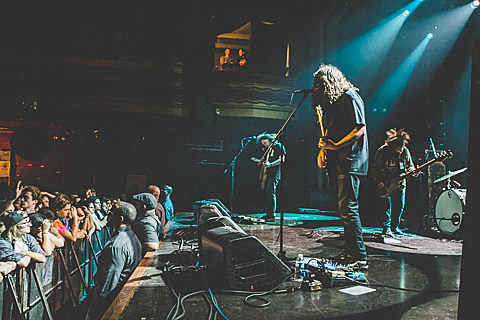 Basement at Webster Hall - 8/19/14 Setlist: (via)
Whole
Earl Grey
Fading
Canada Square
Bad Apple
Jet
Spoiled
Summer's Colour
Grayscale
Breathe
Every Single Word
March
Covet
Encore:
Yoke (Acoustic)
Pine
Crickets Throw Their Voice