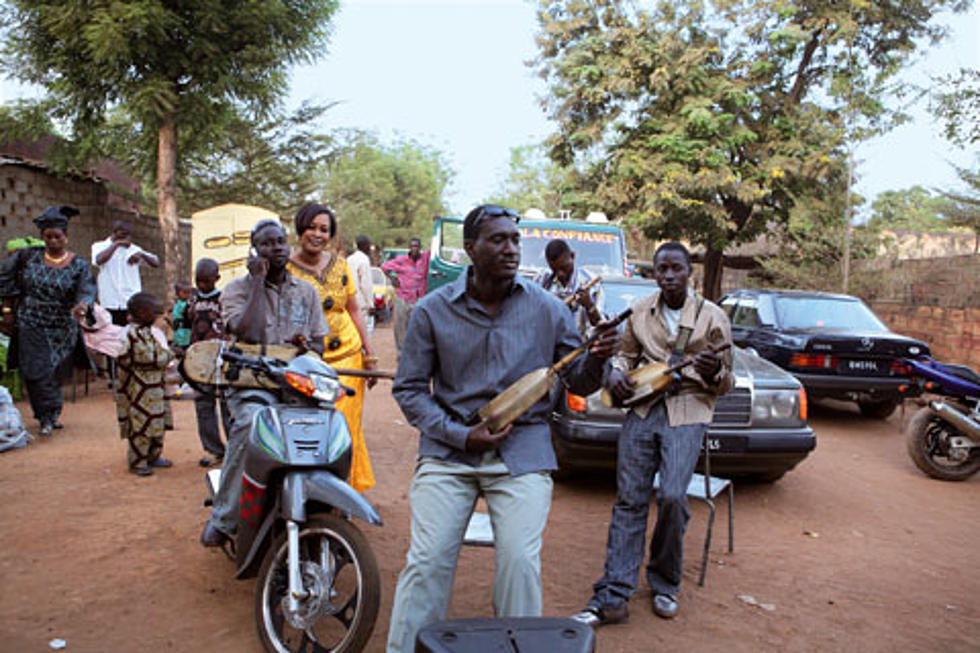 Bassekou Kouyate & Ngoni ba – 2010 Tour Dates (Central Park Summerstage), album on Sub Pop's Next Ambiance (MP3)
Malian musician Bassekou Kouyate is a master of the ngoni, a small stringed instrument that's something of a cross between a lute, a mandolin and a banjo....[in March] he brought his band and their joyous sound to Troy in support of his new album, "I Speak Fula," and it was heavenly. In addition to Kouyate, the band featured his wife Amy Sacko on vocals, two percussionists and three other musicians playing ngonis of varying sizes.

The lyrics were in a foreign language, but there was nothing foreign about the almighty groove that the band laid down. With microphone pick-ups attached to their instruments with electrical tape, the band simply rocked the house.

One song sounded like a second cousin to Appalachian mountain bluegrass. Still another was spiced with Spanish flamenco and Middle Eastern motifs. But mostly, the 100-minute performance was steeped in the blues. African blues, to be sure, but also obviously related to the blues of Taj Mahal, B.B. King and even Jimi Hendrix. And when Kouyate leaned in to use his wah-wah footpedal, it was easy to draw a direct line from his Malian blues to the Grateful Dead. [Nippertown]
Kouyate's, I Speak Fula, which you can get a track from above, came out in late 2009 and was the first release on Sub Pop's Next Ambiance imprint...
Founded by Jon Kertzer, the host of KEXP's "The Best Ambiance" radio show, a long-running weekly program that focuses on both pop and traditional music from the African continent, Next Ambiance continues the musical exploration, with an emphasis on mind-blowing and life-changing artists with no particular regional or cultural bias.

"I've listened and learned so much from Jon's show ("The Best Ambiance") for half of my life. It just seemed natural to put his knowledge, resources and remarkable taste to further use. It'll certainly be a boon to listeners everywhere," commented Sub Pop Records co-founder, Jonathan Poneman. "Our first release with Bassekou Kouyate and his incredible band Ngoni ba from Mali in West Africa, is the perfect way to begin this new adventure. Their album I Speak Fula captures this truly original music, like nothing you have heard before."
Other upcoming shows include free gigs in L.A. and Chicago. Videos and all tour dates are below...

Bassekou Kouyate & Ngoni Ba "Ladon" in Troy, NY

MALI Bassekou Kouyate Ngoni Ba feat Madya Diebate AfriKivo Music mp4

Bassekou Kouyate and Ngoni Ba live performance at Waterloo Records in Austin, TX

Bassekou Kouyate & Ngoni ba - 2010 Tour Dates
May 13 Bla Oslo, NO
May 14 Babel Malmö, SE
May 15 Global CPH Kopenhagen, DK
May 18 Karlstorbahnhof Kulturhaus Heidelberg, DE
May 19 Moritzbastei Leipzig, DE
May 20 Treibhaus Innsbruck, AT
May 21 Remise Bludenz, AT
May 22 Afro Pfingsten Festival Winterthur, CH
May 24 LinzFest Linz, AT
May 27 Theatre Duchamp Villon Rouen, FR
May 28 The Button Factory Dublin, IE
May 29 Coventry Rhythm Festival Coventry, GB
May 30 Kendel Brewery Arts Centre Kendel, GB
Jun 01 Parco della Gioventu Cuneo, IT
Jun 03 Afrikanisches Kultur- und Filmfestival Osnabrück, DE
Jun 04 Kulturfabrik Luxembourg, LU
Jun 06 L'Hay Les Roses Paris, FR
Jun 09 Spoleto Festival Charleston, South Caro, US
Jun 10 Millennium Park Chicago, Illinois , US
Jun 11 Fete De Marquette Madison, Wisconsin , US
Jun 12 LUMINATO FESTIVAL TORONTO, CA
Jun 13 Rochester Jazz Rochester, US
Jun 14 Rochester Jazz Rochester, US
Jun 16 Festival Of Arts & Ideas New Haven, Connecticu, US
Jun 18 Francofolie Montreal, CA
Jun 26 Glastonbury Festival Glastonbury, UK
Jul 02 Blaze Festival (UK), London United Kingdom
Jul 04 Roskilde Festival Roskilde, DK
Jul 25 Central Park Sumer Stage , New York NY #
Aug 13 Grand Performance (CA), Los Angeles CA ^
Aug 25 Konzertmuschel Hagen Hagen, DE
Aug 26 Ringlokschuppen Mülheim an der Ruhr, DE
Aug 28 Freilichtbühne Wattenscheid Bochum, DE
# w/ Fool's Gold
^ w/ Dengue Fever