be in a Jemina Pearl video, see her live (2009 tour dates)
Jemina Pearl @ the Williamsburg Waterfront (more by Bao Nguyen)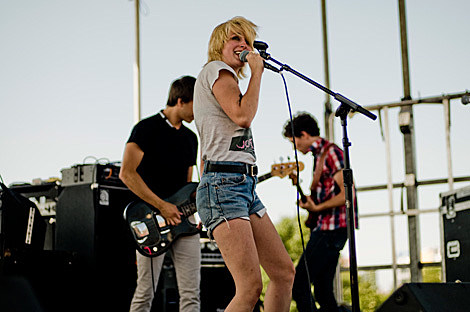 "introducing my band! maxwell peebles on rhythm guitar, ben pearson on bass, erik ratensperger on drums, and john eatherly on lead guitar. what a good looking group of guys! i can't wait to start traveling in a smelly van with them.

we had a another great practice last night after a full of day of recording. we are getting ready for our two shows next week, and we are all very excited! also some more shows got added to our tour in october, so see if we're coming to your city on the myspace page.

finished up the b sides yesterday. we had ben and max come play on one song. it was the first time we actually had a live band recording. usually it's just john and i doing everything, and really it's mostly john. anyway, we might play one of the covers on monday if we can get it together." [Jemina Pearl on August 15th]
Jemina Pearl (former singer of Be Your Own Pet) has a bunch of shows coming up, four of which are in NYC.
Jemina Pearl - 2009 NYC Tour Dates
8/27 J&R Music World (City Hall), Manhattan NY (6pm)
9/15 Southpaw, Brooklyn NY
9/19 Pianos, Manhattan NY
11/5 Bowery Ballroom, Manhattan NY
At the September 15th show, she's opening for The Zeros (tix) who are also playing Maxwell's one day earlier (tix).
On August 25th (not one of the dates above) (tomorrow) (at 2:30 pm), Jemina is filming a video in Long Island City. Want to be an extra, or maybe just watch? Find out how, with all tour dates, below...


TO GET INTO THE video taping: Email BVCONTESTS@HOTMAIL.COM (Subject: Jemina). Be available at 2:00 pm tomorrow. Include your first and last name and age. Winners will be contacted with more details!
Jemina Pearl - 2009 Tour Dates
8/27 J&R Music World (City Hall), Manhattan NY
9/15 Southpaw, Brooklyn NY
9/19 Pianos, Manhattan NY
10/7 The Brillobox, Pittsburgh PA
10/9 The Summit, Columbus OH
10/10 Exit/In, Nashville TN
10/12 Southgate House, Newport KY
10/13 Beachland Tavern, Cleveland OH
10/14 Majestic Café, Detroit MI

Islands & Jemina Pearl - 2009 Tour Dates
10/15 Subterranean, Chicago IL
10/18 The Palace Lounge, Missoula MT
10/19 Chop Suey, Seattle WA
10/20 Rickshaw Theatre, Vancouver BC
10/21 Hawthorne Theatre, Portland OR
10/22 UC Davis - The Odd Fellows Lodge, Davis CA
10/23 Bottom Of The Hill, San Francisco CA
10/25 Rhythm Room, Phoenix AZ
10/27 Mohawk, Austin TX
10/28 Rubber Gloves, Denton TX
10/29 Hi Tone Café, Menphis TN
10/30 Bottletree Café, Birmingham AL
10/31 Lenny's Bar, Atlanta GA
11/1 Duke Coffee House, Durham NC
11/2 G-Spot, Baltimore MD
11/3 First Unitarian Church, Philadelphia PA
11/4 Middle East Downstairs, Cambridge MA
11/5 Bowery Ballroom, Manhattan NY