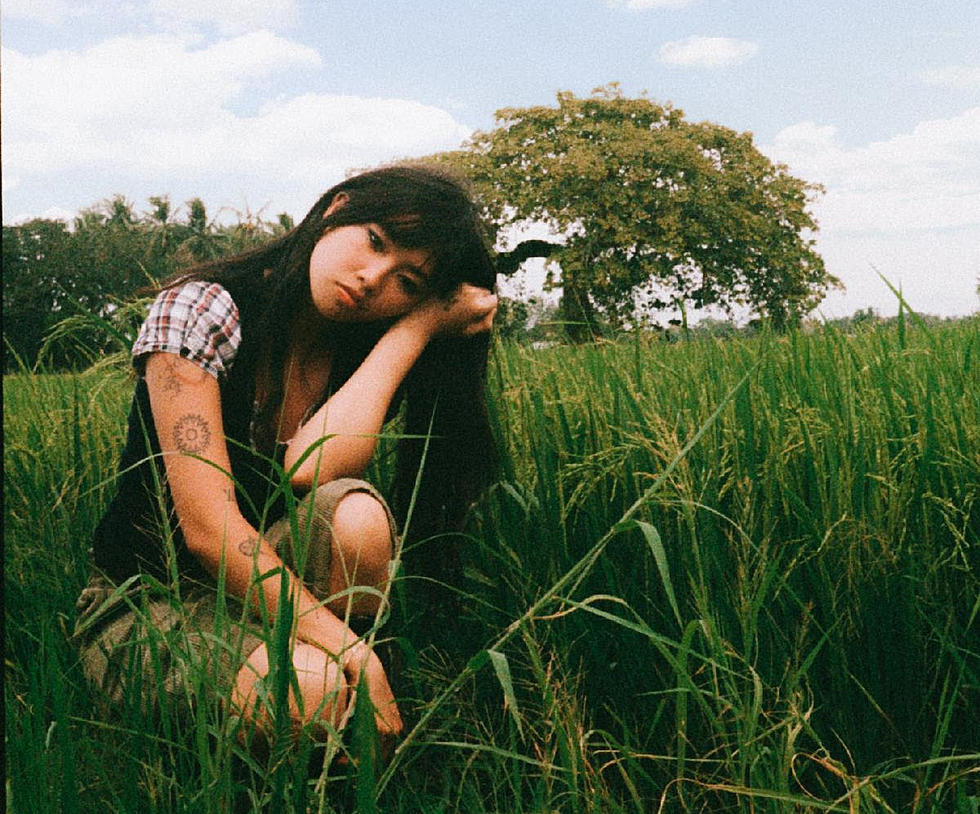 beabadoobee shares "Glue Song," announces headline shows around Taylor Swift tour
photo: Jake Erland
beabadoobee released a new song for Valentine's Day, "Glue Song," a swaying number that is appropriately sweet. "It's a heartfelt song that means a lot to me," she says, "A love song and the first one I've written in my new relationship. I usually write these songs that are sad, in the past with my writing even when it doesn't sound sad looking back, the lyrics usually have been. For the first time this is just me being really happy. I'm in a really positive place for the first time in a long time and feeling love. We recorded the song with my guitarist and producer Jacob in his house and added in trumpets and strings. This song feels really personal and I went to my home town in Ilo Ilo to film the music video. It's where I was born and so that also added another personal touch to the song." You can watch the video for "Glue Song" below.
While busy opening for Taylor Swift this year, beabadoobee is playing a few headline dates on her days off, including stops in San Diego, Tucson, San Antonio, Pensacola, Nashville, NYC (Terminal 5 on July 31), Pittsburgh, and Los Angeles. All dates are listed below.
UPDATE: She's now added a second NYC headlining show too, on August 1 at Terminal 5.
Tickets for NYC, Pittsburgh and L.A. go on sale Friday, February 17 at 10 AM local time.
beabadoobee - 2023 Tour Dates
MAR 4, 2023 - Uebel & Gefährlich - Hamburg, Germany
MAR 5, 2023 - Hole44 - Berlin, Berlin
MAR 7, 2023 - Technikum - Munich, Germany
MAR 8, 2023 - Magazzini Generali - Milan, Lombardy
MAR 9, 2023 - Dynamo Zürich (Dynamo) - Zürich, ZH
MAR 11, 2023 - Le Trabendo - Paris, France
MAR 12, 2023 - Rotondes - Luxembourg, Luxembourg District
MAR 13, 2023 - La Madeleine - Brussels, Brussels
MAR 15, 2023 - Zoom Frankfurt - Frankfurt, Germany
MAR 16, 2023 - Stollwerck - Cologne, Germany
MAR 17, 2023 - Tolhuistuin - Amsterdam, North Holland
MAR 19, 2023 - Vulkan Arena - Oslo, Oslo
MAR 20, 2023 - Fryshuset Arenan - Stockholm, Stockholm County
MAR 21, 2023 - Vega - Copenhagen, Denmark
MAR 24, 2023 - Allegiant Stadium - Las Vegas, NV w/ Taylor Swift
MAR 25, 2023 - Allegiant Stadium - Las Vegas, NV w/ Taylor Swift
MAR 25, 2023 - Allegiant Stadium - Las Vegas, NV w/ Taylor Swift
MAR 27, 2023 - Soma - San Diego, CA
MAR 28, 2023 - The Rialto Theatre - Tucson, AZ
MAR 31, 2023 - The Aztec Theatre - San Antonio, TX
APR 1, 2023 - AT&T Stadium - Arlington, TX w/ Taylor Swift
APR 1, 2023 - AT&T Stadium - Arlington, TX w/ Taylor Swift
APR 2, 2023 - AT&T Stadium - Arlington, TX w/ Taylor Swift
APR 2, 2023 - AT&T Stadium - Arlington, TX w/ Taylor Swift
APR 13, 2023 - Raymond James Stadium - Tampa, FL w/ Taylor Swift
APR 14, 2023 - Raymond James Stadium - Tampa, FL w/ Taylor Swift
APR 15, 2023 - Raymond James Stadium - Tampa, FL w/ Taylor Swift
APR 15, 2023 - Raymond James Stadium - Tampa, FL w/ Taylor Swift
APR 19, 2023 - Vinyl Music Hall - Pensacola, FL
APR 21, 2023 - NRG Stadium - Houston, TX w/ Taylor Swift
APR 22, 2023 - NRG Stadium - Houston, TX w/ Taylor Swift
APR 22, 2023 - NRG Stadium - Houston, TX w/ Taylor Swift
APR 23, 2023 - NRG Stadium - Houston, TX w/ Taylor Swift
APR 25, 2023 - Marathon Music Works - Nashville, TN
APR 28, 2023 - Mercedes-Benz Stadium Atlanta (Mercedes-Benz Stadium) - Atlanta, GA w/ Taylor Swift
APR 28, 2023 - Mercedes-Benz Stadium Atlanta (Mercedes-Benz Stadium) - Atlanta, GA w/ Taylor Swift
APR 29, 2023 - Mercedes-Benz Stadium Atlanta (Mercedes-Benz Stadium) - Atlanta, GA w/ Taylor Swift
APR 29, 2023 - Mercedes-Benz Stadium Atlanta (Mercedes-Benz Stadium) - Atlanta, GA w/ Taylor Swift
JUL 1, 2023 - Lollapalooza Stockholm - Stockholm, Stockholm County
JUL 31, 2023 – Terminal 5 - New York, NY
AUG 2, 2023 – Stage AE - Pittsburgh, PA
AUG 14, 2023 – The Greek - Los Angeles, CA