Beady Eye announce dates, Noel Gallagher releasing solo LP
Beady Eye at Webster Hall in June (more by Jessica Amaya)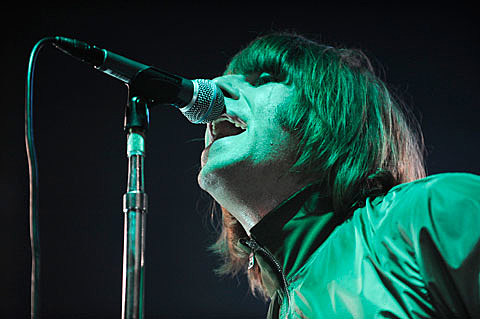 Beady Eye (Oasis minus Noel Gallagher), who made their public NYC debut at Webster Hall last month, are returning to North America this fall for a short tour. The tour ends in NYC on December 9 at Terminal 5. Tickets go on sale Friday (7/15) at noon. "The band will be joined by Matt Jones on keyboards and Jeff Wootton on bass for all dates."
Beady Eye recently made a video for their track "The Beat Goes On." The video, which you can watch below, was filmed at the band's Isle of Wight performance and directed by Charlie Lightening. The band are releasing the song as a single on their own label with the previously unreleased track "In The Bubble With A Bullet" as the b-side. The single comes out July 18.
Meanwhile, Noel Gallagher has been working on some stuff of his own. He's set to release the solo album Noel Gallagher's High Flying Birds in the UK on October 17 on his own Sour Mash label, and in the US on November 8 on Sour Mash and Mercury. According to Noel's website, he and his band Noel Gallagher's High Flying Birds will tour this fall. No dates have been announced yet. He's also said that he's completed a second album "which is a continuation of his collaboration with Amorphous Androgynous." That album is set to come out in 2012.
In other news, Liam says that Noel lied about how Oasis split up in 2009.
"I got diagnosed with laryngitis for the V festival - I wasn't hung-over," Liam said.

"I do gigs when I've been hung-over. I'm a big boy. I'm not going to cancel a gig because I've got a headache."
All Beady Eye tour dates, video, and Noel's album tracklist below...

--
Beady Eye - "The Beat Goes On" Official Video

Beady Eye - 2011 Tour Dates
12/07 LONDONSOMERSET HOUSEUK
14/07 HULTSFREDHULTSFRED FESTIVAL
16/07 BERLINMELT FESTIVAL
17/07 BERNEGURTEN FESTIVAL
13/08 TOKYOSUMMER SONIC
14/0 8OSAKASUMMER SONIC
18/08 ST. PÖLTENFREQUENCY FESTIVAL
20/08 BELFASTBELSONIC FESTIVAL
21/0 8BIDDINGHUIZENLOWLANDS
23/0 8BOCHUMZELTFESTIVAL RUHR
26/08 READINGREADING FESTIVAL
27/08 LEEDSLEEDS FESTIVAL
03/09 SEOULAX HALL
05/09 TOKYOZEPP TOKYO
06/09 NAGOYAZEPP NAGOYA
08/09 OSAKAZEPP OSAKA
11/09 TOKYOZEPP TOKYO
12/09 TOKYOZEPP TOKYO
07/10 ROMEATLANTICOEUROPE
08/10 PADOVAGRAN TEATRO GEOX EUROPE
05/11 SÃO PAULOPLANATA TERRASOUTH AMERICA
05/12 MINNEAPOLISFIRST AVENUE
06/1 2MILWAUKEETHE RAVE BALLROOM
08/12 WASHINGTON9:30 CLUB
09/12 NEW YORKTERMINAL 5
--
Noel Gallagher's High Flying Birds Tracklist:
1 Everybody's on the Run
2 Dream On
3 If I Had a Gun...
4 The Death of You and Me
5 (I Wanna Live in a Dream in My) Record Machine
6 AKA... What a Life!
7 Soldier Boys and Jesus Freaks
8 AKA... Broken Arrow
9 (Stranded On) The Wrong Beach
10 Stop the Clocks