Beastie Boys @ McCarren Pool, Brooklyn, NY – pics
Reviews, and more photos, below...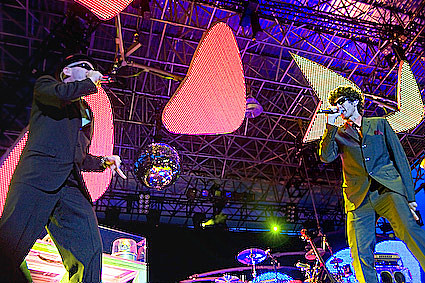 Unbelievably, this was the Beastie Boys' first ever Brooklyn show. They talked to NME yesterday...
Beastie Boys are gearing up for their first ever Brooklyn show, taking place at McCarren Pool in Greenpoint tonight.

This afternoon, the band said that although they may have played Brooklyn as individuals in previous music projects, the Beastie Boys never played the borough, even in the early days

"The (August 9, 2007) clubs didn't really have hip-hop functions in Brooklyn back then, probably because they would end badly" said Adam 'MCA' Yauch
Nostalgia was what fueled the show, which had the Beasties decked out in suits and skinny ties, tearing through hits and obscurities with an anarchic and only faintly dutiful fervor. It was hot and oppressively humid in the park, and there were rumors, later confirmed, that the day's troubles had involved a tornado in Brooklyn. Somehow these were ideal conditions for a hometown Beastie Boys extravaganza.
The Beastie Boys managed to raise the temperature of an already sweltering Central Park on Wednesday night, where the hip-hop veterans delivered a show that was rapturously received by their hometown fans.

Even the headliners seemed thrilled to be at the open-air venue: "We're like Diana Ross, Elton John and Paul Simon all in one," Mike D joked.