Beirut & Woom played MHOW – night 1 pics & setlist
photos by Jessica Amaya, words by Rachel Kowal

Beirut

Walking into the Music Hall of Williamsburg last night (7/5), I realized that I knew nothing about WOOM, the opening act, but I was pleasantly surprised by their set (erratic sound quality aside). The Oakland duo cultivates a refreshingly distinct sound that refuses to blend into the background. With a thumping bass line, unconventional beats, and irresistible male-female vocals, WOOM's music manages to be both confrontational and unassuming.
WOOM spiced up their live act by supplementing the programmed tracks with help from a guitar, tambourine, wooden blocks, and vocals. Sara Magenheimer was particularly magnetic with her cute boy haircut and street-punk aesthetic. She was both fierce and simultaneously adorable (think a poppier tUnE-yArDs), and she shared an undeniable chemistry with her band-mate, Eben Portnoy. I'm definitely eager to hear more from this dynamic duo. Check out their first full-length album, out on Ba Da Bing today.

WOOM

At the crowd's enthusiastic reception, Beirut's French horn tattooed frontman Zach Condon leaned into the mic, saying "We're really excited to be here, too. It's been a while. The last time we were here it was still North 6th," which sent ripples of both confusion and smug recognition through the audience. It's also been a while since Condon released a proper full-length album, favoring an experimental double-EP release last year instead.
Condon spent no time getting to business. Beirut's opening song was hit song "Elephant Gun". Condon stuck mostly to older material, but he did slip a few newer songs into the mix, like "East Harlem" and "The Shrew" (see the complete set list below). Toward the end of the show, Condon also elusively disclosed that he had been working on a new album, but he refrained from providing any specific details on his current project.
Of course, no Beirut show would be complete without a little help from a wide array of instruments, and for Monday night's show, Condon was accompanied by a brigade of musicians. Though a 19-piece Mexican funeral band (like the one used on last year's March of the Zapotec) was not in attendance, Condon and his band juggled instruments like: the tuba, trombone, organ, drums, French horn, ukulele, upright bass, accordion, and a couple of boisterous trumpets. Due to Condon's eclectic influences, the evening was punctuated with music reminiscent of everything from a dimly lit French bar, to a Balkan celebration and a traditional Spanish bullfight. "We're not in Mexico anymore, folks... though it would be pretty awesome if we were," Condon quipped after a few songs.
Throughout the show, the crowd reacted enthusiastically to Beirut's songs. "It's really awesome to hear you guys sing along," said Condon. Of course, it's worth noting that there were several obstacles that made attending last night's show somewhat difficult. There was no option to buy the discounted tickets online. Instead, fans waited in line outside the box office to secure a hard ticket when they went on sale on a Saturday at noon. Then, of course there was the (absent) L train to contend with yesterday, which definitely made the venue less accessible to those coming from outside the neighborhood. Suffice it to say that the people who managed to make it out to the show must have been fairly determined to take it in. "WE WALKED ALL THE WAY OVER THE BRIDGE!" yelled one concert-goer.
Beirut concluded the show with a three-song encore that featured first a lovely, stripped down version of "The Penalty" before the rest of the band re-emerged on stage for the final two songs.
WOOM and Beirut play their second sold-out show at the Music Hall of Williamsburg tonight (7/6), and play a 3rd sold out NYC show at the Guggenheim on July 15th.
The setlist with the rest of the pictures below...


Woom...
Beirut...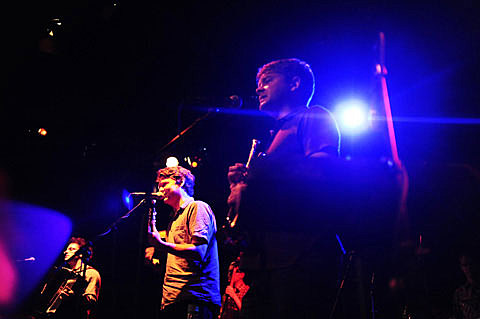 Beirut setlist
Elephant Gun
Mimizan
Forks & Knives
The Shrew
Postcards From Italy
Scenic World
East Harlem
A Sunday Smile
The Akara
Nantes
Cherbourg
Carousels
Encore
The Penalty
Mount Wroclai
The Gulag Orkestar