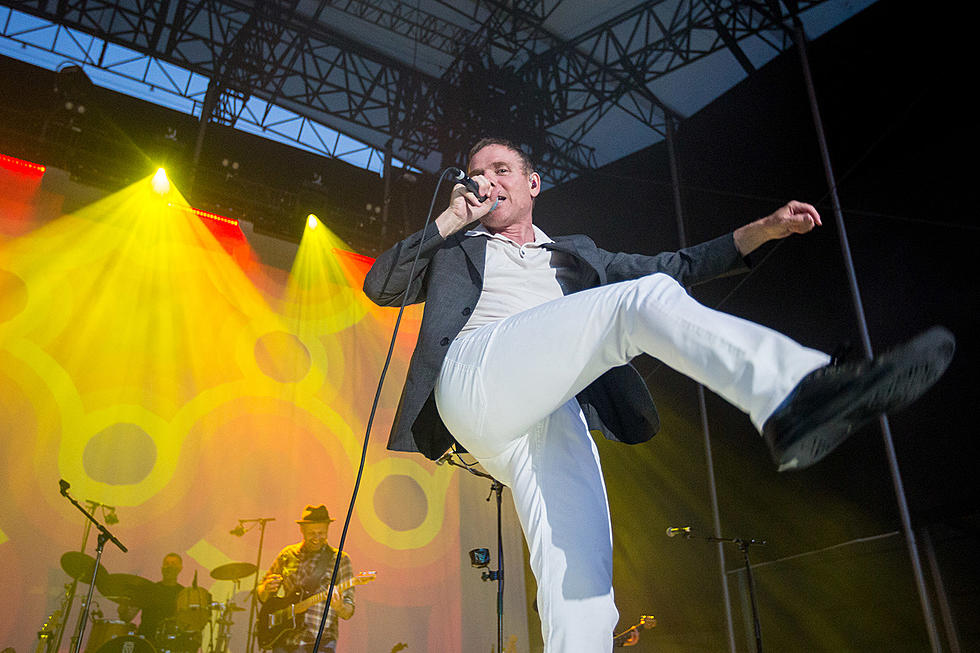 Belle and Sebastian opened Forest Hills Stadium for the season with Perfume Genius (pics, video, setlist)
photo by Amanda Hatfield
Belle and Sebastian are on a North American tour, and they stopped in NYC on Friday (6/8) to kick off the summer season at Forest Hills Stadium with Perfume Genius and Frankie Cosmos, making for an excellent triple bill. Like their College Street Music Hall show a couple of days earlier, Belle and Sebastian started their set with "Dog on Wheels" and played lots of favorites from throughout their discography. Frontman Stuart Murdoch was in fine smiley face balloon-kicking form, and spent some time in the crowd for "Piazza, New York Catcher," which he sang most of at the barricade, dedicating it to the subway series happening at Citi Field the same night. He returned to the crowd during the encore for "The Party Line," during which he ran through the crowd and wound up in the stands. As often happens at Belle and Sebastian shows, the band invited the audience onstage for a big "The Boy With the Arab Strap" dance party, which wound up with over 100 attendees crowding onto the big stage. Watch video of that, as well as some other songs from the set, below.
Perfume Genius's set before Belle & Sebastian drew largely from their excellent 2017 album, No Shape. Mike Hadreas commands even a big stage like Forest Hills, although perhaps understandably he and his band didn't play any of the quieter, more intimate songs from their 2010 debut, Learning.
Frankie Cosmos played first, but I missed most of their set. Find pictures of all three bands in the gallery above, and setlists from Belle & Sebastian and Perfume Genius, below.
Setlist: Belle and Sebastian at Forest Hills Stadium, 6/8/2018
Dog on Wheels
I'm a Cuckoo
We Were Beautiful
Expectations
If She Wants Me
Sweet Dew Lee
I Want the World to Stop
Piazza, New York Catcher
Little Lou, Ugly Jack, Prophet John
The Same Star
Stay Loose
Another Sunny Day
The Boy With the Arab Strap
We Are the Sleepyheads
Judy and the Dream of Horses
Setlist: Perfume Genius at Forest Hills Stadium, 6/8/2018
Otherside
Longpig
Fool
Wreath
Hood
Just Like Love
Valley
Body's in Trouble (Mary Margaret O'Hara)
Grid
My Body
Run Me Through
Slip Away
Queen