'Better Call Saul' premiered; Grooms' drummer is in the cast; A Place to Bury Strangers' new LP streaming
Grooms' drummer Steve Levine (left) on 'Better Call Saul' series premiere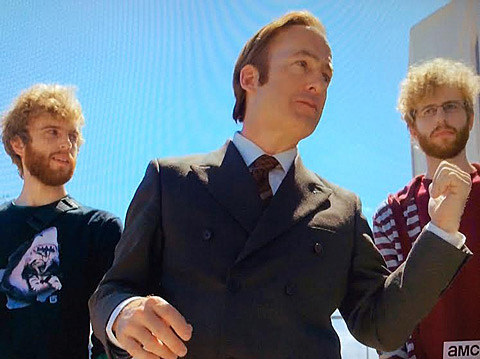 While some folks were watching The Grammys, others tuned into AMC for the series premiere of Breaking Bad spinoff Better Call Saul. Set in the '00s before Saul became Saul or met Walter White, the show (well, first episode at least) is a little lighter in tone than Breaking Bad but to call it a comedy would be incorrect. I thought it was great. Many of the laughs in the first episode come from twin skateboarding scam artists, Lars and Cal, who Saul enlists for help. Lars is played by Steve Levine who also spends time as drummer for Brooklyn indie rock outfit Grooms. His twin brother Daniel plays Cal. AMC is re-airing the Better Call Saul premiere tonight (2/9) at 9 PM, immediately followed by the second episde at 10 PM.
With Season 1 in the can (and the fate of Lars and Cal unknown at this point), Steve Levine's immediate future will be spent with Grooms, whose terrific new album Comb the Feelings Through Your Hair is out next week (2/17). Stream the title track below. They'll play a joint NYC record release show with A Place to Bury Strangers at Music Hall of Williamsburg on February 17 with Ed Schrader's Music Beat and tickets are still available.
A Place to Bury Strangers' new album, Transfixiation, is out next week as well. Weirder, tighter and more varied than anything they've done to date, while still sounding like APTBS, I think it's also the band's best yet. You can stream the whole thing right now over at NPR.