Big Business (new album out now & streaming) & Tweak Bird @ Union Pool in Brooklyn – pics (and tour dates)
Justina Villanueva
photos by Justina Villanueva, words by Black Bubblegum
Coady and Toshi of Big Business

"After much anticipation, Los Angeles based rock heroes BIG BUSINESS have just released their latest and most epic album to date. Entitled "Mind The Drift," the album is available courtesy of the renowned Hydra Head Records, and was produced by Phil Ek (Built To Spill, Fleet Foxes, The Shins) in his Seattle studio.
Featuring the ferocious vocals and bass duties of Jared Warren (ex-Karp, Tight Bros From Way Back When), dominating drumming abilities of Coady Willis (also of the newly revived Murder City Devils), and for the first time, guitar madman Toshi Kasai (also a respected producer in his own right), "Mind the Drift"... [PR]
...is streaming in its entirety @ MindTheDrift.com.
The Big Business and Tweak Bird train landed at Union Pool on 5/9 and Mercury Lounge on May 10th (with Titan). All tour dates, and more pictures from the Brooklyn show below...

Tweak Bird...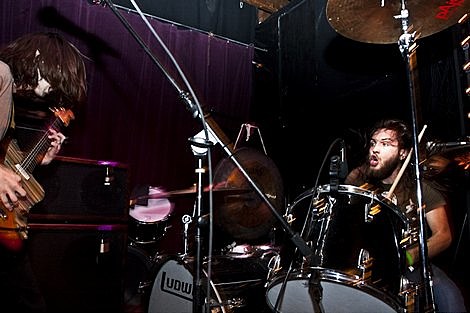 Big Business...
BIG BUSINESS, TWEAK BIRD - 2009 TOUR DATES
May 12 2009 Middle East Downstairs Boston, Massachusetts
May 13 2009 Grog Shop Cleaveland, Ohio
May 14 2009 The Basement Columbus, Ohio
May 15 2009 Headliners Music Hall Louisville, Kentucky
May 16 2009 Small's Detroit, Michigan
May 17 2009 The Bottom Lounge Chicago, Illinois
May 18 2009 Triple Rock Social Club Minneapolis, Minnesota
May 20 2009 Larimer Lounge Denver, Colorado
May 21 2009 Bar Deluxe Salt Lake City, Utah
May 22 2009 Neurolux Boise, Idaho
May 23 2009 Dante's Portland, Oregon
May 25 2009 Neumo's Crystal Ball Reading Room Seattle, Washington
May 27 2009 Bottom of the Hill San Francisco, California
May 28 2009 Detroit Bar Costa Mesa, California
Jun 1 2009 Troubadour Los Angeles, California
Jun 2 2009 Casbah San Diego