Big Star & Kurt Vile @ Brooklyn Masonic Temple in NYC – pics & setlist
Happy Holidays! I take on more than I can handle. That results in a lot of unposted content. In the name of catching up, while also taking it easy during this final week of the year, here's some of that lost material.
Where was Alex Chilton on Wednesday night? At the Brooklyn Masonic Temple, he was onstage, more or less, standing at the far right, sometimes even near his microphone (and sometimes even using it). But as has been the case on and off for the last couple of decades, he was frustratingly hard to find.

It was the first New York show in several years for Big Star, Mr. Chilton's band, still plying the songs that for a few years in the early 1970s helped shape what power pop was to become, even if it was coolly received at the time. (An impressive Big Star boxed set, "Keep an Eye on the Sky," was released on Rhino in September.)

But memories are made in a variety of ways. The resurrection of Big Star in the early 1990s cemented its legend, and also the lineup: Mr. Chilton, who also played guitar, and the drummer Jody Stephens from the original group, rounded out by the guitarist Jon Auer and the bassist Ken Stringfellow, who were enlisted more than 15 years ago to fill out the band during its first comeback and never left. [NY Times]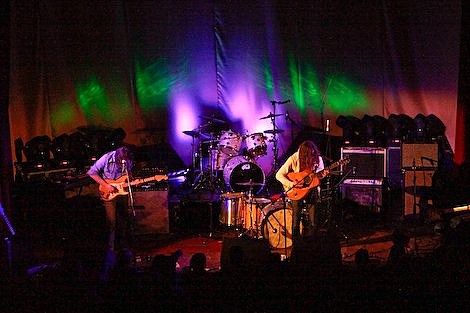 and thanks to PP for the setlist...