Bill reports from M for Montreal, Night Three (Red Mass)
Red Mass

Day one, Day two, Day three (Saturday)...The final day of M for Montreal featured two separate showcases. The closing night event, at the 2000-capicity Metropolis, featured the best of 2007's fest, including electropunks We Are Wolves and the Vegas-y, Franco-pop of Pierre Lapointe.
The daytime showcase was much more fun, held at the legendary Montreal punk/metal club Foufounes Électriques. Metal - steel, iron, aluminum - was everywhere, and the whole place seems to be welded together. Definitely the most rock n' roll venue of the festival. So, as you'd expect, we got two Franco Canadian hip hop groups, as well as easily the most chart-friendly act of the week. All good in their own way, just a bit of an odd juxtaposition.
Luckily, we also got Red Mass, who spit, pissed, shit and sweated rock n' roll. Certainly the most badass group to feature a clarinet player. Made up of members of infamous garage rock collective CPC Gangbangs, clad in crimson and about ten strong, Red Mass came off like a Brian Jonestown Massacre fueled by speed, The Sonics, MC5 and the Damned instead of the Velvets, Syd Barrett and narcotics. And instead of Joel Gion, Red Mass' percussionist wore only a Speedo and gold paint. King Khan and Mark Sultan (BBQ) are among those they list under "musicians & artists [that] have participated in the Mass".
"This is gonna be a bloody mess," singer Choyce told the crowd, though he obviously meant that as a positive. One guitarist stood on a speaker on one side of the stage, and the gold dude played cowbell and tambourine from the other. In the middle were crammed five or six on the tiny stage, with a few more standing on the floor. Did I mention this was their first-ever show? They barreled though about six songs and with so much onstage mayhem that I sort of felt punch-drunk by the end. It was the only performance of the week I wish had gone on longer.
Gatineau

Red Mass guitarist Giselle Webber (who seems to be in every third band in Montreal) also made an appearance during Gatineau's set. I don't know this for sure, but I'm going to go out on a limb and declare them to be the only hip hop band to feature a harpsichord player. (A drummer is probably more common, if just at Showbiz Pizza.) Gatineau's self-titled album won Hip Hop Album of the Year at this year's GAMIQ awards. Didn't understand a word, yet...awesome.
Even less people understood fellow rappers Radio Radio who looked as if they jumped off the pages of Vice. The four-piece hail from Moncton, New Brunswick where the Chiac dialect, a mix of Acadian French and English, is spoken and is pretty much impenetrable to most of Canada. Whatever they were saying, it sounded good.
The other act of the afternoon was Colin Munroe who became a bit of a YouTube sensation with his cover of Kanye West's "I Want Those Flashing Lights." He writes his own stuff too, having made his album by himself in his bedroom or something. Munroe attempted to it all himself, playing drums and keyboards and singing, with a little help from a guitarist. Not really my thing, but he's clearly talented, and his radio-friendly pop that reminded me a bit of the New Radicals' Greg Alexander. If he doesn't make it as a solo artist, I have a feeling he's going to have a career as a songwriter. Look out Linda Perry!
More pictures and some videos below...

Red Mass...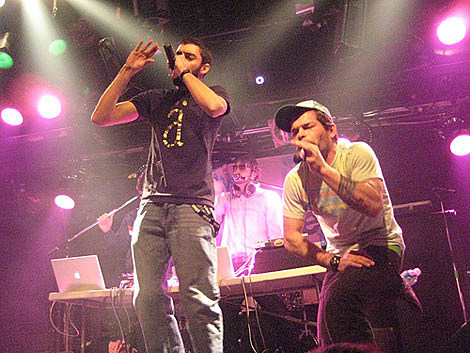 Colin Munroe-I Want Those Flashing Lights (Kanye West Remix)

Duchess Says | M for Montreal | 11.20.2008