Bill's Week in Austin (Day 4 – Pete & the Pirates & more)
Pete & the Pirates @ SXSW Convention Center

"This is the weirdest gig we've ever played. I feel like we're in Las Vegas and you are all eating dinner." Pete & the Pirates singer Thom Sanders was remarking on the weirdness of playing the Dot Com Day Stage at 1PM in the Austin Convention Center. Folding chairs were set up near the stage, there were couches around the periphery, more the kind of place where some CEO reveals annual earnings than hearing some sprightly indie pop.
Yet Pete & the Pirates made it work, 'cause they're so damn good. (The bloody mary I was drinking probably also helped.) They charmed the pants off the room. We got a smattering of songs from their first album, and a few from One Thousand Pictures which is due out in May. This was a great way to start my final day of SXSW.
From there it was off to our final day party of the week, which we were throwing with our friends at the M for Montreal festival. The line-up was pretty sick, if I do say, with !!!, Weekend, Austra, Braids, PS I Love You, Braids, Trail of Dead, Owen Pallet and more. The weather had cooled off a bit making both the outside stage at Barbarella and Swan Dive more comfortable than Friday and it was a great afternoon of music. Highlights for me: Versus, who I'd seen the night before, a kick-ass set from !!! who I don't think I've seen play in three years, an abbreviated but great Suuns, and another killer set from Weekend. (Look for an interview with Weekend soon.) I wish I'd gotten there in time to see Montreal's quirky, funky Misteur Valaire who I heard were the perfect lead-in to !!! (editor's note: they were!).
continued below...

--
Weekend @ Barbarella

When things wrapped up at Barbarella/Swan Dive, I met some friends across the street at Headhunters, which is a combination rock club/taco shack/head shop. Doug Benson was there, go figure! So was L.A. band American Royalty who were a fun hodgepodge of dance-rock styles. They definitely brought the party to the slightly skunky smelling room. Look out for these guys.
To kick off the evening portion of Saturday, it was off to the True Panther party at Shangri La to catch Austin band Love Inks. They've been getting a lot of ink, despite only really having one song people have heard, specifically Rough Trade shops who have praised their forthcoming debut. I like the single "Black Eye" (which you can download) and will probably dig the LP, but Love Inks, at least live on a Saturday night, are not ready for prime time yet. I'll check back in six months.
Next up: the Dirtnap showcase to see Texas punks Mind Spiders, an offshoot of Marked Men. There's a motorik punk quality to their great debut album which their live show coulda used a smidge more of, but they were good nonetheless. I'm not sure how much they actually play live.
I had an hour to kill so I went to the Cake Shop showcase to see Halifax, NS band Dog Day who I thought were really good despite performing as a duo (they are normally twice that). Moody and melodic, they were perfect for my admittedly flagging energy.
Next up: Veronica Falls, one of my favorite new indiepop bands. We got to hear a lot of new songs that will be on the band's soon-to-be-released debut album, which comes out on the Wichita label.
I ended the night at Mohawk with JEFF the Brotherhood who had the place absolutely packed. These guys have come a long way in two years, and it's great to see the Orall brothers doing so well. Jake was climbing all over the place, laying down solos from atop amps, while Jamin kept his head down behind the kit. They were great.
I stuck around for a few songs from Ty Segall who, like JEFF, have gone beyond the garage rock circles to wider popularity, and deservedly so. But exhaustion -- and the need for a meal -- got the better of me and I called it a night.
A few more pictures, plus video of Veronica Falls' performance, are below.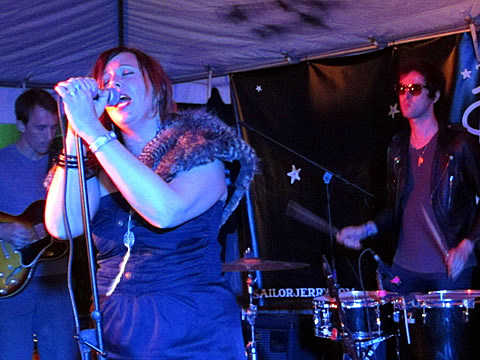 Veronica Falls - SXSW 2011