Billy Idol touring, played Beacon and Wellmont Theater w/ Broncho (who added 4 more NYC shows) — pics, setlist, dates
Gregory R. Cristman
Billy Idol & Steve Stevens

Billy Idol brought his current tour to NYC for a sold out show at Beacon Theater last week, and to NJ for another sold out show at Wellmont Theather the very next day. I was at the Beacon, but the pictures here are from Wellmont.
Though some of the songs are slightly slowed down, Billy's 17 song set is full of crowd pleasers with very few dull moments, thanks in part to original guitarist Steve Stevens belting out flashy solos by Billy's side. Also not dull: when some women in the front row reached up and touched Billy's privatest of parts, in clear view of everyone in the audience at Beacon Theater during "Cradle of Love" (it was a bit awkward).
Sometimes shirtless (which was not awkward at all), the 59 year old Idol ripped through favorites like "Cradle of Love", "Dancing With Myself", "Flesh for Fantasy", "Eyes Without a Face", "Rebel Yell" and "White Wedding". There were Generation X songs written in the 70s, and cuts from his October 2014 album Kings & Queens of the Underground. He also still does his Doors cover. I was hoping he didn't actually still play his 1981 Top 40 hit "Mony Mony" (a Tommy James and the Shondells cover), but he actually closed the encore with it. Maybe he feels like he has to play it, but it seemed like an unnecessary extended ending to an otherwise great show (do we really even need to hear anything else after "Rebel Yell" into "White Wedding"?). The full setlist can be perused below.
Oklahoma indie rock band Broncho somehow landed the opening spot on the ongoing tour, which was convenient because I was hoping to catch them live one of these days. They sounded good, but I got in a bit late and it was weird seeing them in a theater. They since played a rescheduled-due-to-Juno club show at Rough Trade NYC (how was that?), and have been added to all four Growlers shows at Baby's All Right, part of a bigger tour with the Growlers.
Updated tour dates are listed with the rest of the pictures from NJ (t-shirts included), below...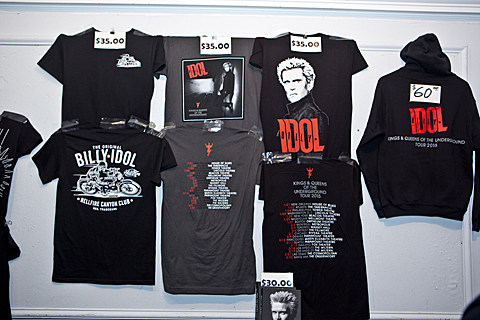 SETLIST
Postcards from the Past
Cradle of Love
Can't Break Me Down
Dancing With Myself (Generation X song)
Flesh for Fantasy
Save Me Now
Ready Steady Go (Generation X song)
Sweet Sixteen
Eyes Without a Face
L.A. Woman (The Doors cover)
Guitar Solo
King Rocker (Generation X song)
Whiskey and Pills
Blue Highway
Rebel Yell
Encore:
White Wedding
Mony Mony (Tommy James & the Shondells cover)
--
Billy Idol -- 2015 Tour Dates
February 4: Massey Hall, Toronto, ON
February 7: Riviera Theatre, Chicago, IL
February 9: Paramount Theatre, Denver, CO
February 12: Queen Elizabeth Theatre, Vancouver, BC
February 13: Paramount Theatre, Seattle, WA
February 15: The Fox Theatre, Oakland, CA
February 18: The Wiltern, Los Angeles, CA
Growlers -- 2015 Tour DAtes
01/28 New York NY - Beacon Theatre*
01/29 Montclair NJ - Wellmont Theatre*
01/30 Saratoga Springs - Vapor Night Club
01/31 Boston MA - Orpheum Theatre*
02/03 Montreal QC - Metropolis*
02/04 Toronto ON - Massey Hall*
02/06 Detroit MI - Fillmore*
02/07 Chicago IL - Riviera Theatre*
02/08 Omaha NE - Slowdown
02/09 Denver CO - Paramount Theatre*
02/10 Salt Lake City UT - Kilby Court
02/12 Vancouver BC - Queen Elizabeth Theatre*
02/13 Seattle WA - Paramount Theatre*
02/14 Portland OR - Bunk Bar
02/15 Oakland CA - The Fox Theatre*
02/18 Los Angeles CA - The Wiltern*
02/19 Los Angeles CA - The Wiltern*
02/21 Las Vegas NV - The Cosmopolitan*
02/22 Santa Ana CA - The Observatory*
02/26 Minneapolis MN - 7th Street Entry^
02/27 Chicago IL - Lincoln Hall
02/28 Chicago IL - Lincoln Hall
03/01 Bloomington IN - The Bishop
03/03 Baltimore MD - Ottobar^
03/04 Brooklyn NY - Baby's All Right^
03/05 Brooklyn NY - Baby's All Right^
03/06 Brooklyn NY - Baby's All Right^
03/07 Brooklyn NY - Baby's All Right^
03/17-21 Austin TX - SXSW
03/26 Los Angeles CA - The Echo
03/28 Santa Ana CA - Burgerama 4
03/29 Santa Ana CA - Burgerama 4
03/31 San Francisco CA - The Independent
04/02 Portland OR - Doug Fir
04/03 Seattle WA - Tractor Tavern
04/04 Vancouver BC - Electric Owl
*w/ Billy Idol
^ w/ The Growlers