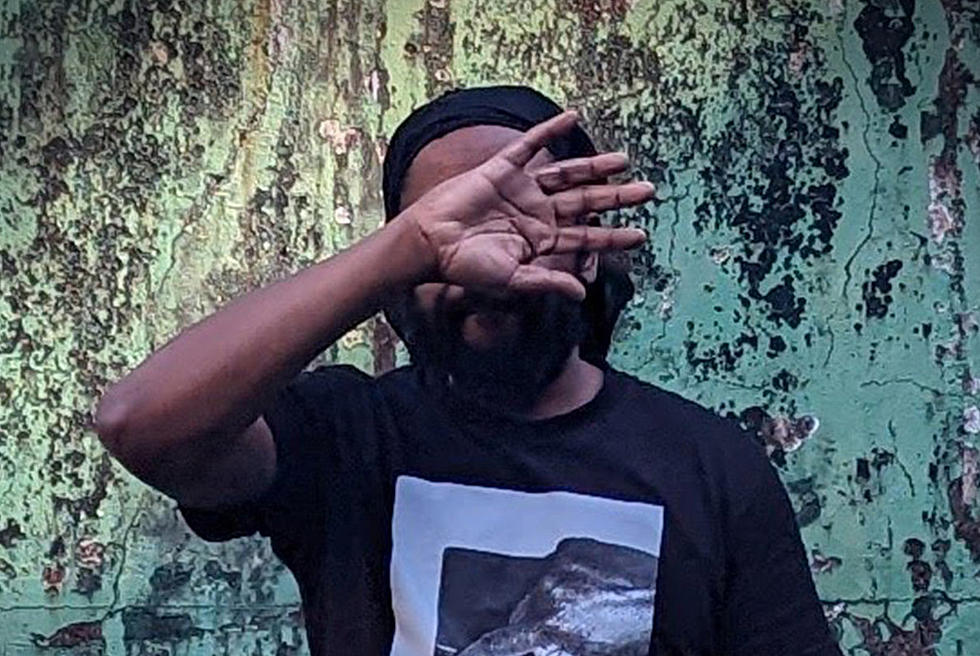 Notable Releases of the Week (5/5)
billy woods (via Bandcamp)
It's officially May, which means we ran down the best punk, rap, and indie of April this week, and it also hopefully means this gloomy weather we've been having in New York will end soon. Maybe you spent this week rolling your eyes at the Rock and Roll Hall of Fame or celebrating the return of Siouxsie Sioux. Maybe you're looking for some new music, in which case you've come to the right place. I highlight 12 new albums below, and Bill tackles more in Bill's Indie Basement, including SQÜRL (Jim Jarmusch & Carter Logan), Westerman, LA Priest, The Lemon Twigs, Immaterial Possession, Flasher, and Modern Cosmology (Stereolab's Lætitia Sadier + Brazilian group Mombojó).
On top of those, this week's honorable mentions include The Smashing Pumpkins, The Album Leaf, Dave Lombardo (Slayer), Krallice, Envision, Peter One, Durand Jones, Logan Halstead, Jidenna, Under His Eye, Greg Mendez, Asher Gamedze, Nightmarer, Sue Clayton (Morgan Kibby of M83/White Sea), DieHumane (Exodus, Type O Negative), Jenny Owen Youngs, Gord Downie & Bob Rock, yMusic, Unearth, Mareux, Cian Nugent, Olivia Jean, Rodney Crowell, David Wax Museum, Enforcer, Michael Cormier-O'Leary, OhGeesy, Felicita, Waldemar, Comfort, Cloth, Shit Present, Five Fingers of Funk, Beta Librae, 7ebra, 79.5, Grandson, Emily King, Cusp, NxxxxxS, Atmosphere, Ed Sheeran, the Body/Head EP, the Armani White EP, the Skiifall EP, the birthsite EP, the Abyssal / Ellorsith split EP, and the NJ punk covers comp from Jersey Interchange.
Read on for my picks. What's your favorite release of the week?
billy woods & Kenny Segal - Maps
Backwoodz Studioz
Between Armand Hammer and his solo career, New York rapper billy woods releases so much music that all varies from good to great, so it's not easy to pick a favorite album or an entry point, but his Kenny Segal-produced 2019 album Hiding Places is up there. So it's very exciting that billy and Kenny have once again made an entire album together, Maps, which finds their chemistry sounding even stronger. Kenny's experimental production rarely sounds like traditional hip hop, and woods' dizzying lyricism fits it perfectly. He has too many witty, ear-catching one-liners to count, and Maps has some of his most tuneful, memorable rapping in recent memory. Like Hiding Places, woods' Armand Hammer partner ELUCID appears on this album--this time on two songs--and it also features Backwoodz labelmates ShrapKnel and some bigger guests like Danny Brown, Aesop Rock, and Quelle Chris, plus hooks from Benjamin Booker and Future Islands' Samuel T. Herring. Their distinct voices help give the album a good flow (and might help rope in some new listeners), but the recognizable names are an added bonus, not a crutch. It's always woods and Kenny themselves steering the ship.
--
Drain - Living Proof
Epitaph
Living Proof isn't just the name of Santa Cruz hardcore band Drain's excellent sophomore album (and first for Epitaph); it's a mantra. In the classic "anyone can do this" punk rock fashion, Drain are living proof that you can do this too if you believe in it, that haters can't bring you down, that no one can stop you from being yourself. "These are the words I wish I had when I needed them the most," vocalist (and former Gulch drummer) Sammy Ciaramitaro screams on the title track, which closes the album. Drain aren't playing for the gatekeepers, the critics, or the cultural tourists; they're playing for the kids who need a great hardcore band like Drain in their lives. With thrash and groove metal riffs from guitarist Cody Chavez, Drain are tough, but they aren't unwelcoming. Anyone who cares about this shit is welcome at a Drain show, and Drain shows are getting pretty damn big lately. The vibe is both in-your-face and flat-out fun, just like Living Proof, which balances out its aggressive tone with colorful artwork, California warmth, and honesty and vulnerability in Sammy's lyrics, whether he's talking about kicking an alcohol-fueled lifestyle for a straightedge one on "FTS (KYS)" or celebrating being your true self on "Imposter." As a way of keeping the album from ever getting stagnant, Drain break up their fury with a hip hop interlude (led by hardcore-adjacent rapper Shakewell) and faithful, clean-vocal cover of Descendents' "Good Good Things," both of which fit perfectly within the context of Drain's music. They don't abandon what people loved about their Revelation Records-released debut LP California Cursed, they just expand upon it, add in a few new things, and make it even better.
Listen to our new podcast episode with Sammy for more.
--
Fred again.. & Brian Eno - Secret Life
Text Records
Back when rising superstar DJ Fred again.. was just a teenager, he began his career working with Brian Eno, and now that Fred is one of the most visible names in electronic music, he reunited with Brian for a collaborative album, Secret Life, out now on Four Tet's Text Records. (In case you haven't heard, Fred, Four Tet, and Skrillex have been hanging lately.) I'm only just hearing it this morning, so we'll probably have more to say about it later on, but so far it's a genuinely gorgeous record and not exactly what you might expect from either Fred again.. or Brian Eno on their own. Read more about it here.
--
Conway the Machine - Won't He Do It
Drumwork Music Group/EMPIRE
The extremely prolific Buffalo rapper Conway the Machine has been busy building his Drumwork empire lately, with a recent collaborative album from Conway and Jae Skeese, followed by Jae Skeese's own album Abolished Uncertainties, and now Conway releases his latest solo album on the label, Won't He Do It. It doesn't stray far from the '90s New York rap revival that he's churned out across his countless other projects, but somehow, Conway still has so much to say. With guests and producers that primarily hail from Drumwork and Griselda circles, Won't He Do It doesn't rely on much outside star power, it's got songs with virtually no hooks--it keeps you hooked just because Conway's bars are so captivating.
--
Jeromes Dream - The Gray In Between
Iodine
Jeromes Dream's late '90s and early 2000s material is some of the most influential screamo in existence, but if you don't have an ear for the very harsh, very lo-fi recordings they put out back in the day, the entry barrier to their music can seem a little high. With The Gray In Between--Jeromes Dream's second reunion album following 2019's rust-polishing LP and their first with Loma Prieta's Sean Leary on guitar--they've made an album that captures all of the power of their classic material and tops it off with the most accessible production of their career (recorded, mixed, and mastered by Jack Shirley). The sonic clarity does nothing to dampen the effect of Jeromes Dream's aggression; it only makes them hit harder. It's a dark, powerful, uncompromising album, and it really doesn't sound like anything else in JD's discography. For a reunited band that put out their first demo 25 years ago, that's no small feat.
Pick up the Jeromes Dream album on limited white vinyl
--
Panchiko - Failed at Math(s)
self-released
Nottingham, UK band Panchiko were together from 1997 - 2001 and mixed guitars with dreamy electronics for a unique sound somewhere between indie rock, post rock and trip hop. They only released a couple CDR EPs during their original run, but when a 4chan user found a copy of their debut, 2001's D>E>A>T>H>M>E>T>A>L, in a charity shop and uploaded it to YouTube in 2016, Panchiko became a minor viral sensation, with new fans trying to figure out who this band was and where they were. That led to an expanded edition of D>E>A>T>H>M>E>T>A>L getting an official release in 2020, and then the band reformed in 2021. Now they've released what is officially their first full-length, which sounds fresh without straying too far from their original sound. The release of this album admittedly snuck us up on a bit, but we'll have a longer review soon.
--
Death Goals - A Garden of Dead Flowers
Prosthetic
UK chaotic queercore duo Death Goals made a lot of noise with their great self-released 2021 debut album The Horrible and The Miserable, and they since signed to Prosthetic who now releases their sophomore album A Garden of Dead Flowers. As good as the debut was, the new album marks a big step up in every way. It's bigger and catchier but also more furious and more uncompromising. They're using more clean vocals this time around but still screaming a ton too, and branching off into a ton of unpredictable directions. The end result is like a cross between The Blood Brothers, Botch, and La Dispute, but even those comparisons only scratch the surface of what Death Goals are doing here. And with vivid lyrics that take on gender dysphoria, trauma, violence, and more, A Garden of Dead Flowers has as much desperation in its subject matter as it does in its delivery.
--
SBTRKT - The Rat Road
AWAL
Back in the early 2010s, SBTRKT changed the game with his 2011 self-titled debut album. It helped revolutionize the world of electronic pop music, helped put Sampha and Jessie Ware on the map, and helped boost Little Dragon's career with their still-timeless collaboration "Wildfire." Later SBTRKT releases were more polarizing, and then he took a six-year hiatus from music, but now he's back with a new album, The Rat Road. Maybe it's partially that absence makes the heart grow fonder, but The Rat Road feels like it might be the best SBTRKT record since his classic debut LP. It hops between a variety of different electronic subgenres, and it's got a lot of guest appearances but it doesn't feel overly reliant on guest starpower the way his sophomore album Wonder Where We Land sometimes did. Sampha and Little Dragon are both on it, as are chillwave lifer Toro y Moi, rising rap weirdo Teezo Touchdown, and some newer alt-pop singers like George Riley, Saya Gray, and Anna of the North. There are also multiple tracks with newcomer LEILAH, whose career just might get launched by this album the way Sampha and Jessie Ware's careers got launched by SBTRKT's debut. On The Rat Road, SBTRKT doesn't sound like he's trying to break into the mainstream, he doesn't sound like he's rehashing his classic songs; he just sounds like he has his head down, focused on staying in a lane of his own and making the music he wants to make.
--
IDK - F65
Clue/Warner
Maryland rapper/producer IDK's latest album F65 is some of his most expansive work yet. Across 22 songs--many of which feature production from IDK himself--the backdrop ranges from vintage jazz to trap to Afrobeats to thumping dance beats, as IDK's lyricism ranges from personal introspection to police brutality. Guests include Snoop Dogg, Benny the Butcher, NLE Choppa, Saucy Santana, Fat Trel, Musiq Soulchild, and more--a diverse cast, which is fitting for an album as varied as this one.
--
Spinebreaker - Cavern Of Inoculated Cognition EP
Creator-Destructor
Drain aren't the only band with two members of Gulch that have a new record out today. Even before Gulch formed, vocalist Elliot Morrow and guitarist Cole Kakimoto were playing guitar in the death metal band Spinebreaker, and Spinebreaker have just released a new EP, marking their first new music since a 2019 single and first proper release since their 2016 debut LP Ice Grave. Their current lineup is rounded out by vocalist Alex Herrera, bassist Josef Alfonso (Sunami, Big Boy, Field of Flames), drummer Brian Do (Ripped To Shreds), and third guitarist Justin Ton (Dead Heat, Paranoiac, Apparition). It's got six songs that clock in at roughly 25 minutes, and as you'd probably expect from a band with a triple guitar lineup like this one, it's got riffs for days. Alex tops it all off with growls that are even more brutal and beastly than on the band's last record, and the production is much beefier on this one too (it was recorded, mixed, and mastered by Greg Wilkinson). Given all the death metal/hardcore crossover that's been happening lately, the timing couldn't be better for Spinebreaker to come back, and Cavern Of Inoculated Cognition just might be their best release yet.
--
The Bollweevils - Essential
Red Scare Industries
Initially around between 1989 and 1996, The Bollweevils were staples of Chicago punk and top-tier makers of the kind of fast, driving, catchy punk that dominated the '90s. They ran in the same circles as bands like Naked Raygun, Smoking Popes, and 88 Fingers Louie, had splits with The Freeze, Ripcordz, and Doc Hopper, put out two albums for the well-known punk label Dr. Strange Records, and appeared on the first edition of Hopeless Records' Hopelessly Devoted to You comp. They reunited in 2006 to play the second Riot Fest, and they've gradually kept it going since then, and eventually put out a new two-song 7" called Attack Scene. Now, they release their first full-length album since their 1995 sophomore LP Heavyweight, Essential, on the trusty Chicago punk label Red Scare Industries. Essential basically sounds like the music The Bollweevils were making 30 years ago, just with cleaner production, and it's nostalgia-inducing and refreshing all at once. The band have all the same urgency that they had in the '90s, Daryl Wilson's voice sounds better than ever, and their songwriting is genuinely impactful. I feel like I'm listening to '90s punk buried treasure, but I also feel like I'm listening to something that sounds new and important in the year 2023. Whether you've been waiting decades for this record to exist or are just hearing about The Bollweevils now, Essential will send you on a whiplash-inducing journey through punk rock bliss.
--
Nanna - How to Start a Garden
Republic Records
Nanna Bryndís Hilmarsdóttir has kept busy for the last decade fronting Of Monsters and Men, but her debut solo album How to Start a Garden is a more subdued affair. She produced it with The National's Aaron Dessner and Bonny Light Horseman's Josh Kaufman, and it's full of lushly arranged, folky indie rock that should appeal to fans of Taylor Swift's Folklore and Evermore, with well-placed touches of melancholy piano, strings, and horns. Nanna's voice, whether a whispery husk or a full-throated belt, is at the center of the songs, enveloped in the cozy cocoon of sound that recalls the cabin outside Reykjavik where she wrote them. [Amanda Hatfield]
--
Read Indie Basement for more new album reviews, including SQÜRL, Westerman, LA Priest, The Lemon Twigs, Immaterial Possession, Flasher, and Modern Cosmology.
Looking for more recent releases? Browse the Notable Releases archive or scroll down for previous weeks.
Looking for a podcast to listen to? Check out our new episode with Drain.