Bitch Magnet and Moss Icon to play Le Poisson Rouge, first show in NYC in 20 years
Timothy S. Griffin
Moss Icon at Chaos in Tejas (more by Tim Griffin)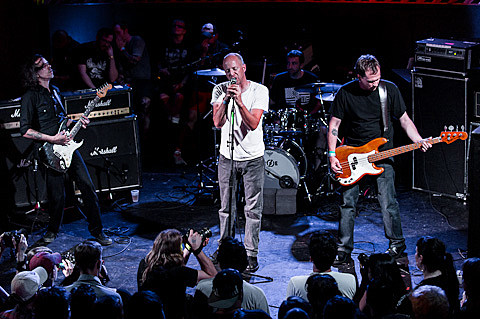 BrooklynVegan: You've announced "select live appearances" to be in the works. Outside of Chaos in Tejas, are there any other plans to do other select cities in the US? Baltimore? NYC?

Moss Icon: We never actually said that, someone else did...but yes we'd love to. Alex & Zak have very young children so getting away is difficult. We may play NYC, or elsewhere, hopefully soon but time will tell.
Bitch Magnet was a post-hardcore band during the late 1980s and early 1990s who formed in 1986 at Oberlin College in Ohio and later moved to North Carolina... Lead singer Sooyoung Park later joined Mac McCaughan of Superchunk fame and Lexi Mitchell to form the band Seam. Post-Seam, Park also played guitar in Ee. David Grubbs, who was a founding member of Squirrel Bait, was briefly a member of the band while also leading Bastro. Orestes Morfin went on to drum for Walt Mink and God Rifle. Jon Fine formed Vineland and Coptic Light, and was briefly a touring guitarist for Don Caballero.
Bitch Magnet's lineup of Fine, Morfin, and Park (the original recorded incarnation) reunited for ATP's Nightmare Before Christmas last year and played a handful of shows outside of that. Now comes word that they'll headline Le Poisson Rouge on October 25th with Moss Icon, their first NYC appearances in 20 years. Tickets are on sale. The show will be Moss Icon's sole East Coast performance for the forseeable future (according to the label).
Temporary Residence reissued Bitch Magnet's three LPs late last year as a limited edition 3LP package with a fair share of bonuses/unreleased tracks. The label also recently dropped the Moss Icon discography as well. Order both at their label store.
Check out video from the Bitch Magnet and Moss Icon reunions below.

---