Bjork & Dirty Projectors @ Housing Works in NYC – pics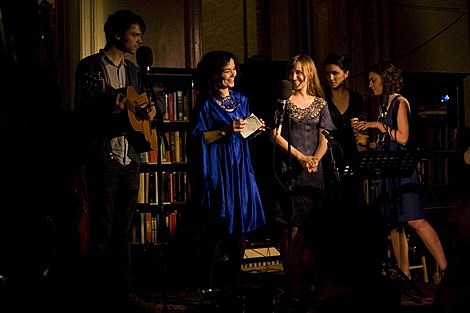 I'm wiped. It was amazing. Here are some pics and a bit of summary....

Housing Works (bookstore and cafe) was closed to the public for the day.
Nat Baldwin from Dirty Projectors introduced the opener DP chose, Kurt Weisman, who played first (around 8:30). Kurt was quiet. It was a big crowd for a bookstore. People were just starting to socialize and drink, and they were there for the headliners. Kurt had a beautiful voice, but I don't think many without seats had an easy time behaving during his set.
Then after a short break Bjork came out (people went nuts) and introduced the opener she chose: Olof Arnalds.
Olof Arnalds played from about 9:15-9:45. Though her songs are folkie, she had a lot of energy and the volume was up, and Bjork had just been on stage, and Olof talks just like Bjork and she was great and the crowd was way into it.
Brandon Stosuy (of Stereogum) put the event together (introduced Bjork to Dirty Projectors) (thanks Brandon!!) (and anyone else!). He introduced Dirty Projectors (around 10:30).
Dirty Projectors then played 4 (could have been 3) new-album songs (without Bjork). Not sure how many people were hearing them for the first time, but they were great, and people were way into it.
Then Bjork joined them for a set of 6 never heard before songs about Amber seeing a whale from a mountain and the whale seeing her back (or something like that). Bjork sang on 3 of them (I think it was 3). She read the lyrics from a piece of paper. The crowd was the loudest when cheering for Bjork (of course).
These girls are otherworldly.
Throw Bjork in the mix and there's no way to describe it really.
People who had seats had name tags on the back (like Kieren Hebden). Most people stood - VIP's were in the balcony. the setup wasn't ideal, but they did the best they could with the space considering they needed to have the seats to make more money (for their cause).
No encore. People were not happy about that, but I think everyone understood.
Bjork, Brandon, and Dirty Projectors DJ'd the afterparty on a roof of a hotel (Cooper Place).