Black Anvil played their new album live at Saint Vitus with Yellow Eyes, Fantom Warrior, and Psalm Zero (pics, video)
Gregory R. Cristman
photos and video by Greg Cristman, words by Ian Chainey
Black Anvil @ Saint Vitus 7/20/2014

Blackened thrashers Black Anvil celebrated their new album, Hail Death, by playing it in its entirety at NYC's Saint Vitus on Sunday (7/20). Bathed in red light and the flicker of a few candles, the NYC-based quartet featuring ex-members of gimmick-less NYHC band Kill Your Idols seemed to tower over the crowd as shadows, unleashing ferocious trem after ferocious trem. Vocalist/bassist Paul Delaney threw his body into the groove, inciting the crowd to do the same. The guitarists, Sos and Gary Bennett, flanked Delaney and drummer Raeph Glicken, one covered in grime, the other hidden in a hood. During "My Hate is Pure," John Chernack of openers Fantom Warior jumped to the stage for a guest spot. For fans of their newer material like "Still Reborn," which Joseph Schafer called ". . . the best thing Black Anvil have ever written" in his Invisible Oranges review, it was an exhilarating night.
Black Anvil shared the Saint Vitus stage with three others. Yellow Eyes, the buzzy black metal trio who have been gigging often, demonstrated why they've built a dedicated following off the backs of 2013's Hammer of the Night and their January-released single The Desert Mourns. Jersey cult thrashers Fantom Warior followed. Reformed in 2012, they're giving hope to old-school metalheads that a follow-up to their 1987 album Fantasy or Reality might be closer to the second word in that title. Psalm Zero, the experimental duo featuring Charlie Looker (Zs) and Andrew Hock (Castevet), moved in near synchronicity while backed by a drum machine, offering intense takes on the blackened/industrial amalgam that's their adventurous debut LP The Drain. Though all the performances were strong, the night belonged to Black Anvil. Hail Death indeed.
Pics from the whole night, plus videos for Psalm Zero and Black Anvil, below...

---
Yellow Eyes
Fantom Warior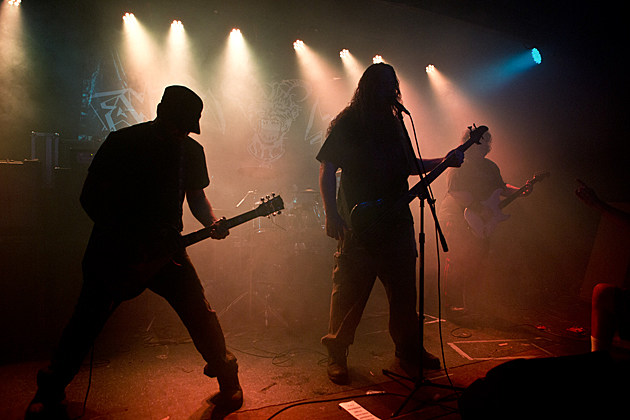 Psalm Zero
Psalm Zero Videos
Black Anvil
Black Anvil Videos
G.N.O.N.

Until the End

My Hate is Pure