Black Anvil schedule shows, None More Black & other stuff too
Gregory R. Cristman
by BBG
Black Anvil supporting Urfaust at Union Pool (more by Greg Cristman)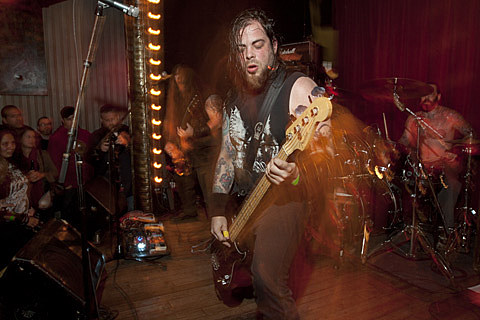 Black Anvil will headline Brooklyn club Saint Vitus on 11/18, bringing along Chicago's Bloodiest (who last played Union Pool with Indian), Mutilation Rites (who ripped it at Acheron last week), and Grudges. Ticket info is forthcoming. The NYC black metal trio will also hit the Backstage at Championships in Trenton, NJ on 10/15 with Immolith, and play the Reverb in Reading, PA on 12/10. All dates are listed below.
In related news, and as previously mentioned, None More Black (with Paul Delaney of BA) will hit the road for a string of dates that will include Knitting Factory on 10/25 with Polygon, TheCore, and Dig It Up. Tickets are on sale. More dates, including Asbury Lanes, are listed below.
In semi-related news (a quick reminder), Singaporean black metallers Impiety will play Saint Vitus on 10/14 with Funerus, Sacristy, Discordia, and Warstrife 666.
If you're looking for something to do TONIGHT (10/10), tickets are still on sale for Hull, Rwake and Primitive Weapons at Mercury Lounge! I'll be DJing.
Album streams from Black Anvil, Bloodiest, Mutilation Rites, and Grudges are below, alongside the flyer and all NMB tour dates.

--

Black Anvil -- 2011 Tour Dates
10/15/11 Championship Trenton,NJ
11/18/11 Saint Vitus, Brooklyn, NY
12/10/11 The Reverb Reading,PA
NONE MORE BLACK - 2011 TOUR DATES
Oct 25 - Knitting Factory, Brooklyn NY * w/ Polygon
Oct 26 - Fat Tuesday, Fairfax, Va
Oct 27 - Soap Box, Wilmington, Va
Oct 29 - The Fest, Gainesville, Fl
Oct 31 - It's a secret.
Nov 1 - The Camel, Richmond, Va
Nov 2 - Asbury Lanes, Asbury Park, NJ