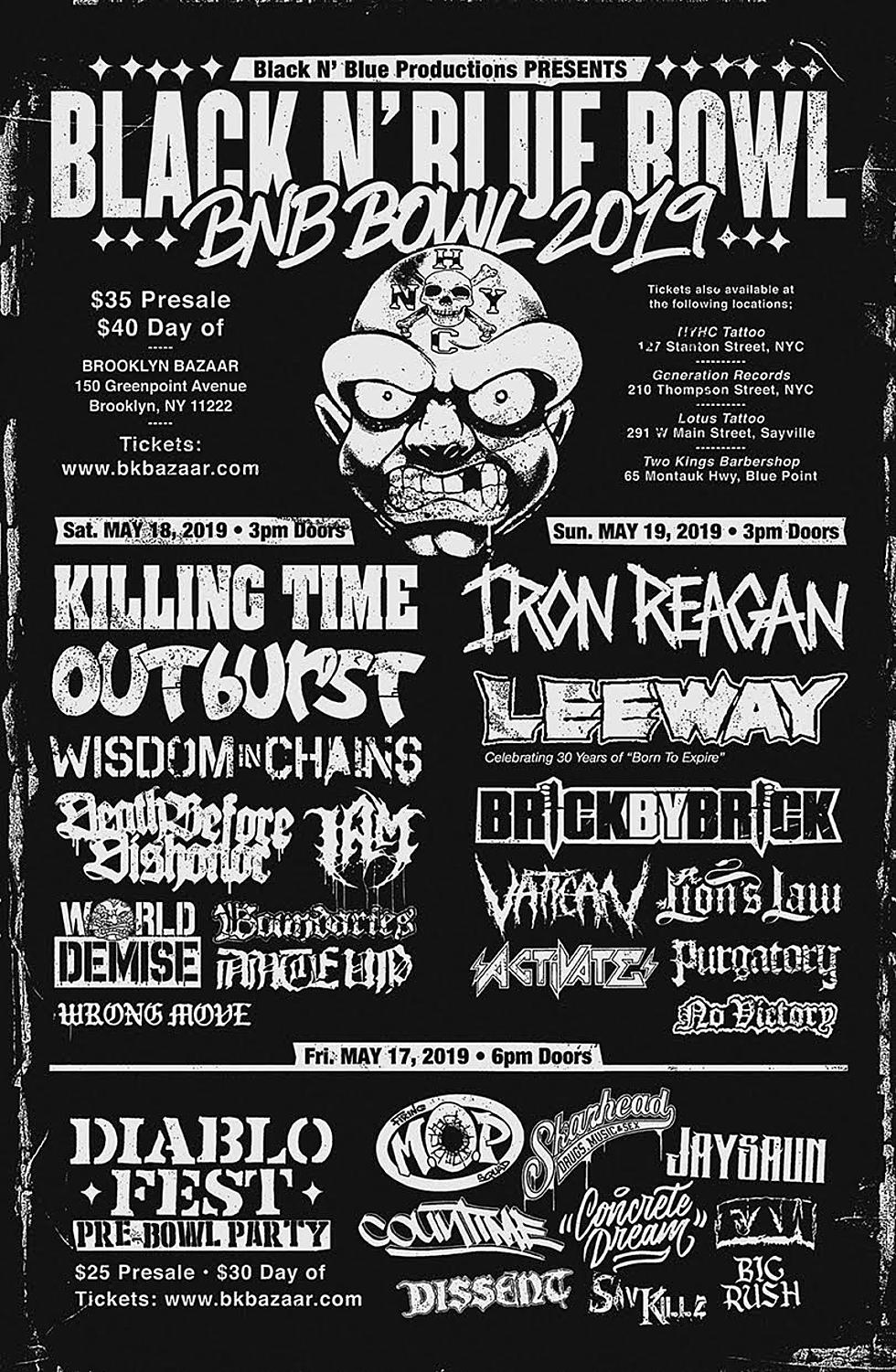 Black & Blue Bowl 2019 lineup & tix (Iron Reagan, Leeway, MOP, Killing Time, more)
Annual New York hardcore festival Black & Blue Bowl returns to Brooklyn Bazaar on May 18 & 19, with a Diablo Fest Pre-Bowl Party happening May 17, and the lineups for both are looking stacked as ever, with a good mix of new(ish)comers and vets. The Diablo Fest show has M.O.P., Skarhead, Jaysaun, and more; Saturday of BNB Bowl has Killing Time, Outburst, Wisdom In Chains, Death Before Dishonor, and more; and Sunday has Iron Reagan, Leeway (celebrating Born To Expire), Brick By Brick, and more. Full lineups below.
For Iron Reagan and Leeway, this fest is part of their just-announced tour (which also includes Sacred Reich).
Watch Leeway at BNB Bowl 2016 and see the full lineup below...
Friday, May 17th, 2019 • 6pm Doors
Diablo Fest Pre-Bowl Party
M.O.P.
SKARHEAD
JAYSAUN
COUNTIME
CONCRETE DREAM
FTW
DISSENT
SAV KILLZ
BIG RUSH
Saturday, May 18th, 2019 • 3pm Doors
KILLING TIME
OUTBURST
WISDOM IN CHAINS
DEATH BEFORE DISHONOR
I AM
WORLD DEMISE
BOUNDARIES
ANTE UP
WRONG MOVE
Sunday, May 19th, 2019 • 3pm Doors
IRON REAGAN
LEEWAY (Celebrating "Born To Expire")
BRICK BY BRICK
VATICAN
LION'S LAW
ACTIVATE
PURGATORY
NO VICTORY