Black Cobra, Black Tusk, Javelina & Batillus @ The Charleston in NYC – pics
Savannah's Black Tusk, ruling

Special guest Black Cobra headlined with an all-star supporting cast of Black Tusk, Javelina, and Batillus as part of a BrooklynVegan/Chronic Youth Presentation at The Charleston on 11/18. The Batillus show was the first for the quartet in a month, as drummer Geoff Summers has been on the road with A Storm of Light (who also added Will Lindsay of Wolves In The Throne Room for the tour). Summers did double duty that night, leaving shortly after his performance with Batillus to hold down the kit for ASoL at their Record Release party at Ace of Clubs with Goes Cube and Biclops.
Batillus were on first, and this band has gone from good to reeeeaally good since my last experience with them. The addition of Fade (Inswarm, Jarboe's backing band with Eric of Cobalt and Man's Gin) changes this band from really great instrumental band to full-on juggernaut, and I am excited to see what their next move is. With a little luck and a few more tours under their belt, this band could be headed for great things.
Javelina is the perfect name for these Philadelphian sludgesters; the band is ferocious and violent, and tore through their set like a charging beast. It was another incredible showing from this foursome who opened with "You're Gonna Hate This" (I didn't) from their latest (and possible end of year favorite?) Beasts Among Sheep before barreling through other selections from that LP as well as their previous monster.
Black Tusk were the band that I was probably most excited to see. The Savannah crusty-thrashers, who recently signed to Relapse Records, mowed down the crowd with material from their recent LP Passage to Purgatory as well as material from recent splits with ASG and The Holy Mountain. Great band; fans of Kylesa, southern metal, and general badass-ery, take note.
San Francisco duo Black Cobra finished the day with serious downtuned High-On-Fire-y riffs and BIG drums. I have seen my share of bands, and with the exception of Jason Roeder (Neurosis) and a select few others, I have not seen a drummer hit quite as hard as Rafael Martinez. Seriously killer band that you can see again on 11/30 when they play with Pelican and Disappearer at Highline Ballroom. Tickets here.
More pictures from the show below...


Batillus

Javelina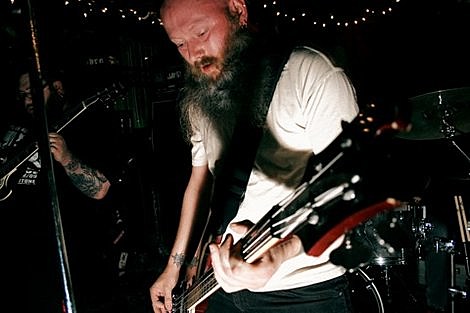 Black Tusk

Black Cobra