Black Cobra played Saint Vitus w/ Zoroaster, The Body & Gang Signs (pics)
photos by Samantha Marble
[Black Cobra is] a band of concision, pacing and respect for the ear and attention span, a bassless two-piece that plumps out its low end and whose epics last only six minutes or so... Whatever they do on their records, they can reproduce live, and slightly more vividly. They made loud music in a small room -- in fact, in this ideal dream of a small room -- sound as good as it can.
They blazed through every track of the new album and a few from the past ("Five Daggers," "Negative Reversal," "Chronosphere"), and finished with the same change-up that the end of "Invernal" brings. First "Abyss," slow and grooving, with swing and syncopation. Then "Obliteration," the set's shortest song, at what sounded like the fastest tempo they could responsibly manage. [NY Times]
After a string of dates with The Sword and Kyuss Lives! (that included shows at the Paramount Theater in Long Island and Wellmont Theater in NJ), Black Cobra kicked off a tour with Zoroaster and The Body on 12/11 at Saint Vitus with local favorites Gang Signs (who now include bassist Denis Bramley of Trenchgrinder amongst their ranks). Pictures from that Brooklyn show adorn this post.
Black Cobra continues its trek eastward after more dates in the Northeast tonight (in Allston, MA), concluding a few days before the holidays in their home-state of California. All dates and more pictures from Saint Vitus are below...

Gang Signs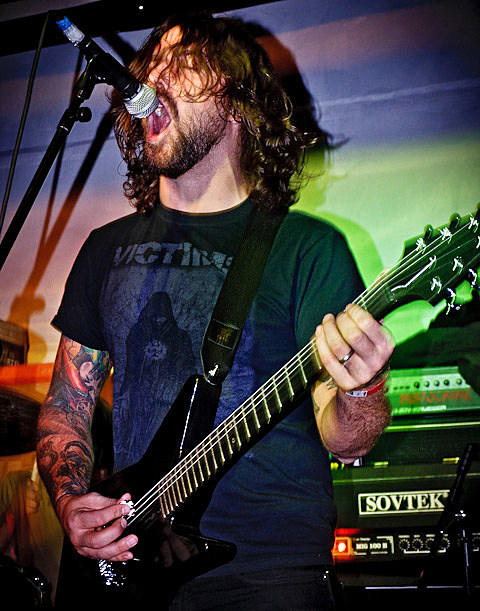 The Body
Zoroaster
Black Cobra
BLACK COBRA - 2011 TOUR DATES
12/13/11 Great Scott, Allston MA w/Zoroaster, The Body
12/14/11 AS220, Providence RI w/Zoroaster, The Body
12/15/11 Black Cat, Washington DC w/Zoroaster, The Body
12/16/11 Drunken Unicorn, Atlanta GA w/Zoroaster, The Body
12/17/11 Siberia, New Orleans LA w/Zoroaster, The Body
12/19/11 Emo's, Austin TX w/Zoroaster, The Body
12/20/11 The Conservatory, Oklahoma City OK w/Zoroaster, The Body
12/21/11 Launchpad, Albuquerque NM
12/22/11 Rogue, Scottsdale AZ
12/23/11 The Z, San Luis Obispo CA
04/15/12 Roadburn Festival, Tilburg Holland