Black Diamond Bay, Organs, Knight School, Right on Dynamite & more in This Week in Indie
Black Diamond Bay

We've been having pretty wintry weather here lately but it's nothing compared to the cold snap much of Canada has faced in the last week -- Montreal hit record lows last week. Which will probably make the mid-20s feel balmy for Black Diamond Bay, who have trekked down across the border to play a few U.S. shows over the next week. When last we checked in with the band (featuring ex-Dears members Patrick Krief and George Donoso), they had finished their home-recorded debut album, which they were only selling on tour from the merch tables.
In the interim, they went back, recorded a couple new songs and had it mixed by some big-time pros. This new version, now called Calm Awaits, will be out officially in March but you can hear about half of it on BDB's Myspace as we speak. Black Diamond Bay play Fontana's tonight with The Depreciation Guild (Wednesday, 1/28) and an early set at Mercury Lounge on February 5. They were great at Pianos back in November, and as I've said before, you really have to see them live to experience Black Diamond Bay in all their drum fills n spiraling solos glory.
Organs

This weekend has two good shows at Williamsburg's Don Pedro's. Friday night (1/30) has garage- trio Organs who describe themselves as "If Hank Williams listened to the Stooges while fucking Little Richard." I guess that works as well as anything, and definitely gets you in the right ballpark. You can listen and judge for yourself, though, as the band have their debut EP available to download for free -- the link to which is at the top of this post. Also playing Friday night are The Specific Heats who take their cues from '60s flower-power pop like Strawberry Alarm Clock and the Chocolate Watchband as well as '80s Creation Records indie (which is sorta the same thing). Frontman Matt Patalano has also been in loads of other bands concurrently, having just recently given up his bassist gig in My Teenage Stride. Opening is Boston singer Elizabeth Butters who makes what I'd call "old timey" folk. Take a listen at her MySpace.
Knight School

Saturday (1/31) at Don Pedros more local indiepop worth checking out. I caught openers Knight School back in December at Cake Shop's Christmas party and thought they were great. They're lo-fi pop in the same vein as Television Personalities, the Vaselines or the Pastels -- all of whom I'm going to guess they love. Their album, The Poor and Needy Need to Party, just came out on Lost Music Records which is run by the folks from the recently defunct Indie MP3 blog. There's an MP3 at the top of this post and you can stream the whole album at Last.fm. In addition to some other upcoming shows (including 2/17 at Glasslands with Specific Heats), they're playing with The Pains of Being Pure at Heart and UK's awesome Let's Wrestle at The Bell House on March 13 which you don't want to miss. Tickets are on sale.
Also playing that night: reverb-drenched Jackson Heights duo The Beets, and then the night gets heavier with The Juggs (deep-fried riff rock), and The Gulf of Michigan (who sound a bit like Leonard Cohen fronting the Stooges).
Friday, January 30 is pretty busy. But a fun way to start the night, potentially, would be to skate to the sounds of Neckbeard Telecaster and Grand Mal at Seaport Ice. The weather is supposed to be in the 30s, pretty nice, though I wonder what windchill will be like when you're right by the river. I'm looking forward to finding out the rest of Seaport Ice's schedule (what bands would you want to skate to?), as well as getting some exercise at a show for once, instead of just drinking beer.
And one last option for Friday night: Brooklyn band Right on Dynamite are playing Pianos. You may have seen them open for Frightened Rabbit at Bowery Ballroom earlier this month. There debut EP is pretty catchy stuff, and while you rarely read a piece about them that doesn't mention The Strokes, if you ask me the most obvious comparison would be The Cribs (who I love), but with a few less "whoa-oh" choruses. You can download EP track "Mantra for the Madness" at the top of this post.
All tour dates below...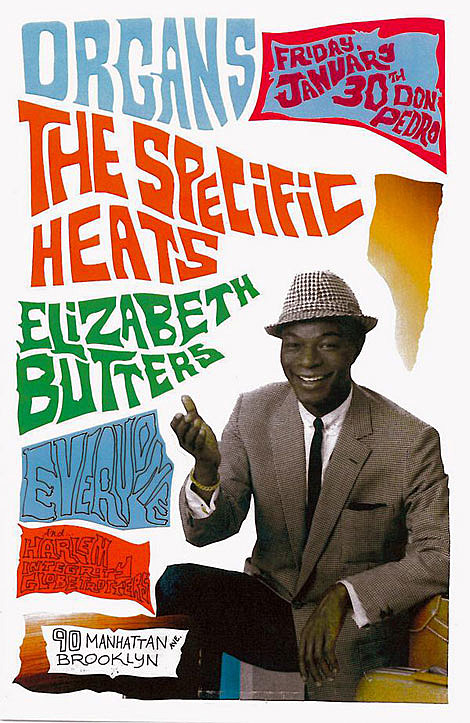 Organs 2009 Dates
Jan 30 Don Pedros with The Specific Heats, Elizabeth Butters Brooklyn, New York
Feb 13 Matchess Brooklyn, New York
Feb 14 Don Pedros for Kick CC's B-Day/V-Day Party Brooklyn, New York
Feb 16 The Delancey: "LAID OFF MONDAY'S" PARTY Manhattan, New York
Feb 20 Don Pedro's with Fatal Erection, 7 Ton Hand, The Men and Autumn People Brooklyn, New York
Black Diamond Bay 2009 Tour Dates
Jan 28 Fontanas New York, New York
Jan 29 The Space Hamden, Connecticut
Feb 5 Mercury Lounge New York, New York
Feb 12 Rivoli Toronto, Ontario
Feb 19 Sala Rossa Montreal, Quebec
Mar 13 Rancho Relaxo (CMW) Toronto, Ontario
Mar 14 The Brillobox Pittsburgh, Pennsylvania
Mar 15 The Dark Room Chicago, Illinois
Mar 17 The Rendezvous Bar St Joseph, Missouri
Mar 21 Lambert's Barbeque (SXSW) Austin, Texas
Mar 23 The Record Bar Kansas City, Missouri
Mar 25 Vaudeville Mews Des Moines, Iowa
Mar 26 Blue Devil Lounge @ University of Wisconsin Stout Menomonie, Wisconsin
Mar 27 The Uptown Bar Minneapolis, Minnesota
Apr 1 Petit Campus (Album Launch) Montreal, Quebec
Knight School - 2009 Dates
Jan 31 2009 DON PEDRO'S w/ The Beets & The Gulf of Michigan Brooklyn, New York
Feb 17 2009 GLASSLANDS w/ the Specific Heats Brooklyn, New York
Mar 13 2009 THE BELLHOUSE w/ Pains Of Being Pure At Heart & Let's Wrestle Brooklyn, New York
Mar 14 2009 CAKE SHOP w/ A Classic Education & My Teenage Stride New York City, New York