Black Lips @ the Williamsburg Waterfront in Brooklyn – pics
photos by Bao Nguyen
DOWNLOAD: Almighty Defenders - Bow Down And Die (MP3)
DOWNLOAD: Black Lips - Drop I Hold featuring GZA (MP3)
DOWNLOAD: Black Lips - I'll Be With You (MP3)
'my first time seeing black lips live and i never thought i'd see a group of energetic white teens mosh to a song about hurricane katrina.' - eric p
"Was anyone else shocked by the NYPD? I saw them arresting 2 hipsters, and the cops were quite aggressive and violent, like one guy was put down, and the other one had his arm twisted in his back and it looked painful. I am sure there were some kind of legit reasons for taking these hipsters away, but not so violently!!!" [pilou]
Unlike Trail of Dead, but like HEALTH (and Grupo Fantasma) the Black Lips played a set at the JellyNYC Pool Party at the Williamsburg Waterfront on Sunday (7/26). Black Lips return to NYC in September to open for Yo La Tengo at Roseland Ballroom. Tickets are on sale.
In related news, the Black Lips are also now members of the Almighty Defenders supergroup. More pictures from the Watefront, the new video for "Drugs", and all tour dates, below...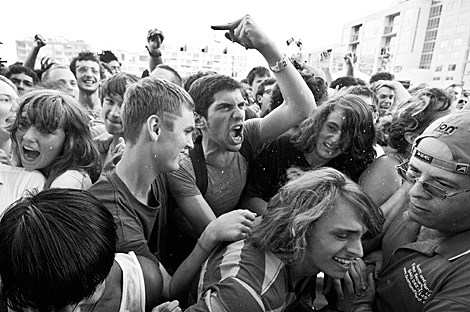 The HEALTH pictures are HERE.
Black Lips new official video:
Black Lips "Drugs"

Black Lips - 2009 Tour Dates
Aug 08 Montreal, QC @ Le Studio
Oct 09 Austin, TX @ Mohawk
Oct 28 Asheville, NC @ The Orange Peel
Oct 29 Nashville, TN @ Mercy Lounge
Oct 30 Memphis, TN @ Young Ave Deli
Oct 31 New Orleans, LA @ Voodoo Experience