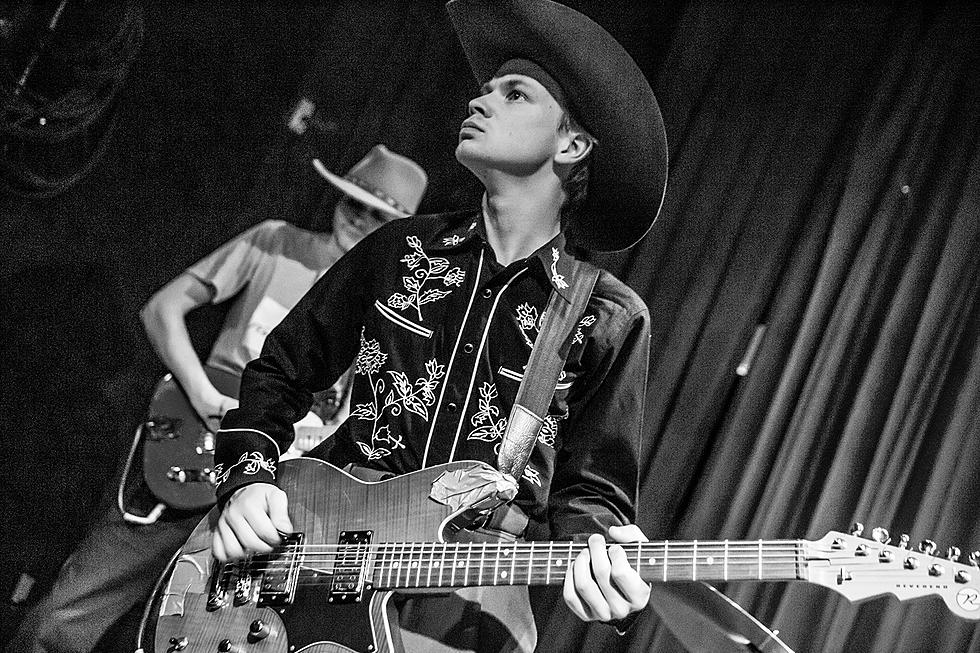 Black Midi share new song "Crows Perch," announce new summer US dates
photo by P Squared
UK group Black Midi have just shared new song "Crows Perch" which is out as a single via Rough Trade. Like much of what they do, "Crows Perch" is fond of left turns, going from dreamy haze, to funky krautrock to intense passages. Watch the music video below.
Having just played U.S. shows around SXSW, Black Midi will be back in the states in July for the Pitchfork festival and will play a few other shows while here, including a NYC show at Bowery Ballroom on July 18. Tickets for that show are on sale Friday, March 29 at noon.
Other new dates include Minneapolis and Madison, WI. All tour dates are listed below.
Black Midi -- 2019 Tour Dates
Sat. April 6 - Brussels, BE @ BRDCST
Sat. April 20 - Rotterdam, NL @ Motel Mozaique
Sun. May 5 - Manchester, UK @ Sounds From The Other City
Thu. May 9 - Sat. May 11 - Brighton, UK @ The Great Escape Festival
Sat. May 25 - Totnes, UK @ Sea Change
Thu. May 30 - Nimes, FR @ This Is Not A Love Song Festival
Fri. May 31 - Düdingen, CH @ Bad Bonn Kilbi
Sat. June 1 - Neustrelitz, DE @ Immergut Festival
Wed. June 5 - Thu. June 6 - Gothenberg, SE @ Garden Festival
Sat. June 8 - Sun. June 9 - Paris, FR @ Villette Sonique
Mon. June 10 - Moers, DE @ Moers Festival
Sat. June 15 - Bergen, NO @ Bergenfest
Tue. June 18 - London, UK @ EartH (Concert Hall)
Thu. June 20 - Bristol, UK @ Fiddlers
Fri. June 21 - Liverpool, UK @ Phase One
Sat. June 22 - Glasgow, UK @ Mono
Sun. June 23 - Nottingham, UK @ Contemporary Space
Fri. July 5 - Roskilde, DK @ Roskilde Festival
Fri. July 5 - Sun. July 7 - Moscow, RU @ Bolь Festival
Fri. July 12 - Madrid, ES @ Mad Cool Festival
Sun. July 14 - Nijmegen, NL @ Valkhof Festival
Thu. July 18 - New York, NY @ Bowery Ballroom
Sun. July 21 - Chicago, IL @ Pitchfork Music Festival
Mon. July 22 - Minneapolis, MN @ 7th Street Entry
Tue. July 23 - Madison, WI @ The Terrace at University of Wisconsin
Fri. July 26 - Hyéres, FR @ Midi Festival
Fri. Aug. 2 - Sun. Aug. 4 - Katowice, PL @ Off Festival
Sun. Aug. 4 - Waterford, IE @ All Together Now
Thu. Aug. 8 - Sat. Aug. 10 - Rees Haldern, DE @ Haldern Pop
Sat. Aug. 10 - Oslo, NO @ Øya Festival
Fri. Aug. 16 - Viana do Castelo, PT @ Paredes de Coura
Fri. Aug. 16 - Sun. Aug. 18 - Biddinghuizen, NL @ Lowlands Festival
Sat. Aug. 24 - Gueret, DR @ Check In Festival
Fri. Aug. 29 - Sun. Sept. 1 - Dorset, UK @ End of the Road Festival
Thu. Sept. 19 - Paris, FR @ La Boule Noire
Mon. Oct. 7 - Berlin, DE @ Lido
Tue. Oct. 8 - Hamburg, DE @ Kampnagel
Wed. Oct. 9 - Cologne, DE @ Bumann & Sohn