Black Sabbath rocked MSG on their final tour (night 1 review, videos and setlist)
Black Sabbath @ MSG - 2/25/16 (photo via BrooklynVegan Instagram)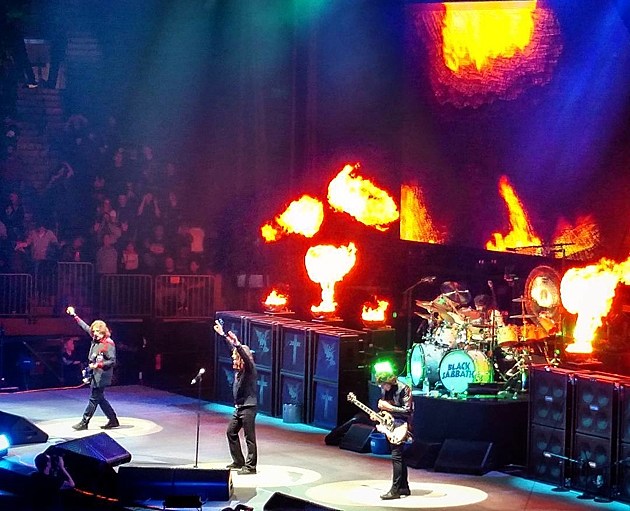 After a few postponements, Black Sabbath continued their tour and they made their way to NYC last night (2/25) for their first of two Madison Square Garden shows. The band are saying this is their final tour, and if that's true, they're certainly going out with a bang. Ozzy hasn't always had the strongest voice in recent years, but he was on fire last night, hitting all the notes exactly the way you remember them. All the stretched out vowels, all the "ohh yeahh!"s, everything. In even finer form was Tony Iommi, whose riffs were as crisp today as they are on the early records, and whose solos still screamed. No disrespect to Geezer Butler of course, who shined all night and especially on his bass solo in "N.I.B." The band is still sadly without Bill Ward, but fill-in Tommy Clufetos more than pulled his weight. Tommy really taps in Ward's style, playing almost every drum fill note for note. The only real time he brought his own flair to the band was during his drum solo, but he's got a lot of talent (and maybe Ozzy needed a break) so no real complaints there.
Not only did they still sound as sharp as they do on the early '70s records, but the setlist reflected that era too. They only played one song recorded after 1972 ("Dirty Women" from Technical Ecstasy), and otherwise it was all stone cold classics. "Black Sabbath," "Fairies Wear Boots," "Into the Void," "Snowblind," "Hand of Doom," "Children of the Grave," "Paranoid," and even more fan favorites were played. There really wasn't a moment where you weren't hearing some of the best heavy metal ever written. Maybe I kinda wish they played "Sabbath Bloody Sabbath" or "Sweet Leaf" or "Electric Funeral" or something instead of "Dirty Women" and the lengthy drum solo, but complaints like those are merely afterthoughts when you're talking about a set this strong. The show was also a serious reminder of how even with legions of excellent doom bands popping up for decades, still nobody can do it like Sabbath. There's a reason Sleep and Electric Wizard aren't packing arenas (as great as those bands are). They have the riffs, but not the star power. Ozzy had the crowd in the palm of his hand the whole night, and he didn't even do much besides throw his arms up and sing. (No biting any heads off bats, if you were wondering.) And Sabbath can get really fucking heavy, but they're more than that. You can sing their guitar solos (people in the audience did), you want to air drum every fill (people did that too).
It's gonna be sad to see Sabbath go, if they stick to their word and this is in fact their final tour. But if you've been at all unsure if you should get tickets to this one, pull the trigger. It's as worth seeing them now as it is seeing anyone. They return to MSG on Saturday (2/27), and then swing back around to the NYC-area in the summer for shows on August 17 at Jones Beach, August 23 at PNC Bank Arts Center, and August 27 at Mohegan Sun Arena. Tickets are still available for all of them.
Check out pictures at Invisible Oranges. Setlist and a bunch of videos from last night, below...

---
Black Sabbath @ MSG -- 2/25/16 Setlist
Black Sabbath
Fairies Wear Boots
After Forever
Into the Void
Snowblind
War Pigs
Behind the Wall of Sleep
N.I.B.
Hand of Doom
Rat Salad
(drum solo)
Iron Man
Dirty Women
Children of the Grave