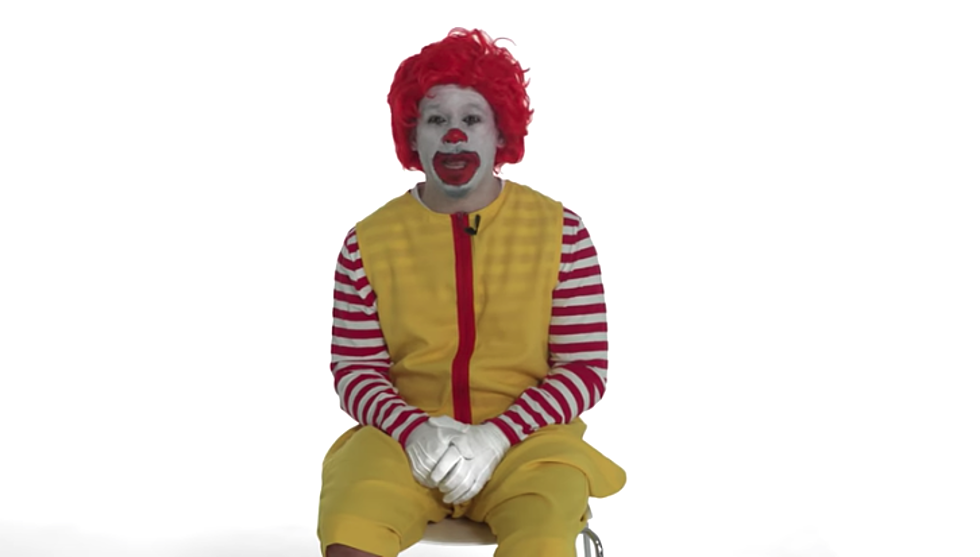 BLARF (Eric Andre) really hates KISS, calls his own album "unlistenable," and more
So it looks like the jig is up, and Stones Throw-signed musician BLARF is indeed Eric Andre. After releasing his debut album Cease & Desist last week, he walked around NYC to promote the album to strangers in a Noisey video titled "We Introduced Eric Andre as BLARF on the Streets of NYC." It plays out very much like the kind of on-the-streets prank videos you might see on Adult Swim or Comedy Central, and you can watch it below.
BLARF, dressed up as Ronald McDonald (as he is on the album cover), also did one of Pitchfork's Over/Under interviews, and once you hear him speak, there's no question that it's Eric Andre. It's also -- not surprisingly -- one of the funnier Over/Under videos out there. BLARF rates KISS and Gene Simmons, who he really, really does not like (he calls them "if rock and roll tried to be a ride at Disney World") and he has plenty to say specifically about Gene, like "he's such a misogynist, bloated son of a bitch." (And many other KISS/Gene Simmons zingers that we won't spoil.) He also rates Ted Nugent, beastiliaity ("probably underrated"), his own new album ("it's fucking unlistenable"), and more.
Watch both BLARF videos below...