Blonde Redhead playing $80 show, streaming album & stuff
Blonde Redhead @ 92YTribeca in August (more by kolored)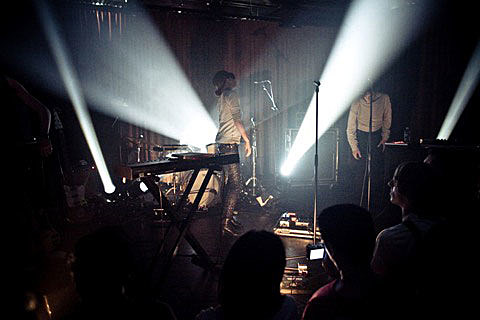 Blonde Redhead will play a Fashion Week kick-off show at Tribeca Grand this evening, Tuesday, September 7th...
"The evening will go something like this. You'll arrive at the Tribeca Grand on September 7, and enjoy complimentary beer from Williamsburg's own Brooklyn Brewery and Elevated cocktails by Tequila Avion. An hour(ish) later, Kazu Makino and twin brothers Simone and Amedeo Pace--Blonde Redhead--will take the stage, filling the intimate space with their dream pop sound. After the show, you'll attend a private party with the band and the members of their guest list. The entire evening has been designed specifically for Gilt City."
A more affordable option would be grabbing a ticket for the band's November 3rd Webster Hall show where you also get an opening set by Pantha Du Prince for your $30 (but no free beer).
Blonde Redhead's new album Penny Sparkle, out September 14th via 4AD, is streaming in full at NPR NOW. Grab "Not Getting There" as a free download above. Check out the band performing "Here Sometimes" (a 4AD Session), along with updated tour dates, below...

-
Blonde Redhead - Here Sometimes (4AD Session)

Blonde Redhead - 2010 Tour Dates
09/07 New York, NY Tribeca Grand (fashion week show)
10/15 Philadelphia PA Electric Factory*
10/16 Montreal QC Metropolis*
10/17 Toronto ON Phoenix Concert Theatre*
10/18 Detroit MI Magic Stick*
10/20 Newport KY Southgate House*
10/22 Chicago IL Vic Theatre*
10/23 Milwaukee WI Turner Hall Ballroom*
10/24 Minneapolis MN First Avenue*
10/25 St Louis MO The Pageant*
10/27 Nashville TN Mercy Lounge*
10/29 Atlanta GA Variety Playhouse*
10/30 Carrboro NC Cat's Cradle*
10/31 Washington DC 9:30 Club*
11/1 Boston MA Paradise Rock Club*
11/3 New York NY Webster Hall*
11/14 San Diego CA House of Blues+
11/15 Pomona CA Glass House+
11/16 Los Angeles CA The Music Box+
11/19 San Francisco CA Warfield Theatre+
11/20 Portland OR Roseland Theatre+
11/21 Vancouver BC Commodore Ballroom+
11/26 Salt Lake City UT The Depot+
11/29 Houston TX Warehouse Live Studio+
11/30 Dallas TX Granada Theater+
12/1 Austin TX La Zona Rosa+
* = Pantha Du Prince as support
+ = Olof Arnalds as suport