Blonde Redhead & Pantha Du Prince played Webster Hall — (pics, video, setlist)
There was a line outside of Webster Hall before doors opened shortly after 7pm that nearly reached the movie theater on Third Ave. Though I had read there were still tickets available on my way to the venue, I heard murmurs that it was sold out from people being turned away at the box office. Clearly, Blonde Redhead's two night stay in New York City, their first official show in the area since playing Prospect Park in '09 (they played private shows at 92Y Tribeca in August and Tribeca Grand after that), has been greeted with much anticipation following the release of Penny Sparkle.
Despite the line, the crowd was sparse all the way up until the beginning of Pantha Du Prince's set. I was somewhat familiar with the German musician's latest album Black Noise, but as usual I never know what to expect from a one-man act/producer whose primary instruments are electronic. Pantha took the stage right at 8pm, cloaked in his hoodie on a dimly lit stage, and quickly began tapping various pads and adjusting knobs creating an atmospheric layer of sound. Though he did have a laptop on stage, nothing about it seemed pre-recorded or staged. I've seen his music described as "minimalist", but as the set went on and his sounds became deeper and blanketed, his performance was anything but minimal. While there would often be a four-on-the-floor beat, on top of that would be a complex layer of synth and percussion, and occasionally a looped pre-recorded vocal track. Oddly enough, as his set was coming to a close and his wall of sound was hanging on a note, something abruptly happened and his sound was shut off, leaving a bit of an awkward silence followed by an enthusiastic response from the crowd. By this point, Webster Hall was completely full, and everyone was anxiously awaiting the arrival of the headliner. It's worth noting that when Radiohead's Myxomatosis was played on the P.A., the crowd let out a collective cheer. Note to Radiohead: new album and tour please...
The audience didn't have to wait long for the main act, as Blonde Redhead stuck to the set times and took the stage shortly after 9pm. Hidden behind a long white mask burgeoning with tufts of long blonde hair, Kazu Makino set the tone for the rest of their set: mysterious, somber, calculated and beautiful. The band started off slow, as Amedeo and Simone Pace, both incredible musicians in their own right, passionately tore through openers (and new songs) "Black Guitar" and "Here Sometimes" while Kazu enigmatically danced around on stage. Joined by a fourth multi-instrumentalist member, their songs stayed true to their studio counterparts; Blonde Redhead sounded as tight as ever.
There were some pauses in between the first few songs that I think made everyone a little nervous. The band quickly tried to switch from keyboard to guitar, from guitar to keyboard, from mask to no mask, but that's what happens when a band takes itself this seriously and doesn't exactly acknowledge the audience. Not that anyone seemed to care. As soon as Amedeo teased the audience with the guitar riff from "Falling Man" the crowd responded enthusiastically before being pummeled with some of the tightest rhythm work I've heard from a band in a while.
Simone Pace' sdrums can sometimes sound sequenced on recording, but not a song passed where I didn't recognize how integral a part he plays in this band's sound. It also became apparent as the set went on how seamlessly the band can go from a beautifully arranged synth-heavy song like "23" with Kazu solely on vocals, then watch her strap on a guitar and suddenly, they're a punk band. After two(!) encores, the band left for good. I'm quite certain tonight's audience will consist of many repeat fans.
Blonde Redhead are touring in support of their new LP, Penny Sparkle, out now via 4AD. If you are on the West Coast/Southwest, catch 'em on tour with Olof Arnolds.
More pictures, the setlist and video from Webster Hall last night, below...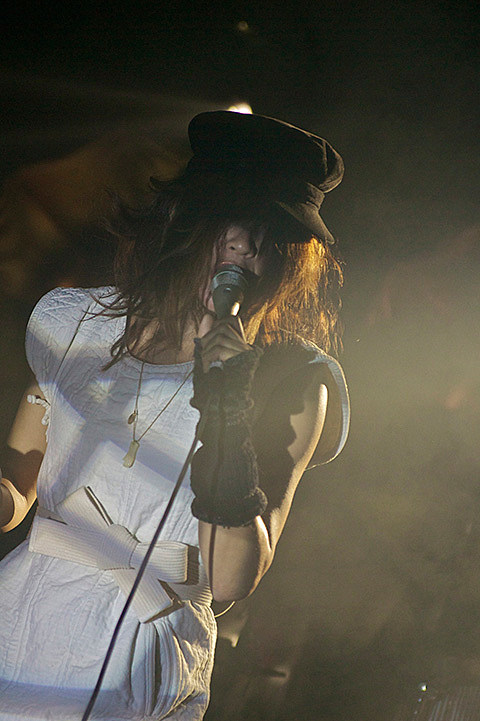 Blonde Redhead - 23 @ Webster Hall NYC 11/3/10

Blonde Redhead @ Webster Hall NYC 11/3/10

BLONDE REDHEAD - SETLIST 11/3/10
Black Guitar
Here Sometimes
Dr. Strangeluv
Spring and by Summer Fall
Oslo
In Particular
SW
Spain
Will There Be Stars
Not Getting There
Falling Man
23
===
Melody of Certain Three
My Plants Are Dead
Penny Sparkle
Silently
Love or Prison