Blondie played State Theatre & Capitol Theatre (pics, review)
Blondie @ State Theatre - 10/2/12

Anarchy symbols, peace signs, skulls, and other images lit up the high walls and ceilings of Port Chester's Capitol Theatre last night (10/7) as Blondie came out for their third NYC area show (and final date) of the tour they'd been on since September. Debbie Harry, at 67 years young, was looking as great as ever decked out in sparkling black sunglasses, a metallic silver coat, and bleach blonde hair to go with her sharp attitude, sleek dance moves, and a very in-tact voice. Debbie was joined on stage by original members Chris Stein (guitar) and Clem Burke (drums), and the lineup is rounded out by the more recently added Leigh Foxx (bass), Matt Katz-Bohen (keyboards), and Tommy Kessler (guitar), the latter of who looks like he wants to be a frontman and could've chilled with the Van Halen solos (though a chunk of the crowd seemed to love it). But that aside, the whole band was on point and still ageless in spirit.
In 2011, Blondie put their finishing touches on Panic of Girls, their first full length since 2003, so it wasn't a surprise that they chose to play a number of songs from that record. And don't get me wrong, Panic of Girls is a solid effort and the songs sounded good at the show, but of course the real treats came from the old singles. At under an hour and a half, my only complaint about the set is that I would have liked to hear more, but we still got a handful of crowd pleasers like "Dreaming," "Hanging on the Telephone," "Call Me," "The Tide Is High," and others. At the end of the rap-inspired "Rapture," they worked in a portion of fellow NYC legends Beastie Boys' "No Sleep Til Brooklyn," which they've been doing all tour (on past tours they've done it with "Fight For Your Right"). Debbie worked the crowd the whole show, especially doing so on "One Way or Another," for which she got everyone clapping and put the mic in the audience for the crowd to chant the song's title.
Unfortunately, none of the northeast shows on the tour were with Devo, who joined Blondie on most of the September shows (we did catch that tour in Austin though). This leg of the tour also hit the NYC area last Tuesday (10/2) at New Brunswick's State Theatre on Thursday (10/4) at Staten Island's St. George Theatre. The pictures in this post are from the State Theatre show, which The Smithereens opened. (No pics from the Capitol Theatre show but you can see some shots of the great looking newly renovated venue from Regina Spektor's show last week.) Though the public dates on the tour are over, as mentioned, Blondie will perform a YouTube Presents concert from the Google offices in NYC on Wednesday (10/10) at 4 PM, which will stream live on YouTube.
More pics from the State Theatre show (setlist written on a drum head included) and a video of Blondie doing "Rapture/No Sleep Til Brooklyn" in Houston are below...

---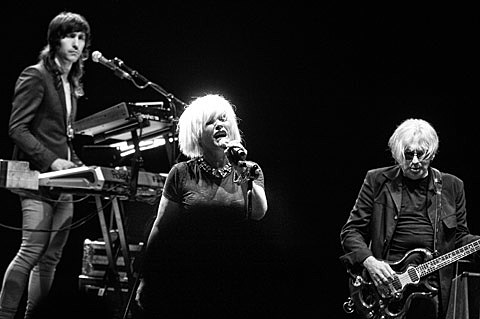 Blondie - "Rapture/No Sleep Til Brooklyn" at Houston Arena Theatre - 9/19/12