Blouse, UMO, Hospitality, Dive, Heaven's Gate, STRFKR, Beat Connection, Ski Lodge & more in This Week in Indie
by Bill Pearis
DOWNLOAD: Hospitality - Friends of Friends (MP3)
DOWNLOAD: Dive - Sometime (MP3)
DOWNLOAD: Heaven's Gate - Salome (MP3)
DOWNLOAD: Unknown Mortal Orchestra - How Can U Luv Me (MP3)
DOWNLOAD: Beat Connection - In the Water (MP3)
DOWNLOAD: Ski Lodge - I Would Die to Be (MP3)
Blouse

After a couple weeks with not a whole lot going on, we're back to jam-packed week of shows (at least in the TWII-verse). So let's get into it.
Portland trio Blouse are in town for two shows: Thursday (9/15) at Glasslands and then Friday (9/16) at Shea Stadium. After singles on Sub Pop and Captured Tracks, the band's debut is due out in November. You can stream the song "Videotapes" from it at the bottom of this post. The track has a nice melty quality to it that if I was listening on cassette I might think it was time to buy a new Walkman. I've liked everything I've heard from Blouse so far, as it hits my '80s sweet spot: icy synths, moody basslines, big choruses. I'm anxious to hear the whole record, and looking forward to seeing them play.
Unknown Mortal Orchestra

Both Blouse shows are appealing bills. The Glasslands show is headlined by Unknown Mortal Orchestra who are currently on tour with Toro Y Moi, a tour that hits NYC tonight (10/14) at Webster Hall. In addition to the Glasslands show tomorrow, UMO are also playing that Vice party tomorrow that is sure to be a scene. After that, UMO are basically on tour for the rest of the year with a pretty brutal schedule, daring America not to see them.
Also playing the Glasslands show are Hospitality (subbing for Woven Bones who had to bow out) who, you may have read, have signed with Merge. The label will be putting out their debut album in early 2012 and you can get an early taste at the top of this post -- the horn-filled "Friends of Friends." (The whole record is great.) I'm a big fan of this band and couldn't be more pleased to see them sign to a label I love.
Blouse is headlining the Shea Stadium show on Friday that is a pretty exciting lineup too, especially if you want to see a lot of new local bands. Dive is the new band from Beach Fossils guitarist/drummer Cole Smith (he was also in Darwin Deez) and the group's debut single, "Dive," is out soon on Captured Tracks and you can download it at the top of this post. It sounds a lot like Beach Fossils but it's catchy nonetheless.
Heaven's Gate

Also playing are Heaven's Gate which is the new band from a couple of the guys in the now defunct Sweet Bulbs. Like that band, Heaven's Gate are definitely on the shoegaze tip and also remind me a little of Bettie Serveert. Mind you, I've only heard two songs but both are quite good. (I was a big Sweet Bulbs fan too.) Download one of them, "Salome," at the top of this post.
Still more at Shea Stadium: Spacerock band Beige and Night Manager whose new 7" is pretty darn good.
---
Sloan are in town. Did anyone go see them last night at The Bell House? They play Bowery Ballroom on Thursday (9/15) and Maxwell's on Friday (9/16). I've probably written enough about Sloan this year already, but needless to say these shows are highly recommended. And if you haven't grabbed the free Select Singles - 1992 - 2011 compilation yet, the download widget is at the bottom of this post.
Beat Connection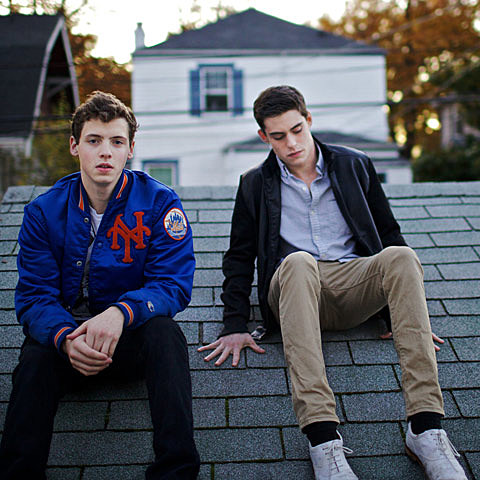 STRFKR (not to be confused with SBTRKT) are rolling though town this week, playing Knitting Factory on Friday (9/16). Despite the whole name-changing debacle (Starfucker --> Pyramid --> Starfucker --> STRFKR), the band's new album, Reptillians, isn't bad at all in a Flaming Lips/MGMT sort of way.
I'm a bigger fan of the opening act Beat Connection. This duo is from Seattle though listening to their debut, Surf Noir, from last year you might think they were Swedish -- Lo Fi FNK and, especially, Studio come to mind when you hear the Baeleric Beat influence that's all over the record. You can download single "In the Water" at the top of this post. I caught them at SXSW and thought they were pretty good though they could use a couple auxiliary members live.
Ski Lodge

Friday night (9/16) at Cake Shop is Ski Lodge which is the new band from Andrew Marr who used to be in the Clementines. There's an EP coming out on Dovecote Records and you can download a track from it, "I Would Die to Be," at the top of this post. There's a Beach Fossils approach to the arrangement of this song, but melodically it's more from the Smiths lineage of indiepop. The whole EP is good. I've never seen them live, but maybe Friday.
---
And finally, classic postpunk band The Raincoats play Friday (9/16) at Warsaw with San Francisco's Grass Widow. More about that HERE.
A few more picks not mentioned above, by day, below...
WEDNESDAY, SEPTEMBER 14
Japandroids are at Mercury Lounge tonight, road testing new material for their second album. Bass Drum of Death open. Sold out, but we're giving away a pair of tickets.
Grave Babies play with K Holes and Pop. 1280 at Cake Shop.
continued below...

--
THURSDAY, SEPTERMBER 15
Peter Bjorn and John are in the midst of their sold-out, five-night NYC blitz, playing Music Hall of Williamsburg tonight. If you didn't get tickets, there's usually a few at the box office when the open the booth the night of.
VICE is throwing a big party for their new URL with DFA 1979 and a bunch of other bands and DJs and free booze. As I mentioned above, they've already cut off the RSVPs. If you already RSVP'd...go early.
FRIDAY, SEPTEMBER 16
Texan one man band Daniel Frances Doyle is at Death by Audio tonight with The Numerators (also from Texas) in tow.
SATURDAY, SEPTEMBER 17
Frankie Rose, whose new EP is in the can and should be out sooner than later, plays Glasslands with Dirty Beaches and Lantern.
285 Kent, which has hopefully finally cooled off from its summer sweatbox status, hosts Javelin and Prince Rama.
And that's all she wrote for this week. Videos, tour dates and a flyer below...
-
Blouse - Videotapes

Blouse - 2011 Tour Dates
Sep 15 Glasslands Gallery Brooklyn, NY
Sep 16 Shea Stadium Brooklyn, NY
Sep 24 Doug Fir Lounge Portland, OR
Oct 20 Exchange LA Los Angeles, CA
Oct 21 Mississippi Studios Portland, OR
Sloan - Select Singles - 1992 - 2011

Sloan - 2011 Tour Dates
Wed, Sep 14th Boston, MA Brighton Music Hall
Thu, Sep 15th New York, NY Bowery Ballroom
Fri, Sep 16th Hoboken, NJ Maxwell's
Sat, Sep 17th Philadelphia, PA North Star Bar
Tue, Sep 20th Waterloo, ON Starlight
Wed, Sep 21st Peterborough, ON The Venue
Thu, Sep 22nd St. Catherine's, ON Barracuda Pretty
Fri, Sep 23rd London, ON London Music Hall
Sat, Sep 24th Moncton, NB CFL Atlantic Touchdown
Unknown Mortal Orchestra - 2011 Tour Dates
09/14 New York, NY Webster Hall #
09/15 Brooklyn, NY Glasslands Gallery +
09/16 Boston, MA Paradise Rock Club #
09/17 Montreal, QC Cabaret Mile End #
09/18 Toronto, ON Opera House #
09/19 Detroit, MI Majestic Theatre #
09/20 Bloomington, IN The Bishop #
09/21 Grinnell, IA Grinnel College Gardner Lounge
09/22 Urbana, IL Pygmalion #
09/23 Cincinnati, OH Midpoint Music Festival #
09/24 Chicago, IL Lincoln Hall #
09/25 Minneapolis, MN Triple Rock #
09/26 Fargo, ND The Aquarium (Dempseys Upstairs)
09/28 Seattle, WA The Crocodile #
09/29 Vancouver, BC Venue #
09/30 Portland, OR Branx #
10/01 San Francisco, CA Great American Music Hall #
10/02 San Francisco, CA Great American Music Hall #
10/03 Los Angeles, CA El Rey Theatre #
10/04 Phoenix, AZ Crescent Ballroom
10/05 Tucson, AZ Club Congress
10/06 El Paso, TX Lowbrow Palace #
10/07 Dallas, TX Club Dada #
10/08 Austin, TX The Mohawk #
10/09 Houston, TX Fitzgerald's #
10/10 New Orleans, LA One Eyed Jack's #
10/11 Tallahassee, FL Club Downunder #
10/12 Mobile, AL Alabama Music Box
10/13 Birmingham, AL Bottletree #
10/14 Atlanta, GA The Masquerade #
10/15 Columbia, SC New Brookland Tavern #
10/16 Asheville, NC The Grey Eagle
10/17 Winston-Salem, NC The Werehouse
10/18 Richmond, VA Strange Matter
10/19 Philadelphia, PA Johnny Brenda's
10/25 Buffalo, NY Mohawk Place
10/28 Columbia, MO University of Missouri
10/29 St. Louis, MO Billiken Club
10/30 Kansas City, MO Recordbar
10/31 Denver, CO Larimer Lounge
11/05 Santa Cruz, CA 418 Project
11/06 San Diego, CA Casbah
11/07 Oakland, CA The New Parish
* = w/ The Submarines
# = w/ Toro Y Moi
% = w/ Little Dragon
$ = w/ Times New Viking
+ = w/ Hospitality, Blouse, Man/Miracle
Hospitality - Eighth Ave live at Cake Shop, June 2011

Beat Connection - Silver Screen

Beat Connection - In the Water

Beat Connection - 2011 Tour Dates
9/15/11 - Baltimore, MD: The Golden Coast Cafe
9/16/11 - Brooklyn, NY: Knitting Factory with Starfucker
9/17/11 - New York, NY: Bowery Ballroom with Starfucker
9/18/11 - Boston, MA: The Middle East with Starfucker
9/19/11 - Montreal, QC: Il Motore with Starfucker
9/20/11 - Toronto, ON: Lee's Palace with Starfucker
9/21/11 - Detroit, MI: Magic Stick with Starfucker
9/22/11 - Cincinnati, OH: Midpoint Music Festival
9/26/11 - Chicago, IL: Lincoln Hall with Starfucker
9/27/11 - Chicago, IL: Lincoln Hall with Starfucker
9/30/11 - Seattle, WA: Decibel Festival