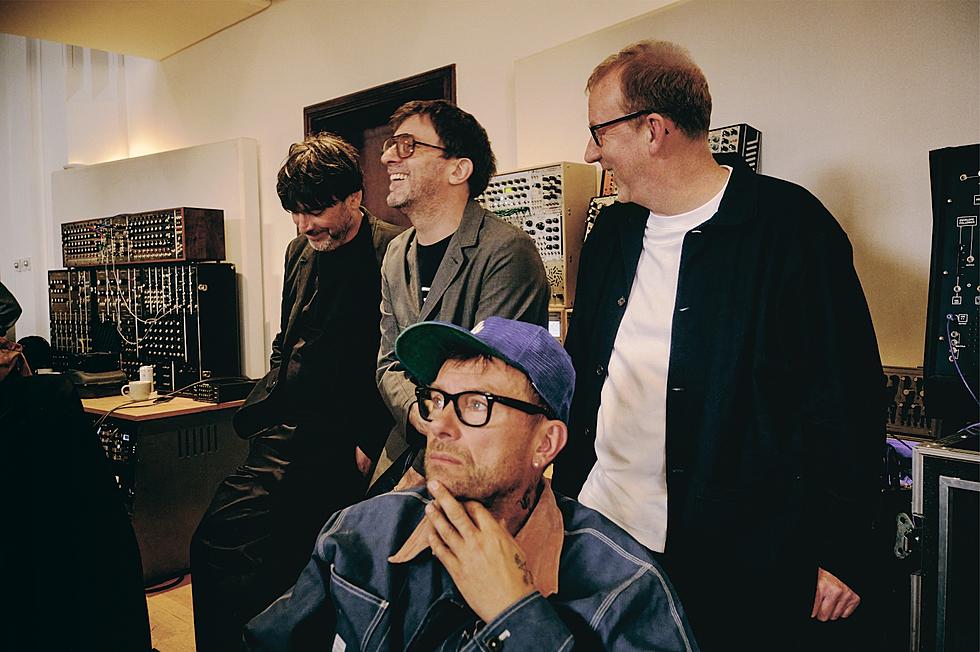 Blur announce first album in eight years, share new single "The Narcissist"
photo: Reuben Bastienne-Lewis
Blur are not just playing a shows this summer, they're also releasing a new album. Their ninth long-player, The Ballad of Darren, will be out July 21 via Parlophone, and is their first since 2015's The Magic Whip. For it they worked with producer James Ford (Arctic Monkeys, Gorillas, Depeche Mode) at Studio 13 in London and Devon. "This is an aftershock record, reflection and comment on where we find ourselves now," says Damon Albarn.
Guitarist Graham Coxon adds, "The older and madder we get, it becomes more essential that what we play is loaded with the right emotion and intention. Sometimes just a riff doesn't do the job," while bassist Alex James says "For any long term relationship to last with any meaning you have to be able to surprise each other somehow and somehow we all continue to do that." Drummer Dave Rowntree also chimes in: "It always feels very natural to make music together. With every record we do, the process reveals something new and we develop as a band. We don't take that for granted."
The first single from The Ballad of Darren is "The Narcissist," a wistful midtempo number that feels both familiar and not quite like anything they've done before. The gentleness gives way to a little signature Graham Coxon guitar workout by the end. Watch the video for "The Narcissist" and a trailer for the album below.
Blur's UK/EU tour starts Friday in Colchester, England and includes two nights at Wembley Stadium in July. All date are listed below.
The Ballad of Darren:
1. The Ballad
2. St Charles Square
3. Barbaric
4. Russian Strings
5. The Everglades (For Leonard)
6. The Narcissist
7. Goodbye Albert
8. Far Away Island
9. Avalon
10. The Heights
BLUR - 2023 TOUR DATES
may 19th colchester arts centre
may 21st eastbourne winter gardens
may 26th wolverhampton the halls
may 28th newcastle o2 city hall
jun 01 parc del fòrum - primavera sound 2023 barcelona, spain
jun 08 arganda del rey - primavera sound / i'll be your mirror 2023 madrid, spain
jun 10 parque da cidade - primavera porto 2023 porto,portugal
jun 24 malahide castle dublin, ireland
jun 27 ziggo dome amsterdam, netherlands
jun 30 roskilde festival roskilde, denmark
jul 06 hérouville-saint-clair - beauregard festival normandy, france
jul 08 wembley stadium london, uk
jul 09 wembley stadium london, uk
jul 14 vieilles charrues festival brittany, france
jul 22 lucca summer festival lucca, italy
aug 08 lokerse feesten lokeren, belgium
aug 10 øya festival oslo, norway
aug 11 way out west festival gothenburg, sweden
aug 13 flow festival helsinki, finland
aug 19 summer sonic 2023 tokyo, japan
aug 20 maishima sonic park, summer sonic 2023 osaka, japan
nov 21 movistar arena bogotá, colombia