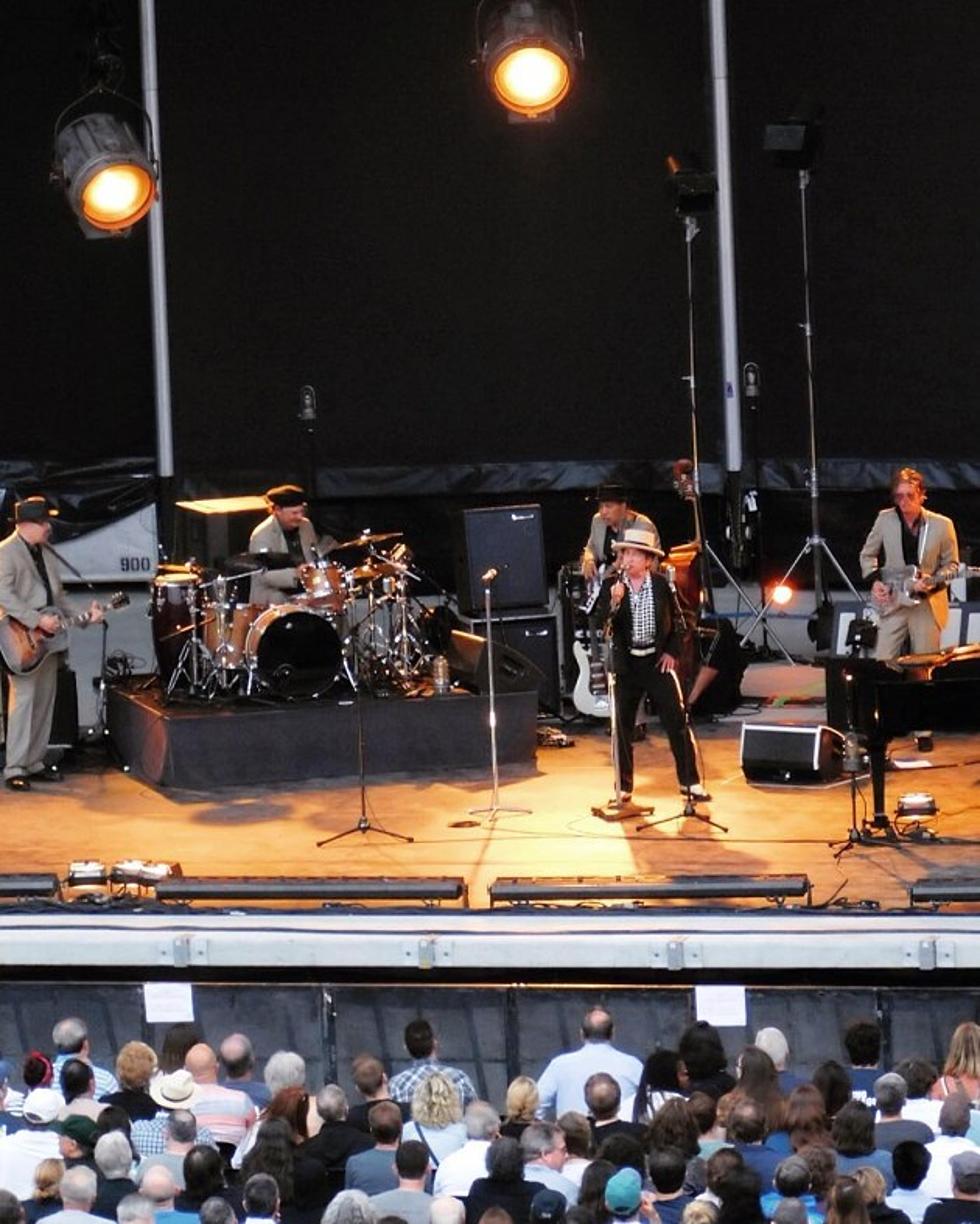 Bob Dylan and Mavis Staples played Forest Hills Stadium (videos, setlists)
Bob Dylan at Forest Hills Stadium - 7/8/16 (photo via emilykarmstrong)
Forest Hills Stadium in Queens, NY was the site of an historical moment in Bob Dylan's long and legendary career. In August 1965, the singer-songwriter performed his second electric set there to an unruly audience that booed him. 51 years later and Dylan is still playing by his own rules. His Friday (7/8) set, which was opened by Mavis Staples (more on that below), was largely composed of covers, most of them popularized by Frank Sinatra -- the same approach he took on last two albums, 2015's Shadows in the Night and 2016's Fallen Angels --, and with the exception of three classics--"She Belongs to Me," "Tangled Up in Blue," and "Blowin' in the Wind"-- and 1997's "Love Sick," the material was culled from Dylan's prolific 21st century run.
While his contemporaries Bruce Springsteen and Paul McCartney perform three hour concerts full of fan favorites, Dylan rarely plays for his crowd's approval (recently, he did cover "Free Bird" at a Berkley show at a fan's request, if that counts as crowd approval), though anyone going to see him in concert probably knows of Dylan's penchant for switching up song structures.
His five-piece Never Ending band, which has backed him for a while, accompanied him through 20 songs replete with an intermission and encore. Setlist below.
Soul legend Mavis Staples, whom Dylan once proposed to (he was turned down), opened the show at Forest Hills with a short set. She played a few songs off her great 2016 album Livin' on a High Note, covers of Talking Heads' "Slippery People" and Buffalo Springfield's "For What It's Worth," and bookended the performance with Staple Singers songs. Her setlist is below too.
Yesterday (7/10) Mavis turned 77 and on December 4 she'll become the second gospel singer to be a Kennedy Center honoree (after Marion Williams in 1993). "I started crying, I hit the floor, I asked my manager, 'Are you sure?'" Staples told The New York Times, recalling the moment she heard the news. "I'm still excited and in disbelief. It's so uplifting. I feel good. I must be the happiest old girl in the world." Staples will be receive the honor alongside Argentine pianist Martha Argerich, the Eagles, screen and stage actor Al Pacino and singer songwriter James Taylor. Dylan was honored in 1997.