Bob Mould reads from his book, discusses life & plays music (upcoming dates & pics from Austin)
Timothy S. Griffin
Bob Mould @ Book People in Austin

Bob did somethng similar at Book People in Austin, Texas on July 24th (pictures in this post). The singer/songriter opened by speaking on his family and turbulent childhood, his upbringing in upstate New York (Malone), and also talked about his realization at a young age that he was homosexual. It was apparent early on that he needed to get out of his small town in order to "...have a life". A scholarship to Macalaster College in St. Paul, Minnesota gave him that escape in 1978, where he met Grant Hart and Greg Norton. They formed Hüsker Dü in March of 1979.
Mr. Mould warmly read several excerpts from See a Little Light: The Trail of Rage and Melody that included insights into his solo career, as well as his time spent with Hüsker Dü and Sugar. He also shared the significant impact Kurt Cobain's death had on his view of the music industry, which would come up again in the Q&A sessions with the audience. Mr. Mould acknowledged how difficult it is to identify who can own and share responsibility in these situations (when a question was raised on his thoughts about Amy Winehouse's recent passing).
He covered a lot of ground and many excerpts throughout the hour-and-a-half reading, including his music and influences, an uncomfortable 1994 SPIN article about his sexuality, and current happiness and comfort as a 'Bear' and exploring and developing his identity as a homosexual man (an opportunity he hadn't been able to pursue during his younger years). He shared two pieces of advice about being gay: "You can't come out soon enough." and "It's never too late to come out." He went on to encourage those in similar situations to find someone safe to talk to help sort things out.
The session ended with a second Q&A that focused to a great degree on his current musical tastes. He shared some of his current favorites - pulling out his iPhone to make sure he didn't miss any.
"I am now a victim of iTunes... If I don't have iTunes in front of me it just becomes 700 bands that... especially when somebody asks me I sort of freak out..."
In no particular order - Tame Impala, Warpaint, Best Coast, No Age, Dum Dum Girls, Elite Gymnastics, Unknown Mortal Orchestra (which he played on his phone), Yuck, Fucked Up, Groove Armada, The Weakened, Bass Drum of Death, The Raveonettes, Foo Fighters (he appears on their new album), Michael Cassette, Holy Ghost, Crystal Castles...
A book signing followed. More pictures from that event with all upcoming dates (not counting Bob's DJ gig at Highline Ballroom tonight), below...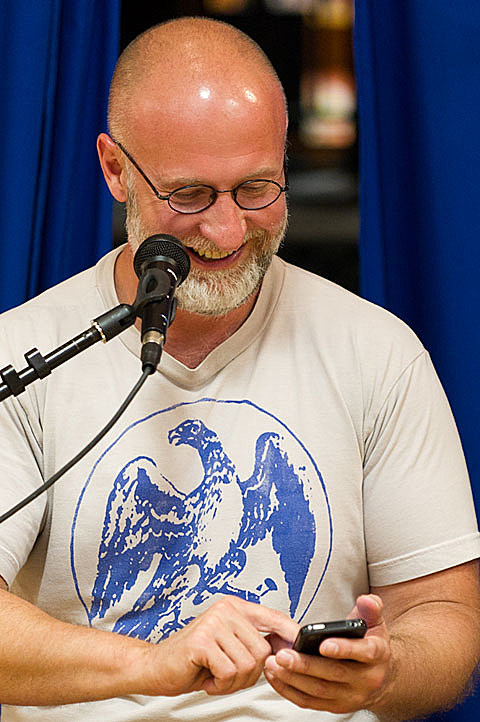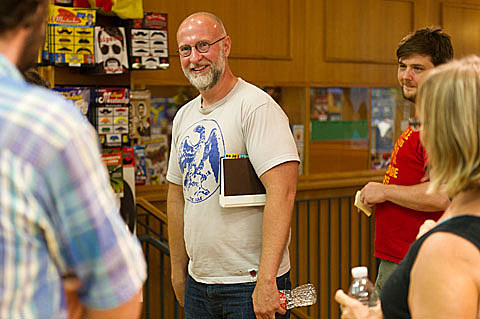 BOB MOULD - 2011 TOUR DATES
SEP 20 SAN FRANCISCO, CA - HERBST THEATRE CITY ARTS & LECTURES (W/ SHEPARD FAIREY)
SEP 30 CHICAGO, IL - THE MONTROSE ROOM 'SEE A LITTLE LIGHT' PERFORMANCE
OCT 1 CHICAGO, IL - THE MONTROSE ROOM 'SEE A LITTLE LIGHT' PERFORMANCE
OCT 2 SAN FRANCISCO, CA - HARDLY STRICTLY BLUEGRASS
OCT 13 ATHENS, GA - 40 WATT CLUB 'SEE A LITTLE LIGHT' PERFORMANCE
OCT 14 DECATUR, GA - EDDIE'S ATTIC 'SEE A LITTLE LIGHT' PERFORMANCE
NOV 3 BROOKLYN, NY - THE BELL HOUSE 'SEE A LITTLE LIGHT' PERFORMANCE
NOV 6 NEW HOPE, PA - NEW HOPE WINERY 'SEE A LITTLE LIGHT' PERFORMANCE
NOV 13 PORTLAND, OR - DOUG FIR LOUNGE 'SEE A LITTLE LIGHT' PERFORMANCE
NOV 14 SEATTLE, WA - THE TRIPLE DOOR 'SEE A LITTLE LIGHT' PERFORMANCE
NOV 17 SAN DIEGO, CA - THE CASBAH 'SEE A LITTLE LIGHT' PERFORMANCE