Bonnaroo Day 1 in pics (Kendrick Lamar, Alabama Shakes, Danny Brown, White Denim, Dale Earnhardt Jr Jr & more)
Dana (distortion) Yavin
photos by Dana (distortion) Yavin
Kendrick Lamar/Alabama Shakes

[Kendrick] Lamar hails from gangsta rap central: Compton, Calif. But instead of directing his anger at the police, women or outsiders, he criticizes himself and his environment, and he projects far more ambition than victimization. One song, "She Needs Me," praised a career woman-a rare creature in hip-hop. Mr. Lamar uses hip-hop's love of raunch and brand names (especially fashion labels and upscale alcohol) as teaching tools. Both, for him, are incidental to tales of striving, self-improvement and overcoming a rough past, delivered with a cutting rasp and fast, complicated meter shifts.
Yelawolf had a rasp, too, putting an edge on boasts and defensiveness; he's a white rapper, still an uncomfortable position even though he is signed to the label of another white rapper, Eminem. He battles any doubts with self-assertion and defiance, as his raps often toggle into doubletime to insist on his virtuosity. But his set was padded with a D.J. showcase and cover songs, including a tribute to Adam Yauch of the Beastie Boys.
[Danny] Brown has two voices-a stentorian bark and a nasal, cartoonish whine-for raps about sex and death. He switches between them, over sparse, booming tracks, as his rhymes switch between wildly imaginative imagery and boasts about his potency. The raunch has plenty of singalong lines, and the Bonnaroo audience shouted them all with him. [NY Times]
Bonnaroo kicked off yesterday (6/7) with sets from three very different rappers to have recently hit the scene (as noted in the NY Times review above), along with sets from The Cave Singers, Dale Earnhardt Jr. Jr., White Denim, Alabama Shakes, Mariachi El Bronx, Phantogram and others. More pictures from Day 1 are in this post.
If you aren't in Manchester, TN for the festival, have you been following along online? More Bonnaroo coverage to come. More pics from Day 1 below...

---
The Bronx (el Mariachi)
The Cave Singers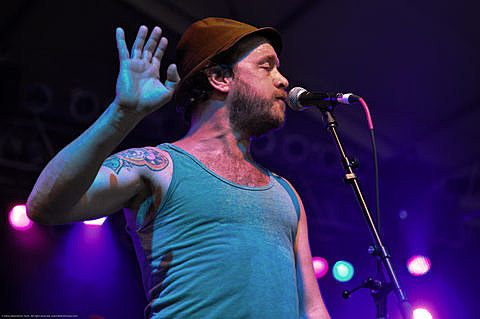 The Lonely Forrest
Danny Brown
Dale Earnhardt Jr. Jr.
Yelawolf
White Denim
Kendrick Lamar
Phantogram
Alabama Shakes