Bonnaroo Day 1 in pics (Deerhunter, Wavves, Henry Rollins, The Drums, Dam-Funk & more)
photos by Dana (Distortion) Yavin & Graeme Flegenheimer
Henry Rollins (spoken word) / Bradford Cox (Deerhunter)

"Atlanta's own Deerhunter was the main draw on Thursday night, a low-key alternative to Friday's star-studded lineup. In fact, two people approached me during their set to ask who we were hearing. But no matter: The indie-rock prodigies went pleasantly cerebral on a crowd too tired to do more than sprawl on the grass and nod." [Creative Loafing]
Bonnaroo 2011 kicked off on Thursday and continues through Sunday in Tennessee. If you're not there, you can always stream some of it online in your air conditioned room while people at the fest are battling the heat on the ground. Speaking of which, the heat may be to blame for one untimely death at the festival, though the medical examiner hasn't reached a conclusion yet.
The rest of our pictures from day one (not counting Karen Elson which was posted separately), which are all by Dana unless otherwise noted, continue below...


Wavves
Karen Elson
More Karen pics HERE.
The Drums
Nate Bargatze
Tig Notaro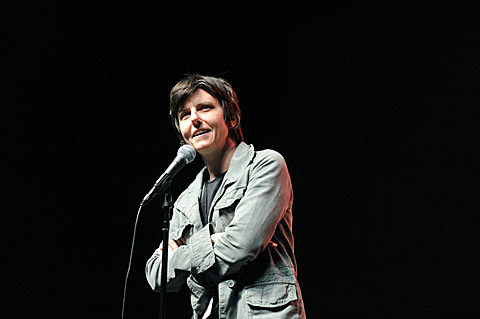 Henry Rollins
J Cole (photos by Graeme)
Twin Shadow (photos by Graeme)
Childish Gambino (photos by Graeme)
Deerhunter
Dam Funk (photos by Graeme)