Bootsy Collins funked up BB King's w/ his funky band & special guest Dr. Cornel West (pics & video)
NY. yall treated a brother right last night at BB.Kings. We off to Canada now, but thanks for the love yall show us, the funk never forgets a good funkin'! Now that the Funkship is up & runnin', we plan to make many more Big Apple stops. We love, we funk! -[Bootsy Collins]
Member of James Brown's band, Parliament-Funkadelic, a solo artist, and hands down one of the most fashion-conscious men in music, Bootsy Collins played BB King's on June 26th as part of the Blue Note Jazz Festival which comes to a close tonight (6/30). The starry-eyed one's 13-piece band Funk U-Nity, which featured former P-Funk members Bernie Worrell, Blackbyrd McKnight, and Frankie Kash, shook the booties of attendees at BB King's with the help of a special, and rather surprising guest:
Bootsy Collins brought the funk and Dr. Cornel West to B.B. King on Sunday night. The former Parliament-Funkadelic bassist and his all-star Funk U-nity band... tore the roof off the packed house with the help of the Princeton professor. West declared Collins an "unadulterated genius" before performing "Don't Take My Funk," a track off Bootsy's new CD, "Tha Funk Capital of the World." West guest-stars on the album, too, as does his Obama debating partner, the Rev. Al Sharpton. -[NY Daily News]
The funkin' legend (and Dr. West) played a set of dancefloor burning grooves that included Bootsy's amp literally bursting into a cloud of smoke. Too much funky, I guess.
More pictures and a video from BB King's and all upcoming Bootsy dates are below...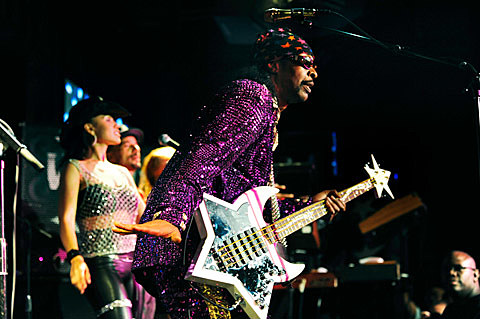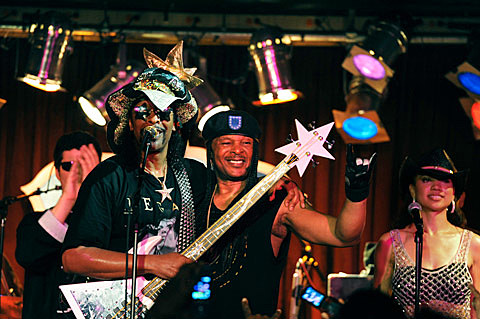 Bootsy Collins, Touch (pt.2)/Night of the Thumpasorus Peoples, BB King Blues Club, NYC 6-26-11

BOOTSY COLLINS - 2011 TOUR DATES
Thursday 30 June 2011 Party in the Park 2011 Rochester, NY, US
Friday 01 to Saturday 16 July 2011 Montreux Jazz Festival Montreux, Switzerland
Saturday 02 July 2011 Horseshoe Tavern Toronto, ON, Canada
Friday 08 to Sunday 10 July 2011 North Sea Jazz Festival 2011 Rotterdam, Netherlands
Monday 11 July 2011 IndigO2 London, UK
Saturday 16 July 2011 Miles Davis Hall Montreux, Switzerland
Sunday 17 July 2011 Ottawa Bluesfest 2011 Ottawa, ON, Canada
Saturday 13 to Sunday 14 August 2011 Summer Sonic 2011 Chiba, Japan