Boris @ Knitting Factory, NYC – pics
If you read this website enough, then you're well aware that Japanese rock band Boris played a show at Knitting Factory in NYC last night (March 4, 2008). What we didn't know ahead of time was that Michio Kurihara of Ghost would be joining them on guitar (although he did also play with them at their last NYC show at Music Hall of Williamsburg). More photos and stuff below...


Boris is a Japanese rock band formed in 1992. As of 2007, personnel are drummer Atsuo, bassist/guitarist/vocalist Takeshi, and guitarist Wata.

While most commonly associated with the doom rock and sludge rock scenes, Boris have also encorporated elements of many musical genres while maintaining an identifiable sound and quality. Some of the genres Boris have explored are psychedelic rock, punk rock, noise music and minimalist music.

Named after a song on the The Melvins' Bullhead, Boris formed in 1992 and released their first album Absolutego on their own Fangs Anal Satan label. Since then, they have released 17 studio albums (including Absolutego), and many EPs, 7" singles, and full-length collaborative recordings, on various record labels across the world.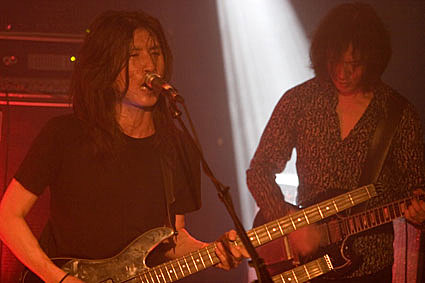 Boris' music takes on an eardrum-blowing, all-out-sensory-assault quality in a small venue. Seriously--I'll be shouting without realizing it for the next couple days due to the incessant ringing that's eclipsing my every thought. [Self-Titled Mag]