Borts Minorts, Feelies, the Major Labels, Drink Up Buttercup & more in This Week in Indie
All Tomorrow's Parties may be the big event of the weekend, but it's not the only game in town and there are loads of good shows worth attending.
Headlining tonight (9/18) at Mercury Lounge are The Major Labels, a power-pop super-group consisting of three veterans of the Boston scene: songwriters Mike Viola and Bleu, plus producer Ducky Carlisle. Viola has fronted various bands over the last 15 years or so, most notably the wonderful Candy Butchers in the mid-'90s, but is probably best-known for singing lead on "That Thing You Do" from the movie of the same name. Bleu (real name William James McAuley II) put out the underheard Redhead on Columbia three years ago, and also fronts the Jeff Lynne loving L.E.O. that Viola contributes to as well. The Major Labels are a little more crunchy than L.E.O., but also owe a lot to Harry Nilsson's piano-based pop as well. These guys know their way around a catchy song and are great musicians. Should be a good show
Also on the Mercury Lounge bill tonight are Dragonette, who I remember absolutely hating when they opened for New Order at Hammerstein a few years ago. But I must admit I kind of like their new album, Galore, in an over-the-top, glammy, hammy disco kind of way. (They also did a funny response to Calvin Harris' "The Girls" which you can hear on their MySpace.) So perhaps they are worth a second look. They're also playing Le Royale on Friday.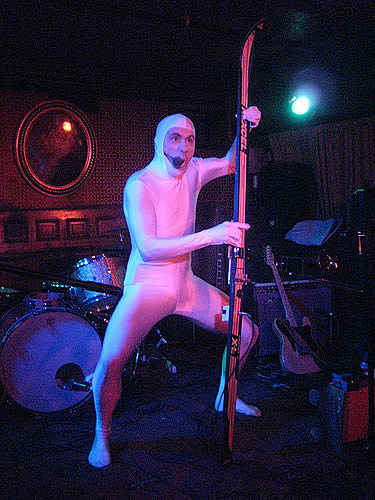 Also tonight (9/18), at Glasslands, is something from the "And Now for Something Completely Different" category. I have no idea how to describe San Francisco's Borts Minorts. He's more performance art than musician. It's definitely bizarre. And hilarious. He confused nearly everyone at Union Hall earlier this year when he opened for Kelley Stoltz. Decked out in a white, hooded unitard and playing a bass made out of a ski, he was like if one of the Residents decided to become an aerobics instructor. There are videos of what he does below, but I really suggest you experience Borts Minorts cold.
Drink Up Buttercup

On Saturday night (9/20), I will be heading to Pianos to see Philly band Drink Up Buttercup. They've got a herky-jerky, Tin Pan Alley quality to them that I really like -- it's Beatle-esque but in a kitchen sink kind of way. I'm told they put on a fun, interactive live show as well.
Before them are SpaceKamp who describe themselves as "reggaeton stoner pop rock" and I'm curious to know what that actually means, as they don't have any songs up on their MySpace yet. The trio formed earlier this year after they got along so well as Adam Green's touring band and decided to keep on making music together. Drummer Chris also plays in World Without Magic who are playing tonight (9/18) at Union Pool with Joe & The Flying Spoons. As previously mentioned, "Joe" is Joe from Dirty on Purpose and Patrick Bower fronts World Without Magic. SpaceKamp is also openinf for Say Hi (to Your Mom) at Music Hall of Williamsburg on October 2nd.
The Feelies @ Battery Park (more by Jason Bergman)

And last but certainly no least, the newly-reformed Feelies are playing two shows this weekend -- Saturday (9/20) at Music Hall of Williamsburg and Sunday (9/21) at Bowery Ballroom. I saw them when they opened for Sonic Youth on July 4 and no doubt they've still got it. Glenn Mercer is a shit-hot guitarist and it's worth going just to watch him smoke the leads on classics like "Slipping Into Something" and "Away." Neither show is sold-out, so go check out these living legends. They'll be playing Boston in October, too.
All tour dates, flyers and videos below...

Borts Minorts

Borts Minorts with The Borts Minorts Orchestra

The Major Labels - 2008 tour dates
Sep 18 The Mercury Lounge New York, New York
Sep 21 FNX -New England Product- on the radio... Boston, Massachusetts
Sep 27 The Lizard Lounge Cambridge, Massachusetts
Oct 10 Yoyogi Zher The Zoo - Mini Set Tokyo
Oct 11 Lounge Vio - Mini Set Nagoya
Oct 12 Club Wonder - Mini Set Osaka
Oct 13 La Cana - Mini Set Tokyo
Oct 28 Red Devil Lounge San Francisco, California
Oct 29 King King Hollywood, California
Nov 1 Lestat's San Diego, California
Dragonette - 2008 Tour Dates
Sep 18 The Mercury Lounge New York City, New York
Sep 19 Le Royale New York City, New York
Sep 22 The Troubadour West Hollywood, California
Sep 23 Cinespace Los Angeles, California
Sep 27 PARKLIFE Adelade
Sep 28 PARKLIFE Melbourne
Sep 29 PARKLIFE Perth
Oct 4 PARKLIFE Brisbane
Oct 5 PARKLIFE Sydney
Oct 23 Sala Heineken Madrid
Oct 24 Bilbo Loop Bilbao
Oct 25 Razzmatazz Barcelona
Dec 13 The Cavalcade of Lights TORONTO, Ontario
Drink Up Buttercup - 2008 Tour dates
Sep 20 Pianos w/ Creaky Boards, Ish Marquez, Spacekamp, + more WE GO ON AT 12 MIDNIGHT New York, New York
Sep 25 Johnny Brenda's Philadelphia, Pennsylvania
Sep 26 The Note Westchester, Pennsylvania
Oct 1 Roustabout State College, Pennsylvania
Oct 21 CMJ - Cross Pollination New York, New York
Oct 22 CMJ - Ear Farm New York, New York
Oct 25 CMJ - Kanine/Polyvinyl/Secretly Canadian & Friends Party Brooklyn, New York
Nov 1 Black Cat w/ Bishop Allen Washington DC
Nov 22 Music Hall of Williamsburg w/ Bishop Allen Brooklyn, New York
The Feelies - "Raised Eyebrows," Maxwells 6/30/2008

The Feelies - 2008 tour dates
Sep 20 Music Hall of Williamsburg , Brooklyn Brooklyn, New York
Sep 21 Bowery Ballroom - NYC New York City, New York
Oct 10 Academy of Music Northampton, Massachusetts
Oct 11 The Roxy Boston, Massachusetts
Noah - "Girlfriend in a Coma," Union Pool 9/16/2008

Noah and the Whale - 2008 Tour Dates
Sep 18 Sidewalk Cafe (FREE SHOW) New York, NY
Sep 19 Virgin Megastore (12:30pm)
Sep 19 Mercury Lounge New York, NY
Sep 20 Newbury Comics Boston/Norwood, Massachusetts
Sep 20 Toad (FREE SHOW) Boston, MA
Sep 22 The Saint (FREE SHOW) Montreal, Que
Sep 23 Horseshoe Tavern (FREE SHOW) Toronto, ONT
Sep 25 Av-Aerie (ALL AGES) Chicago, IL
Sep 26 Reckless Records (Instore) Chicago, Illinois
Sep 26 Empty Bottle Chicago, IL
Sep 29 Chop Suey (FREE SHOW) Seattle, WA
Sep 30 Doug Fir (FREE SHOW) Portland, OR
Oct 2 Amoeba Music (Instore) San Francisco, California
Oct 2 Pop Scene at 330 Ritch San Francisco, CA
Oct 4 Detour Festival Los Angeles, CA
Oct 6 Spaceland (FREE SHOW) Los Angeles, CA
Borts Minorts--Oh Yeah! 9.2.07