Box Elders (the band) @ Market Hotel, Brooklyn, NY – pics
Box Elders, the "garage punk trio" from Omaha, Nebraska (home of Saddle Creek), stole the show Saturday night at Market Hotel (1/10). I didn't catch Blood Romance. I liked Medications. Tyvek and Crystal Stilts were great, but Box Elders left a lasting impression and had the whole, sold-out, Brooklyn room going crazy.
First of all, the bassist/vocalist Clayton McIntyre, wasn't wearing any underwear. I know this from those standing close enough to get the occasional, accidental glimpse under his loin cloth (just thought I would get that out of the way). The guitarist/vocalist, Jeremiah, is Clayton's brother. Dave Goldberg is the drummer and his skills were part of the reason this band stuck out. Dave Goldberg simultaneously playing a keyboard/organ that was run through a Leslie speaker was another. Great songs can go on their list of achievements too.
It's been documented that Matador's Gerard Cosley is a fan of this band. I am now further documenting that Gerard was in attendance at Market Hotel on Saturday night. (Fun Fact: Pavement have a song called Box Elder. Pavement, who will eventually reunite probably, are signed to Matador.)
Bill Pearis was thinking of The Clean after listening to "Hole in My Head", and before seeing Box Elders live. Now he, who was also at the show, says "they're more bratty punk meets Nuggets-era garage rock". In that same vein, I think they would fit in on the Warped Tour, in Little Steven's record collection, and at the Pitchfork Festival. Most of all I think they were fun.
More pictures and tour dates below...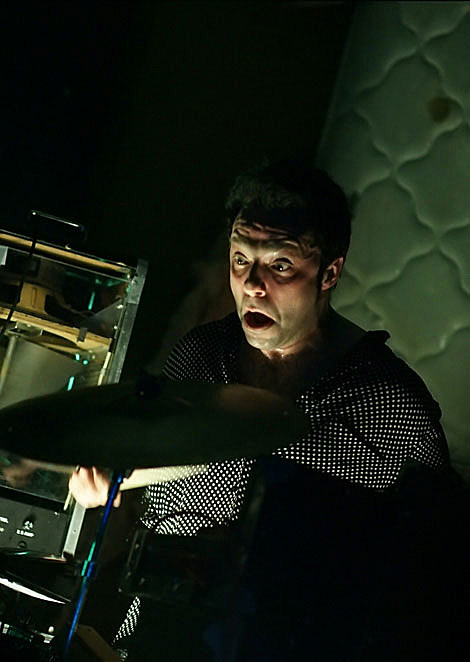 Box Elders - 2009 Tour Dates
Jan 12 - Howlers Coyote Cafe Pittsburgh, Pennsylvania
Jan 13 - Cafe Bourbon Street COLUMBUS, Ohio
Jan 14 - Black Sparrow Lafayette, Indiana
Jan 17 - Slowdown OMAHA, Nebraska
Feb 6 - 300 Room Sacramento, California
Feb 7 - Stork Club Oakland, California
Feb 8 - Slabtown Portland, Oregon
Feb 9 - Funhouse Seattle, Washington
Feb 27 - Hexagon Bar Minneapolis, Minnesota
Feb 28 - Aquarium Fargo, North Dako