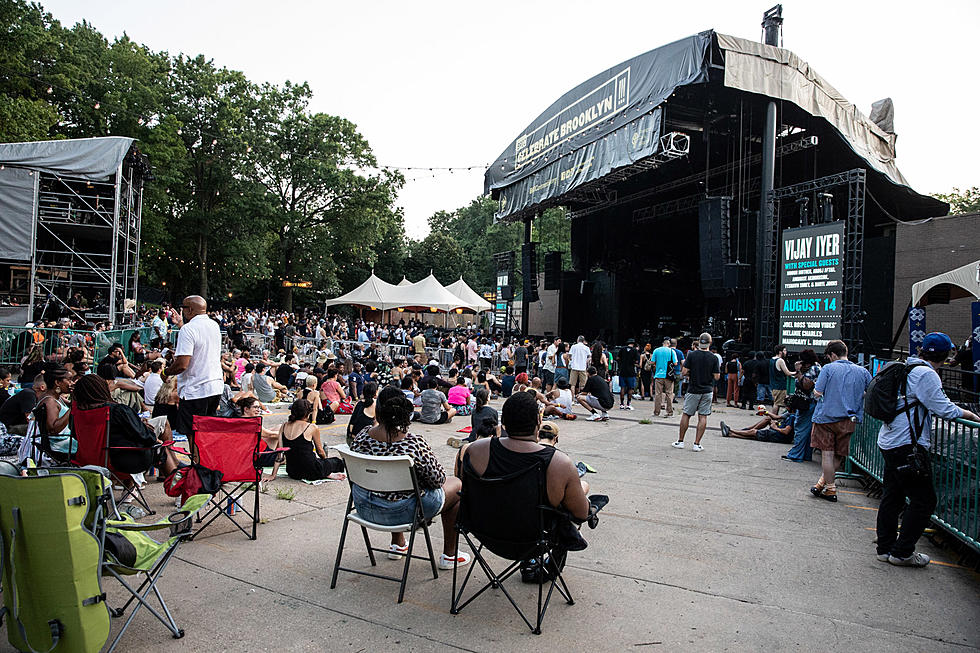 BRIC Celebrate Brooklyn! Fest 2022 schedule for free shows in Prospect Park
photo by Ellen Qbertplaya
BRIC Celebrate Brooklyn! Festival has announced its 2022 lineup of free shows happening at Prospect Park Bandshell this summer. As mentioned, the season kicks of on June 8 with Kamasi Washington, Ravyn Lenae, and DJ Reborn. Other shows include reggae star Maxi Priest with Pan Evolution Orchestra (June 11), NPR Tiny Desk Contest on the Road Tour with Fantastic Negrito, Seratones, Linda Diaz, and this year's contest winner (June 18), Juneteenth UNITYFEST (June 19), Vic Mensa with aja monet (July 8), Crumb with Slauson Malone 1 (July 9), Kronos Quartet & Sam Green with Roomful of Teeth (July 14), Chicano Batman with Charlotte Dos Santos (July 16), John Cameron Mitchell, Amber Martin, Bridget Everett & The Tender Moments, and special guests (July 23), and The Beths, SASAMI and Charlotte Cornfield (July 29).
The season closes on August 6 with Yemi Alade and Amindi. See the lineup in full below and on BRIC's site.
This year's ticketed benefit shows include Phoebe Bridgers (June 14 and 15), Davido (June 16), Khruangbin (August 4), and Erykah Badu (August 5).
Wednesday June 8 - Opening Night: Kamasi Washington, Ravyn Lenae, and DJ Reborn - 6:00 PM - FREE
Saturday June 11 - Maxi Priest, Pan Evolution Steel Orchestra - 6:30 PM - FREE
Tuesday June 14 - Phoebe Bridgers - 6:00PM - Benefit show
Wednesday June 15 - Phoebe Bridgers - 6:00PM - Benefit show
Thursday June 16 - Davido - 6:30PM - Benefit show
Saturday June 18 - BRIC Celebrate Brooklyn! meets NPR Tiny Desk Contest On The Road: Fantastic Negrito, Seratones, Linda Diaz, and this year's Tiny Desk Contest winner - 6:00PM - FREE
Sunday June 19 - Juneteenth UNITYFEST 2022 - 6:30PM - FREE
Friday June 24 - Fonseca, La Cumbiamba eNeYé - 6:30PM - FREE
Saturday June 25 - Family Show: Cirque Kalabanté: Afrique En Cirque, Natu Camara - 3:00PM - FREE
Friday July 8 - Vic Mensa, aja monet - 6:30PM - FREE
Saturday July 9 - Crumb, Slauson Malone 1 - 6:30PM - FREE
Thursday July 14 - Kronos Quartet & Sam Green: A Thousand Thoughts, Roomful of Teeth - 6:30PM - FREE
Saturday July 16 - Chicano Batman, Charlotte Dos Santos - 6:30PM - FREE
Friday July 22 - Ragamala Dance Company: Sacred Earth - 7:00PM - FREE
Saturday July 23 John Cameron Mitchell & Amber Martin, Bridget Everett & The Tender Moments, Special Guests - 6:30PM - FREE
Friday July 29 - The Beths, SASAMI, Charlotte Cornfield - 6:00PM - FREE
Saturday July 30 - Film Night: Fame, Sing Harlem - 6:30PM - FREE
Thursday August 4 - Khruangbin - 6:00PM - Benefit show
Friday August 5 - Erykah Badu - 6:00PM - Benefit show
Saturday August 6 - Closing Night: Yemi Alade, Amindi - 6:30PM - FREE