Brody Dalle streaming solo LP, touring (dates, listen)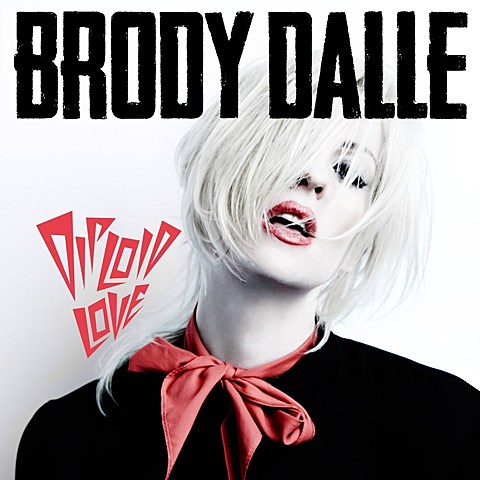 Former Distillers singer Brody Dalle releases her first solo album Diploid Love next week (4/29) but you can listen now ahead of its release. It's streaming below (via The Guardian) and also at NPR. As discussed, it features contributions from Garbage's Shirley Manson, plus Warpaint singer Emily Kokal, Strokes guitarist Nick Valensi, QOTSA basist Michael Shuman and others. It's not exactly a return to the Distillers or anything, but parts of it are definitely sounding punkier than Spinnerette. Check it out.
Brody also has a number of tour dates coming up, including a Brooklyn show happening on May 14 at The Bell House. Tickets for that show are on sale now. Her dates also list her as the opener for the Queens of the Stone Age show at Capitol Theatre (7/16) (whose Josh Homme she is married too), but The Cap's site still lists no opener.
All dates are listed, with the album stream, below...

---
Brody Dalle - Diploid Love

Brody Dalle -- 2014 Tour Dates
Apr 24 Electric Ballroom London, United Kingdom
Apr 25 Leadmill Sheffield, United Kingdom
Apr 26 O2 Academy Birmingham Birmingham, United Kingdom
Apr 27 Rough Trade London, United Kingdom
May 04 The Bell House Brooklyn, NY
May 07 The Horseshoe Toronto, Canada
May 21 Slim's San Francisco, CA
May 23 Venue Vancouver, Canada
May 24 Dante's Portland, OR
May 25 Sasquatch Music Festival Quincy, MA
May 29 The Observatory Santa Ana, CA
May 30 Troubadour Los Angeles, CA
Jul 05 General Motors Centrew/ Queens of the Stone Age Oshawa, Canada
Jul 06 Budweiser Gardensw/ Queens of the Stone Age London, Canada
Jul 08 Ottawa Blues Festival Ottawa, Canada
Jul 09 Bell Centrew/ Queens of the Stone Age Montreal, Canada
Jul 12 Cross Insurance Centerw/ Queens of the Stone Age Bangor, ME
Jul 13 Palace Theatrew/ Queens of the Stone Age Albany, NY
Jul 16 Capitol Theatrew/ Queens of the Stone Age Port Chester, NY
Jul 20 Skyline Stage at the Mannw/ Queens of the Stone Age Philadelphia, PA
Aug 06 Oya Festival Oslo, Norway
Aug 07 Way Out West Festival Goteborg, Sweden
Aug 09 Heitere Open Air Zofingen, Switzerland
Aug 11 Forum Karlinw/ Queens of the Stone Age Prague, Czech Republic
Aug 12 Sziget Festival Budapest, Hungary
Aug 14 Frequency Festival Sankt Pölten, Austria
Aug 16 Pukkelpop Festival Hasselt, Belgium
Aug 17 Lowlands Festival Biddinghuizen, Netherlands
Aug 24 Rock en Seine Festival Paris, France