Broken Bells & Karen Elson played Irving Plaza (pics, setlists), Citizens Band playing Highline Ballroom
photos by Alexander Stein
Are you in the holiday spirit yet? Last night (12/1) was the first of the 101.9 RXP "Yule Rock Holiday Concert Series" featuring Broken Bells (whose member Danger Mouse recently collaborated with Jack White) and Karen Elson (who is married to Jack White), a series that continues tommorrow night (12/3) with My Chemical Romance at the sold-out Hammerstein Ballroom (one of three upcoming NYC MY Chemical Romance shows). The show was also the start of a short stint of Broken Bells tour dates that will last through the middle of the month, hitting nine cities before closing up shop at Gibson Amphitheatre Universal City, California.
Karen Elson next appears in NYC as part of her group the Citizens Band at Highline Ballroom on December 18th...
"Equal parts show-stopping performers, political activists, eclectic tastemakers and headstrong personalities, The Citizens Band has been one of the most lauded and prominent staples of New York City nightlife for the past few years - a potent combination of the city's urban smarts, diverse style and forward-thinking attitude. Performers for "The Past is a Foreign Country" include Chelsea Bacon, Mr. Blue, Ian Buchanan, Michael Cavadias, Adam Crystal, Jorjee Douglass, Karen Elson, Sarah Sophie Flicker, Rachelle Garniez, Mike Jackson, Dave Lebleu, Mark McAdam, Angela McCluskey, Amy Miles, Jon Natchez, Jeff Palmiotti, Rain Phoenix, Kelly Pratt, Matt Ray, Ronin and Leah Siegel with direction by Calla Videt."
The show "promotes the new Blue Key campaign, tackling the topic of refugees and displaced people. The Blue Key campaign, organized by USA for UNHCR draws attention to the work of the UN Refugee Agency and the global refugee crisis." Tickets are on sale.
Were you at the Irving Plaza show? Did Broken Bells mention their Grammy nomination from the stage? Maybe RXP morning host Matt Pinfield said something about it?
More pictures from the show, with both setlists, below...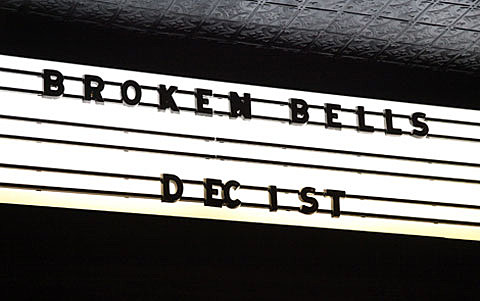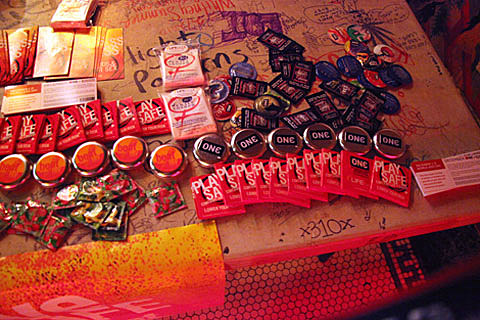 Karen Elson
Broken Bells