Broken Social Scene opening for TVOTR on Sept 8, playing ACL, the partially-announced Bumbershoot (and other dates)
Broken Social Scene @ Coachella 2011 (more by David Andrako)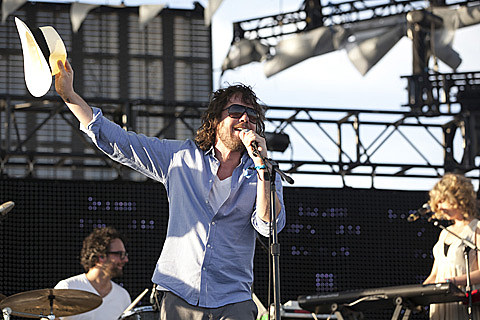 Broken Social Scene have a few live dates scheduled this summer, and it's just been revealed to us that one of those shows will be at Williamsburg Waterfront in Brooklyn on Thursday, September 8th. That is in fact the same date TV On the Radio is playing the outdoor venue. BSS are opening the show. Tickets go on sale Friday at noon.
Broken Social Scene were also announced on the lineup of Austin City Limits early this morning, and they'll also be making an appearance at Bumbershoot in Seattle on September 4th. The latter hasn't actually announced its full lineup yet, but so far they've also revealed:
Wiz Khalifa, Daryl Hall & John Oates, Minus the Bear, Little Dragon, Broken Social Scene, The Kills, The Lonely Forest, Mavis Staples, Fitz and the Tantrums, Ray LaMontagne and the Pariah Dogs, Leon Russell, The Presidents of the United States of America, Urge Overkill, Over The Rhine, Toro Y Moi, Atari Teenage Riot, NoMeansNo....
All BSS dates below...

--
Broken Social Scene -- 2011 Tour Dates
Friday July 1st, 2011 Toronto, ON Downsview Park
Thursday July 7th, 2011 Winnipeg, MB Shaw Park
Thursday July 14th, 2011 Edmonton, AB Edmonton Northlands Grounds
Friday July 29th, 2011 Montreal, QC Osheaga Music and Arts Festival
Sunday August 7th, 2011 Dartmouth, NS Alderney Landing Events Plaza
Sunday September 4th, 2011 Seattle, WA Bumbershoot
Thursday September 8th, 2011, Brooklyn, NY , Williamsburg Waterfront w/ TVOTR
Sunday September 18th, 2011 Austin, TX Austin City Limits Music Festival
--
Jason Collett -- 2011 Tour Dates
Tuesday May 24th, 2011 Helsinki, Finland Bar Loose
Wednesday May 25th, 2011 Stockholm, Sweden Debaser Open Air
Thursday May 26th, 2011 Copenhagen, Denmark Loppen
Friday May 27th, 2011 Barcelona, Spain Primavera Sound Festival
Saturday May 28th, 2011 Neustrelitz, Germany Immergut Festival
Sunday May 29th, 2011 Ghent, Belgium Cafe Video
Monday May 30th, 2011 Amsterdam, Netherlands Bitterzoet
Tuesday May 31st, 2011 Glasgow, UK The Captain's Rest
Wednesday June 1st, 2011 Sheffield, UK Harley
Thursday June 2nd, 2011 Antwerp, Belgium TBD
Friday June 3rd, 2011 Utrecht, Netherlands Ekko
Saturday June 4th, 2011 Oslo, Norway Kampenbistro
Sunday June 5th, 2011 London, UK The Borderline
Monday June 6th, 2011 Cork, Ireland Cyprus Avenue
Wednesday June 8th, 2011 Dublin, Ireland The Workman's Club
Saturday June 25th, 2011 Toronto, ON Session 99
Friday September 9th, 2011 Toronto, ON Yonge-Dundas Square
Friday September 30th, 2011 Wakefield, QC The Black Sheep Inn