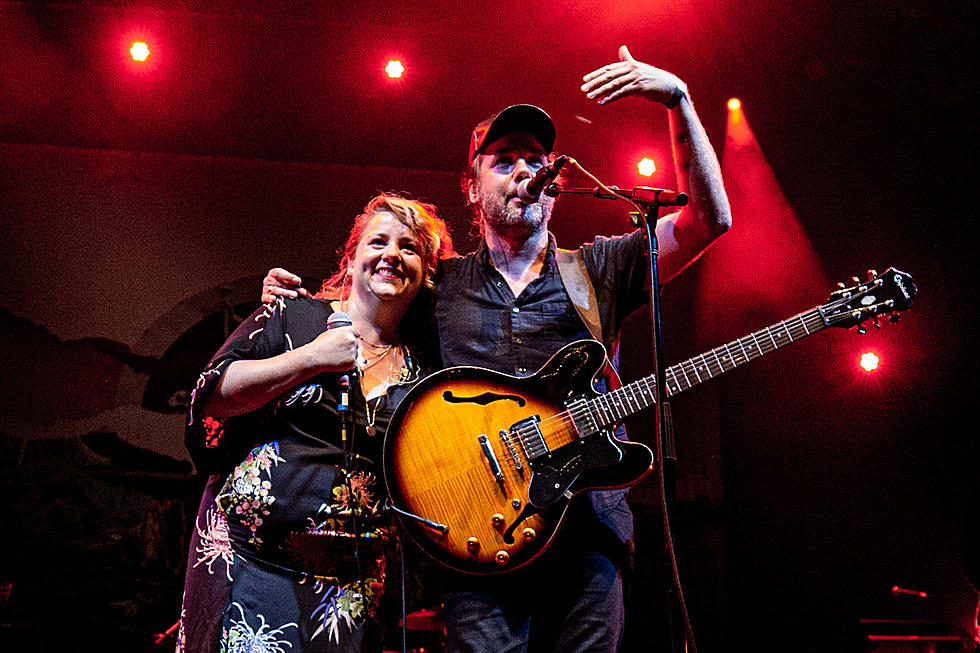 Broken Social Scene & Nilüfer Yanya did Brooklyn (again) — pics, setlist, video
photo by Ellen Qbertplaya
Broken Social Scene -- who sound bigger and better than ever -- expressed their appreciation to the capacity crowd multiple times in Prospect Park on Thursday night (7/25). The Canadian indie rock band recently played three nights in a row at Webster Hall in NYC, and frontman Kevin Drew seemed genuinely relieved that even after that, people still showed up in large numbers. He may also still remember the less-than-full show they played at the same venue in 2006. It of course helped that this new show was free, thanks to the great BRIC Celebrate Brooklyn! Festival programming that we should never take for granted and whose organizers introduced BSS with great pride.
The possibility of Feist, Stars' Amy Millan, and Metric's Emily Haines (who did show up at one of the Webster Hall shows), is one of the many exciting aspects of a BSS show, and no offense to current vocalist Ariel Engle (she is great!), but it was very exciting to learn early in the show that Amy Millan was filling in for her at this one.
The show's 90+ minute hit-filled set never lost momentum, in part due to their ability to keep things interesting by showcasing individual members while frontman and gentleman Kevin Drew moves back behind an instrument. Guitarist Andrew Whiteman (aka Apostle of Hustle) is always one of the most entertaining members to watch, and even more so when he's soloing or taking over as frontman. Band co-founder Brendan Canning -- who Kevin reminisced about getting in touch with back in 1999 not long before they played their first Brooklyn show at Northsix (a fact he has always liked to point out from stage for many years) -- is another able leader, signature high kick included. Since Amy was there, we got a Stars song. Since her husband, multi-instrumentalist Evan Cranley (who was one of three horn players in the live band) was there, we also found out it was he and Amy's 15th anniversary. Evan was reportedly filling in for Charles Spearin who also could not make it. Multi-instrumentalist Sam Goldberg (who gave us that signature end of show, end of stage, high in the air guitar playing) and drummer Justin Peroff (who Kevin credited as the reason they are still a band) were also in the house.
And it was a great double bill. Two nights after headlining Music Hall of Williamsburg (the Bowery Presents venue on North 6th that took over the old Northsix), soulful British singer-songwriter Nilüfer Yanya opened the Park Slope show, playing songs of this year's great Miss Universe, much to the delight of the crowd who treated her as well as the headliner. Her sometimes smokey voice reminiscent of Sade sounded perfect, and was greatly complemented by her able band, saxophone player and backup singer included.
Kevin seemed in top form all night, so I'm surprised to learn that they need to cancel some tour dates for medical reasons. He also promised BSS would be back in town within a few years, so it's clear that BSS have no plans on slowing down long term (again).
Photos from Prospect Park are in the gallery above. Check out some videos and the setlist, below...
https://www.instagram.com/p/B0Xg-qwnpyV/
https://www.instagram.com/p/B0Yn2uWFCkU/
https://www.instagram.com/p/B0XNwIwB6AJ/
setlist: Broken Social Scene in Prospect Park -- 7/25/2019
Cause = Time
7/4 (Shoreline)
Protest Song
Can't Find My Heart
Stars and Sons
Ageless Beauty (Stars song)
Fire Eye'd Boy
All to All
Sweetest Kill
Looks Just Like the Sun
Superconnected
Halfway Home
Almost Crimes
Ibi Dreams of Pavement (A Better Day)
Anthems for a Seventeen Year-Old Girl
It's All Gonna Break
--