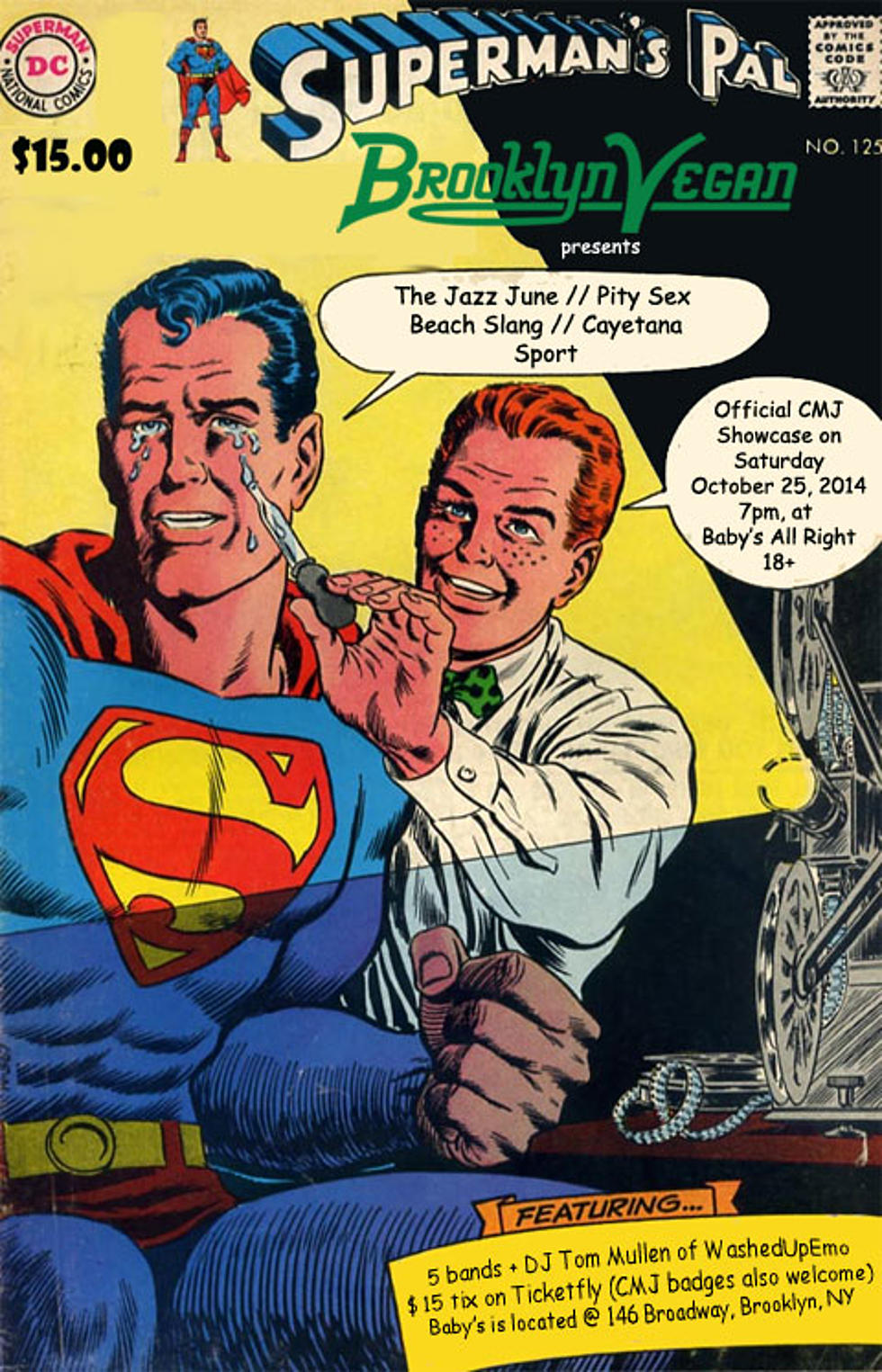 BrooklynVegan official 2014 CMJ show @ Baby's ——lineup: The Jazz June, Pity Sex, Beach Slang, Cayetana & Sport!
Last year's BrooklynVegan CMJ shows happened at then-new Williamsburg venue Baby's All Right (the first two days it was open), and now that Baby's has been kicking for the past year we're excited to announce that we'll be returning this CMJ for free day parties on the Friday (10/24) and Saturday (10/25), plus an official night show on Saturday (10/25). Those day party lineups are still being announced but here's what the lineup for Saturday night looks like:
We're kicking things off at 8 with French emo band Sport who are only in the US for a bit on their way to The Fest, and they'll be followed by Philly indie rockers Cayetana who went from some promising demos to a very solid debut album on Tiny Engines in the past year. Then it's Cayetana's TE labelmates Beach Slang, the current project of Weston's James Snyder. They surfaced with an excellent debut EP earlier this year and got right into putting on thrilling live shows and churned out a second equally great EP last week.
The show's being co-headlined by Ann Arbor shoegazers Pity Sex and emo veterans The Jazz June. Pity Sex first caught our ears with their 2013 debut LP on Run for Cover and only seem to keep getting better. Meanwhile, The Jazz June have been reunited for about a year now and they're not looking back. In November they'll put out the Evan Weiss-produced After The Earthquake on Topshelf, their first album since 2002, and the two singles that are out sound great. Not to mention they've got a back catalog of emo classics to pull from dating back to the mid-'90s.
DJ Tom Mullen of WashedUpEmo.com will be spinning between sets. $15 advance tickets for the show are on sale now, and a limited amount of CMJ badges will be accepted at the door.
Stream some tracks from the bands on the lineup below...

---
The Jazz June - "Viva La Speed Metal" (2000)

The Jazz June - "Over Underground" (2014)

Beach Slang - "Filthy Luck"

Cayetana - "Serious Things Are Stupid"

Sport - "Florence Griffith-Joyner"

Above photo of Pity Sex, playing an opening set at one of our day parties last CMJ, by Amanda Hatfield. More HERE.