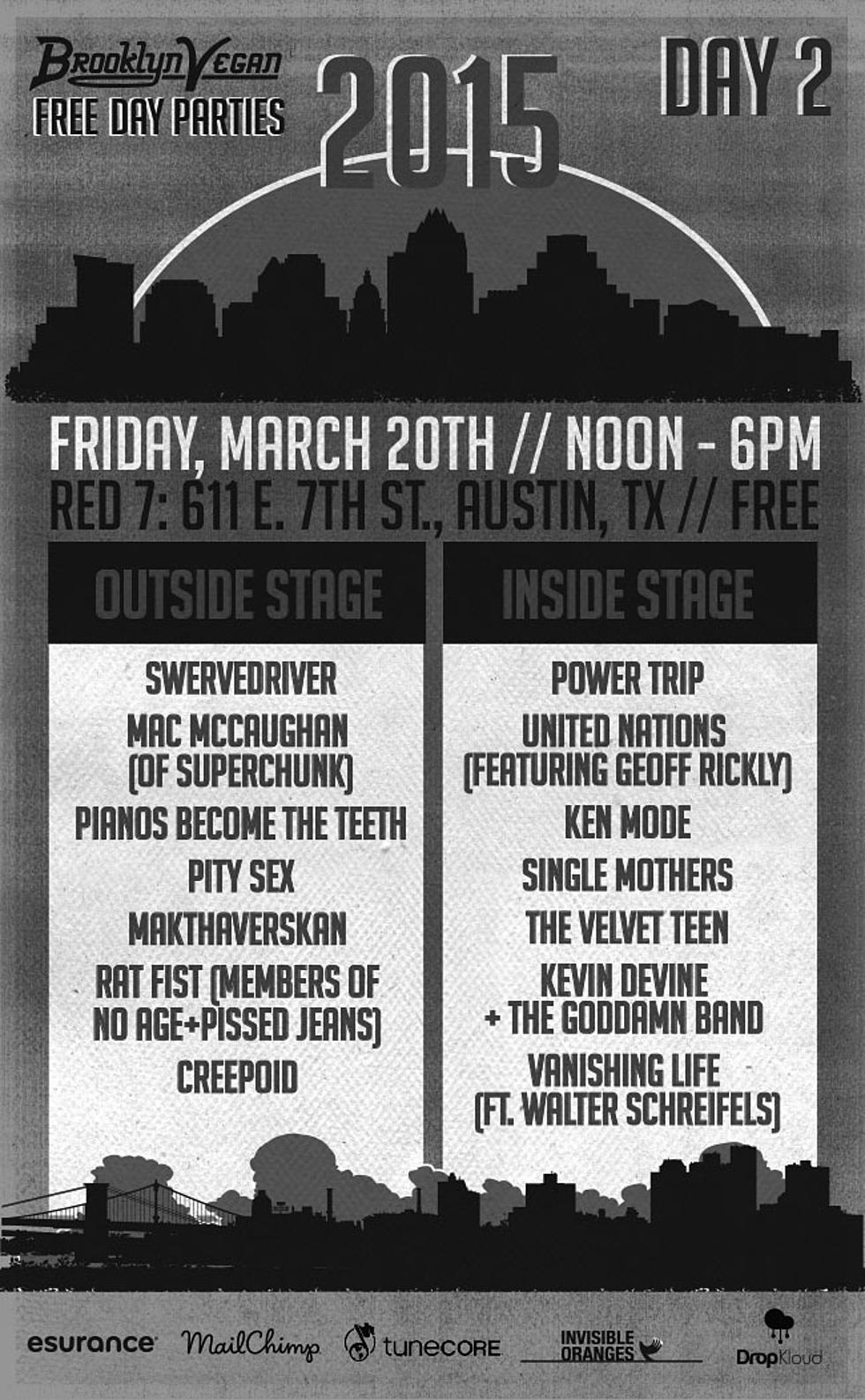 BrooklynVegan SXSW 2015 Friday Day Party lineup (Swervedriver, Mac McCaughan, Power Trip, United Nations, KEN mode, Pianos Become the Teeth & much more)
We're happy to announce that we're returning to Red 7 for three FREE BrooklynVegan SXSW day parties this year on the Thursday (3/19), Friday (3/20) and Saturday (3/21) of SXSW. RSVP in one spot for all three days.
FRIDAY, MARCH 20 @ Red 7 (FREE)

INSIDE
12:30 Vanishing Life (featuring Walter Schreifels & mems of Trail of Dead)
01:15 Kevin Devine & the Goddamn Band
02:00 The Velvet Teen
02:45 Single Mothers
03:30 KEN Mode
04:15 Power Trip
05:15 United Nations (featuring Geoff Rickly)

OUTSIDE
12:00 Creepoid
12:45 Rat Fist (No Age/Pissed Jeans)
01:30 Makthaverskan
02:15 Pity Sex
03:10 Pianos Become the Teeth
04:05 Mac McCaughan (of Superchunk)
05:00 Swervedriver
Please RSVP for all three days.
The Friday inside show begins with Walter Schreifels' (of Gorilla Biscuits, Quicksand, Rival Schools, etc) new band with two Trail of Dead members, Vanishing Life, followed by a full-band set by long-running singer/songwriter Kevin Devine (who's in the midst of a series of splits with Nada Surf's Matthew Caws, Perfect Pussy's Meredith Graves and more). Then comes The Velvet Teen, who just announced their first LP since 2006 on Topshelf Records. After that, the inside stage gets heavier, with snotty Canadian punks Single Mothers, sludgey post-hardcore band KEN mode, crossover thrashers Power Trip, and finally the screamo band of former Thursday singer Geoff Rickly, United Nations.
Outside, the day begins with Philly shoegazers Creepoid (who have a new LP coming), followed by Rat Fist, the new-ish punk band with No Age and Pissed Jeans members. Then it's Swedish post-punks Makthaverskan, their shoegazey Run for Cover labelmates Pity Sex, and atmospheric post-hardcore band Pianos Become the Teeth (who also have members in United Nations). The day wraps up with two veterans: Superchunk frontman Mac McCaughan (who has his debut solo LP on the way) and reunited shoegazers Swervedriver.
This year we're proud to be partnering with DropKloud, a new app that is launching just in time for SXSW. Recently acquired by TuneCore, DropKloud uses GPS technology to allow people to unlock exclusive music content in specific geo-targeted locations. You'll be able to try it out at our parties at Red 7 where we'll have special content from the artists playing our shows. Once you unlock it, you can listen later. Stay tuned for more details, but meanwhile get that app on your phone via Google Play or iTunes.
Thank you also to esurance who will provide expedited access to our shows to some people who are following @Esurance on twitter each day, and to MailChimp who powers the daily BrooklynVegan newsletter you'll get on if you RSVP for our shows.
Listen to some of the bands playing, below...

---