BV Saturday day party pics (Hundred Waters, Orwells, Hunters, Kitty Pryde, Mr. Muthafuckin' eXquire, free tattoos, Caveman, Miguel & more)
The Orwells, free tattoos & Kitty Pryde @ Public Assembly - 10/20/2012

It was the Saturday morning of CMJ, so if you were there when doors opened at noon, you were probably stumbling in hungover from the night before (unless of course, you had copped yourself some of the Mercy hangover prevention drink at our Friday party). But young Chicago-suburb punks The Orwells did a fine job of waking everyone up, including those who were camped at the door to be first in line for the free tattoos we gave out for six hours straight. As the tatto guns started buzzing, the Orwells were blasting the early but nice-sized crowd with their raunchy garage punk led by frontman Mario Cuomo's unforgiving Iggy Pop-style stage presence. Meanwhile, New Zealand psych pop project Opossum were warming up the rest of the party attendees in the back room.
Energy levels stayed high in the front room as Hunters followed, and the back room were treated to dreamier sounds by LA's Tashaki Miyaki. Then came sets by the funky Sinkane, the great, orchestral Choir of Young Believers, a strong set by indie pop band Eternal Summers, and a more than charming one by Kitty Pryde. Kitty, who spent part of her set in the crowd, was the first of four rappers in the back room, with her set followed by Ratking, Cities Aviv, and Mr. Muthafuckin' eXquire (who went on after watching Miguel from the front row on the other stage) (Miguel returned the favor). And the front room was wrapped up by Hundred Waters, one of this year's buzzed about bands at CMJ, whose set we reviewed from the night earlier, and then Miguel and Caveman.
Attendees at the show were fueled by complimentary drinks courtesy of Sailor Jerry Rum, complimentary beer courtesy of PBR, and snacked on the free Raw Revolution organic live food bars that were scattered around the venue. Hopefully nobody had a hangover thanks to cans of the Mercy that were given out aplenty.
More pictures from the Saturday party are below.

---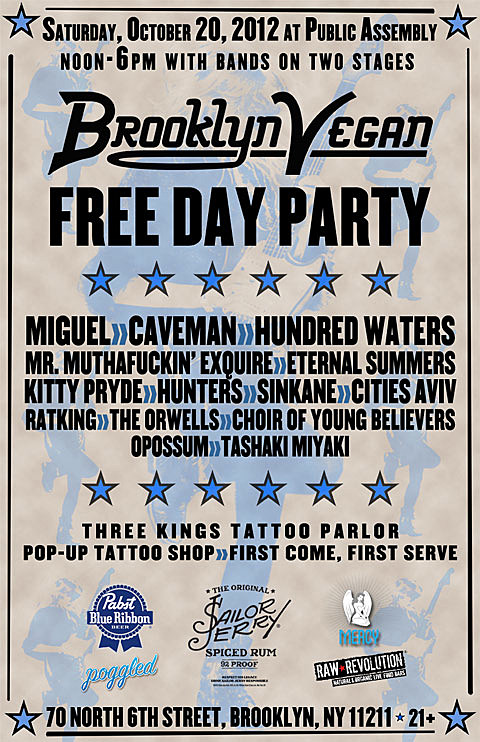 so many people lined up for the free tattoos, they just took names and called people when it was their turn...
Tashaki Miyaki (by Chris)
--
Choir of Young Believers (by Chris)
Eternal Summers (by Amanda)
Eternal Summers (by Chris)
Ratking (by Nate "Igor" Smith)
--
Cities Aviv (with guest eXquire) (by Chris)
Hundred Waters (by Chris)
Mr. Muthafuckin' eXquire (by Chris)
--
Caveman (by Dominick Mastrangelo)
More Caveman pics HERE
--